The role of the East of England Cardiac Network Group is:
To act as an expert clinical group, to develop a draft strategic plan for cardiac disease and to advise commissioners as and when requested in the East of England.
To bring together the multi-professional teams for interaction and discussion, learning and sharing of innovation.
To develop an overall Cardiac Network strategy for the East of England region.
To provide educational meetings which will be open to all organisations and disciplines across the Network to develop a plan for on-going training and education.
For all Trusts to share GIRFT report findings and establish priorities for addressing unwarranted variation.
The group operates under the following terms of reference.
Sub-groups of the Cardiac Network Group
The following are the lead contacts in respect of established working groups and detailed work plans for the following subgroups:
Sub-group one
Chair: Dr Roger Hall, Medical Director Royal Papworth Hospital
Pathways and best practice, the role of the subgroup is to;
Provide the network with information around cardiac pathways and best practice across the region.
To bring to attention of the network best practice examples from beyond the region.
To facilitate standardised pathways across the region enabling equal access.
Sub-group One Terms of Reference
Sub-group two
Chair: Eilish Midlane, Chief Operating Officer, Royal Papworth Hospital
Quality and benchmarking, The role of the sub-group is to;
Monitor quality of care delivery and benchmark across the Network.
To identify Quality Improvement opportunity across the Network
Sub-group Two Terms of Reference
Sub-group three
Chair: Josie Rudman, Chief Nurse, Royal Papworth Hospital
Training and Education The Role of the sub-group is to;
The role of the subgroup is to share and identify learning opportunities across the region.
To develop an education plan that will be open to the Network members
Basildon & Brentwood CCG
Bedford Hospital
Bedford, Luton and Milton Keynes CCG
British Heart Foundation
Broomfield
Bedford, Luton and Milton Keynes CCG
Cambridge and Peterborough Foundation Trust
Cambridge Community Services NHS Trust
Cambridge University Hospitals
Cambridgeshire & Peterborough CCG
Castle Point & Rochford CCG
East and North Hertfordshire CCG
East and North Herts NHS TRUST
East Anglian Ambulance
East Suffolk and North Essex NHS Foundation Trust
Essex CTC and Princess Alexandra Hospital, Harlow
Essex Partnership University Trust
Great Yarmouth and Waveney CCG
Healthcare Public Health Team (EoE)
Herts Valleys CCG
Ipswich and East Suffolk CCG
James Paget University Hospitals NHSFT
Lincolnshire Partnership NHS Foundation Trust
Luton & Dunstable Hospital
Mid & South Essex University Hospitals Group
Mid and South Essex CCG
Milton Keynes University Hospital NHS Foundation Trust
NHS England
NHS Ipswich & East Suffolk CCG
Norfok and Norwich University Hospital Foundation Trust
Norfolk and Suffolk NHS Foundation Trust
Norfolk Community Health & Care
North West Anglia NHS Foundation Trust
Northampton General Hospital
Norwich CCG
Queen Elizabeth Hospital KL NHSFT
Royal Papworth Hospital NHSFT
South Norfolk CCG
Southend CCG
Southend University Hospital NHS Foundation Trust
The Princess ALEXANDRA Hospital, Herts & West Essex
Thurrock CCG
University Hospitals of Leicester NHS Trust
West Essex CCG
West Hertfordshire Hospitals NHS Trust (WHHT)
West Norfolk CCG
West Suffolk NHS Foundation Trust
The timing of all meetings will be from 14:00 -17:00. Please allow sufficient travel time for arrival at venue.
December Cardiac Network Meeting
Date: Tuesday 3 December 2019
Time: 14:00 - 17:00
Venue: Ipswich Hospital, Education Centre, Main Lecture
March Cardiac Network Meeting
Date: Tuesday 3 March 2020
Time: 14:00 - 17:00
Venue: Lister Hospital Stevenage, Radiology Video Conference room level 2
June Cardiac Network Meeting
Date:Thursday 11 June 2020
Time: TBC
Venue: TBC
September Cardiac Network Meeting
Date: Wednesday 23 September 2020
Time: TBC
Venue: TBC
December Cardiac Network Meeting
Date: Thursday 10 December 2020
Time: TBC
Venue: TBC
March 2021 Cardiac Network Meeting
Date: Thursday 11 March 2021
Time: TBC
Venue: TBC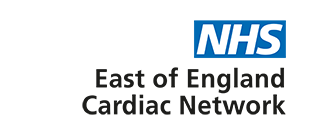 Key Contacts
Linda Cleary - Cardiac Network Administrator
email: papworth.eofecardiacnetwork@nhs.net
direct dial: 01223 638436
Anne White MSc RN - Head of Nursing & East of England Cardiac Network Manager
direct dial: 01223 639470
If you care to share your Cardiac Network thoughts and ideas, please contact the Network team via email papworth.eofecardiacnetwork@nhs.net