3 April 2019
Professor John Wallwork, Chairman of Royal Papworth Hospital NHS Foundation Trust, has been honoured for his contribution to heart and lung transplantation.
He was presented with the lifetime achievement award by the International Society for Heart and Lung transplantation at their meeting in Orlando, Florida, this afternoon.
The award was presented by Jeff Teuteberg, President of the ISHLT, a role that Professor Wallwork himself carried out in the mid-1990s.
During his career, he also performed Europe's first successful heart-lung transplant in 1984, and in 1986 performed the world's first heart-lung and liver transplant alongside Professor Sir Roy Calne, before retiring and becoming the Trust's chairman in 2014.
There were presentations from a number of Royal Papworth staff throughout the conference, including Aravinda Page talking about our DCD heart transplantation programme, James Wallis' case of simultaneous cardiac myxoma removal and lung transplantation, and Jason Ali's discussion about sickle cell trait in heart transplantation.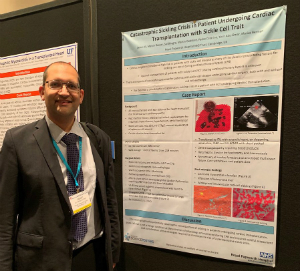 Dr Jason Ali at ISHLT 2019 in Orlando, Florida