10 July 2023
Wednesday 5 July 2023 marked 75 years of the NHS. When it was founded in 1948, the NHS was the first universal health system to be available to all, free at the point of delivery. We helped celebrate this milestone at Royal Papworth Hospital NHS Foundation Trust in a number of different ways:
Replica TB hut opens
We marked another part of our incredible heritage by officially opening our replica wooden TB hut beside our hospital, acting as a permanent reminder of our origins as a colony for tuberculosis patients. The replica shelter, our past, now sits proudly beside our futuristic present building.
Relatives of former TB patients and staff were joined by pupils from Trumpington Park Primary and Pendragon Community Primary School (the two local schools to our current and former sites). All the visiting youngsters were a delight to welcome, showing great enthusiasm to learn, participating in our Papworth Pebbles project and being great ambassadors for their schools.
Staff and VIPs joined Chief Executive Eilish Midlane (far left) and Chairman Professor John Wallwork (back right) for the official opening of our replica TB hut
Also on Wednesday…
Elsewhere throughout the day we collaborated with our friends and neighbours at Cambridge University Hospitals NHS Foundation Trust to provide a huge free BBQ for staff on The Green and The Gardens, with free food also available to staff from our restaurant who were unable to join us outside, courtesy of Royal Papworth Hospital Charity. There was also a huge NHS cake cut by representatives from both hospitals.
Inside, our atrium filled with the beautiful voices of the Cambridge Biomedical Campus Choir, much to the delight of patients, visitors and staff in attendance.
Elsewhere our staff at Kingfisher House in Huntingdon joined in with the celebrations with pizza and an #NHS75 quiz, whilst Charlie, from our clinical governance team and one of our Freedom to Speak Up Guardians, was honoured to represent Royal Papworth by attending the special service held for NHS staff at Westminster Abbey.
Staff enjoyed free food as part of our NHS 75th anniversary celebrations
Wearing blue for parkrun
We were then delighted to attend Pocket parkrun in St Neots on Saturday 8 July as many hospitals across the country joined forces with heir local parkruns in a nationwide initiative.
Staff from across the Trust and Royal Papworth Hospital Charity were among more than 230 participants in the 5K run, many of whom were wearing blue, the colour most associated with the NHS.
Dr Nik Johnson, Mayor of Cambridgeshire and Peterborough, joined us at this local parkrun and praised the NHS, whilst expressing his gratitude to the hospital for the care and treatment he himself received from Royal Papworth last year.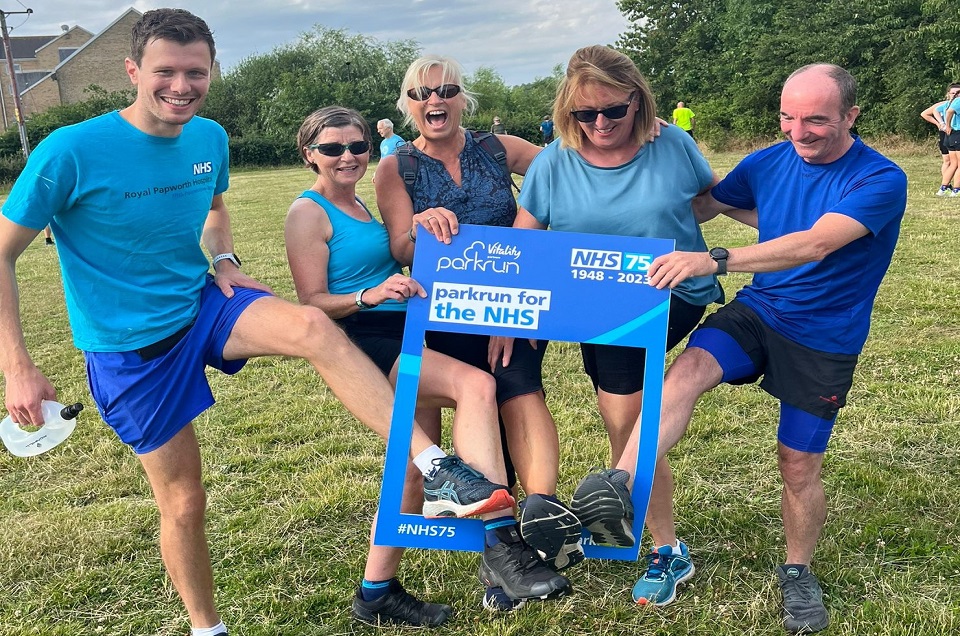 Staff from communications, workforce, critical care nurses and surgery, plus others, took part in parkrun
These events gave us a chance to celebrate, remember and inspire. Photos from across our #NHS75 celebrations can be found on our Facebook page.