Please click on the sections below to read further information about the research studies that are currently running at Royal Papworth Hospital.
Current studies
Quality of Life After Surgery Study (QUACS)

Quality of Life After Cardiac Surgery (QUACS)
Why do this study?
During the last 20 years, heart surgery has become much safer. As a result, greater numbers of elderly and frail patients are being offered more complex operations for various heart problems to improve their survival and improve their quality of life. However, quality of life is not always improved for all who undergo heart surgery.
Although we can now measure the risk to life of having or not having the operation, we don't fully know the quality of life the patient can expect to have after their operation. As quality of life is of great importance to patients, surgeons want to be able to give patients good information as to what they can expect after they have been operated on. This study is hoping to collect such information as that will enable patients to make as full an informed decision whether they want to go ahead with major heart surgery.
Information we will collect and how will it help?
Quality of life information is collected using a simple questionnaire both before the operation and then monthly after it for 12 months.
We hope that the evidence collected will help surgeons evaluate and inform patients more accurately what they may expect immediately after the surgery, how long it will take them to recover to the same quality of life they had before surgery(if at all) or if the surgery has provided them with an improved quality of life. In other words, was the surgery 'worth it', what proportion of patients feel this way, and will we ultimately be able to predict who will benefit from surgery and who will not?
The results should help doctors provide the best medical advice to patients, which should reduce potential harm to patients and help them make better informed decisions whether they want to go ahead with heart surgery or not.
How many and how will patients be recruited? Where will the study take place?
The study is looking to recruit 8004 English-speaking patients nationally over a period of 2 years who are due to have routine or urgent cardiac (heart) surgery. Medium-risk and high-risk patients on the surgical waiting list will be invited by their clinical care team to consider taking part in the study.
What will happen to the findings of the study?
The results of what we discover will be published in
'open-access'[1], 'peer-reviewed'[2] medical journals and presented at international clinical and scientific meetings. This way we hope to make the findings available to as many people as possible.
We will also invite participants to attend a presentation of the results at the hospital or by video conference.
The study is currently due to end in May 2023 but may need to be extended due to interruptions caused by the COVID-19 pandemic.
Where can I find out more about the study?
Email: papworth.study.quacs@nhs.net
---
[1] 'Open-access' = publications that make research information available to readers at no cost, as opposed to the traditional subscription model in which readers have access to scholarly information by paying a subscription (usually via libraries).
[2] 'Peer-reviewed' = is the evaluation of work by one or more people with similar competencies as the authors of the work. It is a form of self-regulation by qualified members of a profession.
Finished studies
Effective Treatments for Thoracic Aortic Aneurysms (ETTAA)
Effective Treatments for Thoracic Aortic Aneurysms (ETTAA): A prospective cohort study
The aorta is the main artery that carries oxygen-rich blood from the heart to the body. The thoracic aorta is the section of the aorta that is in the chest. An aortic aneurysm is a swelling or bulging at any point along the aorta. An aneurysm usually occurs where the wall has become weak and has lost its elastic properties, so it doesn't return to its normal shape after the blood has passed through. [Further information about thoracic aortic aneurysms can be found here.]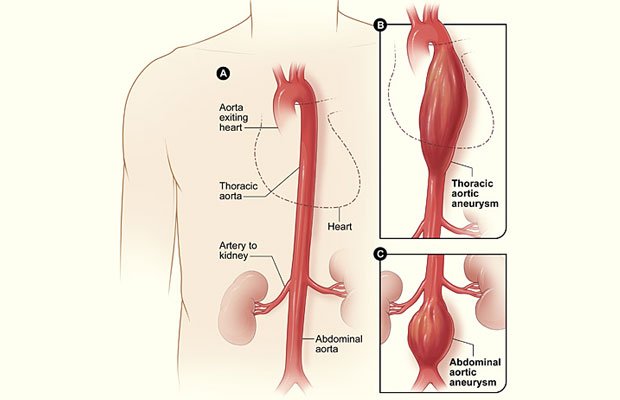 As the aneurysm grows, the chance of the aortic wall tearing (called a dissection) or rupturing increases. A rupture may never occur but if it does, it is fatal in about 80 per cent of cases. Therefore, once an aneurysm reaches a certain size, or if it appears to be growing quickly, doctors may recommend intervention in the form of either surgery or stenting.
For small aneurysms, experts recommended a period of Watchful Waiting, with regular monitoring, until the aneurysm had grown to about 6cm in diameter. For patients unfit or unwilling to have surgery, Conservative Management is recommended along with medication and lifestyle changes.
There are currently two main methods of repair for arch/descending Thoracic Aortic Aneurysms: Open Surgical Repair (OSR) and Endovascular Stent Grafting (ESG). ETTAA researchers conducted a systematic review of the published literature and found that there was limited and increasingly dated evidence available comparing ESG and OSR for treatment of arch/descending TAA [You can read the results of the systematic review here].
There was insufficient information to design a clinical trial comparing treatments for Thoracic Aortic Aneurysms so the ETTAA prospective cohort study was designed and conducted to investigate aneurysm growth rates, monitor patient outcomes and collect information regarding NHS costs.
Between 2014 and 2019, ETTAA study teams from 30 NHS hospitals recruited and followed up 886 participants with a chronic thoracic aortic aneurysm (>4cm diameter). Data was collected by local hospital research coordinators and collated by the core team at Papworth Trials Unit Collaboration. Information was collected in order to observe aneurysm growth, record clinical treatments and measure patient outcomes including survival and health related quality of life. This observational study recruited 321 women and 565 men, average age 71 years. Most were being treated for high blood pressure. Stent Grafting was conducted in 150 patients, Open Surgery in 135 whilst 489 patients underwent Watchful Waiting and 112 Conservative Management.
Results from the ETTAA study are due to be published later this year.
Carol Freeman on behalf of Mr Stephen Large and the ETTAA Collaborative Group.