Royal Papworth Hospital provides a highly acclaimed, three-day, interactive course for Extracorporeal Membrane Oxygenation (ECMO) training. The course uses a combination of presentation, practical and simulation sessions taught by the expert multidisciplinary ECMO team at Royal Papworth.
Offering one of the most established courses in the United Kingdom, Royal Papworth has trained more than 500 delegates from across the world - including Austrailia, Belgium, Croatia, Finland, India, Ireland, Mauritius, Oman, Saudi Arabia, Switzerland, UK and the USA.
The course is inclusive of all course materials, hotel accommodation for 2 nights and an evening meal at Cambridge University's Jesus College.
It is the only ECMO course in the UK to be endorsed by Cambridge University Health Partnership and has also been accredited by the Royal College of Anaesthetists for 15 CPD points
As one of the country's largest specialist providers of ECMO, Royal Papworth Hospital is well placed to provide expert ECMO Training.
Training
During the course delegates will gain a good understanding of ECMO in the following areas:
Cardiac and respiratory support
Basic physiology
Pathophysiology
Ethical considerations
Newest circuits and technologies
Theoretical and practical assessment
Who should attend?
All members of the multidisciplinary team involved in the care of the patient on ECMO.
Accreditation / Endorsement
The ECMO course has been accredited by the Royal College of Anaesthetists for 15 CPD points and is endorsed by Cambridge University Health Partners. The course includes dedicated practical sessions in small groups.
The course is held over three days and includes a mixture of learning opportunities including:
Multidisciplinary lectures and learning from our expert faculty
To provide a complete multidisciplinary understanding of ECMO, Royal Papworth draws on its expert ECMO team to offer lectures by Consultant Anaesthetists and Intensivists, Consultant Surgeon, Nurse Consultant, ECMO Specialist, Consultant Haematologist, Consultant Radiologist, Consultant Microbiologist, Perfusionist and the Dean of Cambridge University, Emmanuel College.
Hands-on ECMO equipment training
Delegates will have the opportunity to have hands-on training in small break-out groups with ECMO circuits. Delegates will practice circuit surveillance, trouble-shooting and circuit maintenance.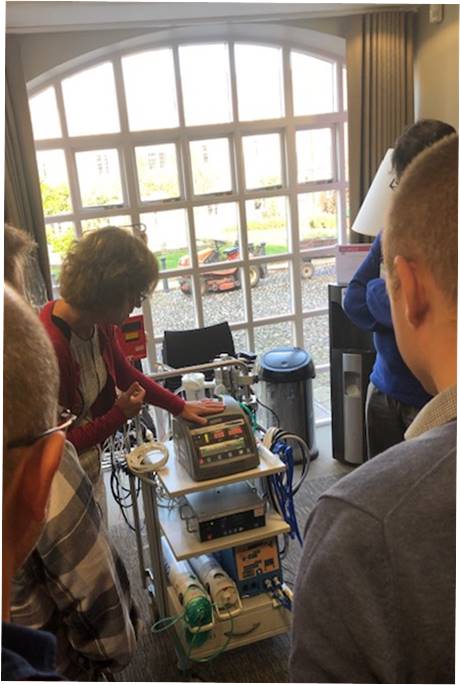 Simulation Sessions
Using specialist simulation software, delegates will discuss the specialist managment of a variety of patient cases.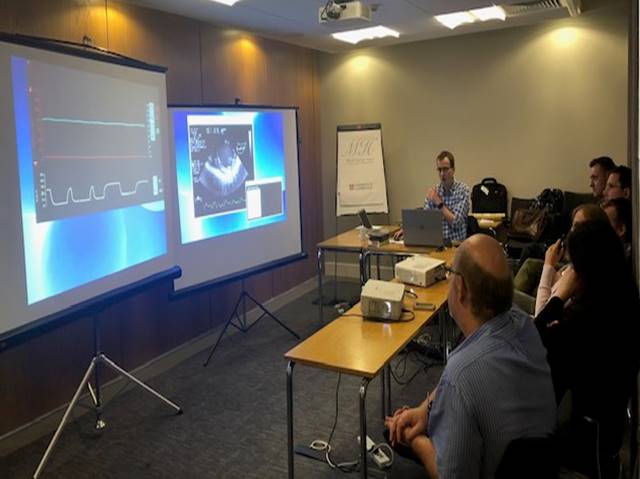 Tour of Royal Papworth Hospital's Critical Care Unit
Delegates will be given a tour on Royal Papworth's intensive care unit and have the chance to observe patients on ECMO (case dependant).
Royal Papworth Hospital ECMO Course - 3-day Interactive Course
Day 1
Session 1- the basics of ECMO
• History - Types of ECMO
• Indications
• ECMO circuit
• Introduction to simulator
Session 2- ECMO physiology
• Cannulation
• Anticoagulation and monitoring
• ECMO circuit monitoring
• Practical session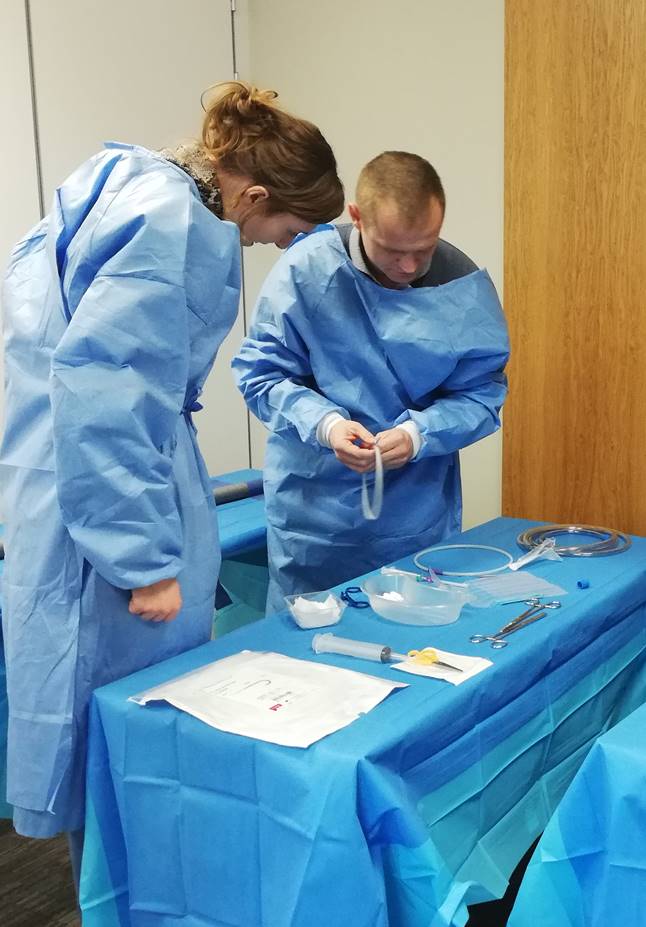 Day 2
Session 3- Management of the patient on ECMO
• The cost of ECMO and staffing
• Sedation and pain
• Fluids
• Ventilation
• Nutrition
• Antibiotics
• Ethical considerations
• X-ray imaging and TOE
• Complications
• Practical session
Day 3
Session 4- Miscellaneous ECMO
• Surgery while on ECMO
• ECMO switches
• VADs, IABPs, and PA catheters
• Weaning
• ECPR and CPR on ECMO
• Transfer and ECMO inc air
• Recap session, inc simulator
• Assessment
• Feedback - overall discussion
Practical sessions
• Small groups working with circuits practising circuit surveillance, trouble-shooting and maintenance.
• Simulated training replicating clinical scenarios relevant to the patient on ECMO.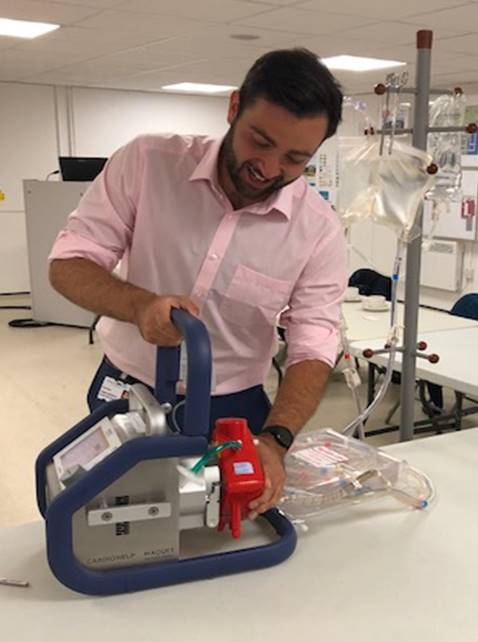 Course Directors
Dr Alain Vuylsteke, Consultant Intensivist
View full profile >>
Jo-anne Fowles, Nurse Consultant
Course Faculty
Dr Bobby Agrawal, Consultant Radiologist
View full profile >>
Simon Anderson, Senior Perfusionist
Dr Martin Besser, Haematologist
Mr David Jenkins, Consultant Cardiothoracic Surgeon
View full profile >>
Dr Ruth Kappeler, Consultant Microbiologist
View full profile >>
Dr Antonio Rubino, Consultant Anaesthetist
View full profile >>
Dr Kiran Salaunkey, Consultant Anaesthetist
View full profile >>
Chinmay Patvardhan, Consultant Anaesthetist
Accommodation and Course Dinner
About Your Accommodation
Accommodation is included as part of the Royal Papworth Hospital ECMO course. Delegates will be booked into either the course venue or an alternative hotel in Cambridge City for two nights including breakfast.
Accommodation will be booked by the course facilitator and for international delegates or those wishing to stay longer, the course facilitator can assist in booking extra rooms. Contact the course facilitator »
Dinner at Jesus College, Cambridge
A Cambridge College dinner will be provided as part of the course and takes place on the second evening of the course in the Prioress Room at Jesus College, Cambridge. Transport will be provided to the dinner to and form the hotel.
The dress code is 'smart'.
For further information about Jesus College, please visit their website www.jesus.cam.ac.uk/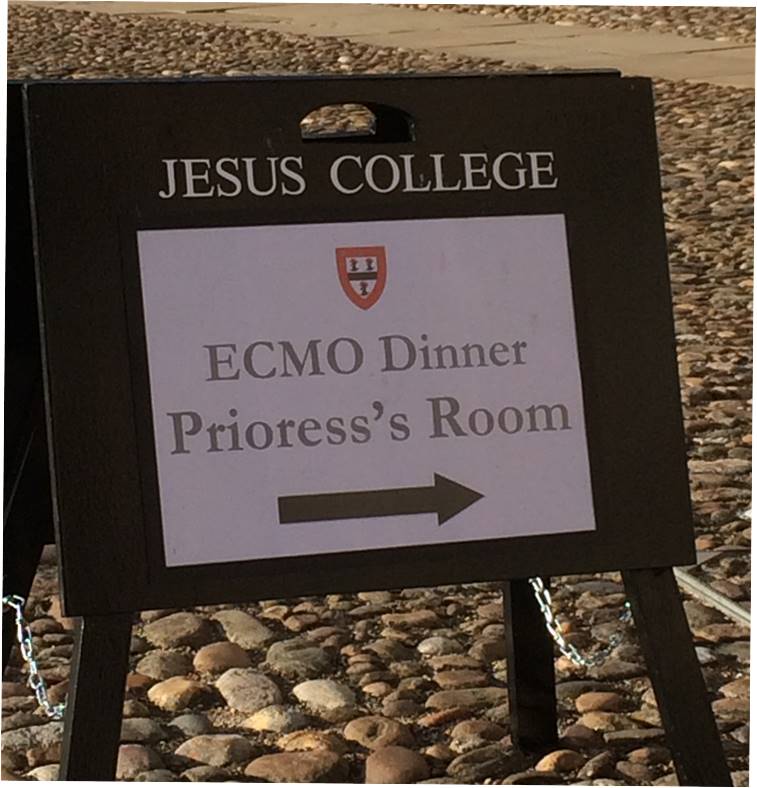 ExtraCorporeal Membrane Oxygenation (ECMO) service
Royal Papworth Hospital is one of five hospitals commissioned by the National Specialised Commissioning Team to provide ExtraCorporeal Membrane Oxygenation (ECMO) to patients with Acute Respiratory Distress Syndrome (ARDS). This is part of a coordinated national response service to ensure all patients have year-round access to ECMO in England, including the retrieval of these patients from the hospital they are referred from.
This specialist retrieval team is available 24 hours a day to go rapidly to stabilise and retrieve patients referred to the service.
Royal Papworth has developed a solid ECMO service over the last few years and can assist patients with cardiac and respiratory failure. The hospital's clinical expertise is offered to all adult patients with ARDS, a life-threatening condition with high mortality.
What is ECMO?
ECMO is a technique that oxygenates blood outside the body. It can be used in potentially reversible severe respiratory failure when conventional ventilation is unable to oxygenate the blood adequately. The aim of ECMO in respiratory failure is to allow the injured lung to recover whilst avoiding certain recognised complications associated with conventional ventilation. It is high risk and is therefore only used as a matter of last resort in difficult cases. The procedure involves removing blood from the patient, taking steps to avoid clots forming in the blood, adding oxygen to the blood and pumping it artificially to support the lungs.

ECMO is a highly specialised technique, which needs the input of intensive care specialists, cardiothoracic surgeons as well as ECMO-trained nurses and perfusion scientists.
The ECMO service at Royal Papworth
As a tertiary cardiothoracic centre, Royal Papworth Hospital has been providing specialist ECMO services for a number of years. The hospital is registered with the international ExtraCorporeal Life Support Organisation (ELSO) and is renowned for its experience using ECMO for either cardiac or respiratory support.
In addition to providing ECMO on site, Royal Papworth has developed a retrieval service to secure the rapid and safe transfer of patients between referring hospital and the ECMO centres.
Royal Papworth provides the ECMO service to patients in Cambridgeshire, Norfolk, Suffolk, Hertfordshire, Bedfordshire, Essex and North East London. Based on modelling by the National Specialist Commissioning Team who have commissioned the service, Royal Papworth will receive around 50 patients each year but retains the flexibility to increase capacity in response to higher demand.

Royal Papworth will support the national service by accepting patients from the other centres if they reach full capacity.
Plan your visit to Cambridge
The course
The course is run over a three day period and a detailed programme will be issued upon your arrival at the hospital.
Times to be confirmed
Course location
Madingley Hall, Madingley, Cambridge, CB23 8AQ
Course accommodation
Accommodation on Monday and Tuesday evening, with breakfast, is included in the course fee. Any additional accommodation is to be booked personally - we can offer assistance with booking this for you, however, you will need to pay for this separately.
Travel
It is recommended that attendees fly into London Stansted, London Gatwick or London Heathrow.
If arriving by rail, the closest railway stations is Cambridge which is a short taxi ride from Madingley Hall.
Recommended taxi service based in Cambridge - Panther Taxis, contactable on 01223 715715.
Facilities at the hospital
Royal Papworth Hospital is the UK's largest specialist cardiothoracic hospital and the country's main heart and lung transplant centre. The course includes a tour of our ICU department. If there are other areas of the hospital that you would like further information on or would like to view, please let us know and this can be arranged after the course has finished on Wednesday.
Special dietary requirements
Please inform us of any special dietary requirements at your earliest convenience.
Attire
Casual attire is appropriate throughout the course. The dress code for the college dinner is smart.
Contact
Anne Scott, Conference Facilitator - Tel: +44 (0)1223 639821; Email: anne.scott24@nhs.net

Future Dates:
April 3-5, 2023
May 15-17, 2023
November 20-22, 2023