31 December 2021
Hi, I'm Hannah and I'm the sustainability officer here at Royal Papworth Hospital.
My role is to support in helping us reduce our impact on the environment and contribute to the wider NHS plans of becoming the world's first net zero health service by 2040.
Climate change is arguably one of the biggest crises we've ever faced, and requires significant and immediate action to prevent its worst effects on our planet and society.
It's also clear that climate change is not just an environmental issue – it could have major consequences on our health, too. It affects basic health requirements, like the quality of the air and drinking water, and could contribute to the cause or exacerbation of illnesses like asthma, cancer, and cardiac problems.
So we know that the actions we take to become greener have a direct impact on the patients we treat.
We're currently working on a number of initiatives to help push our sustainability agenda. We are starting from a good position; we haven't ever used desflurane, a polluting greenhouse gas used in anaesthetics, and our new waste contracts have helped to reduce the amount of waste produced at the hospital.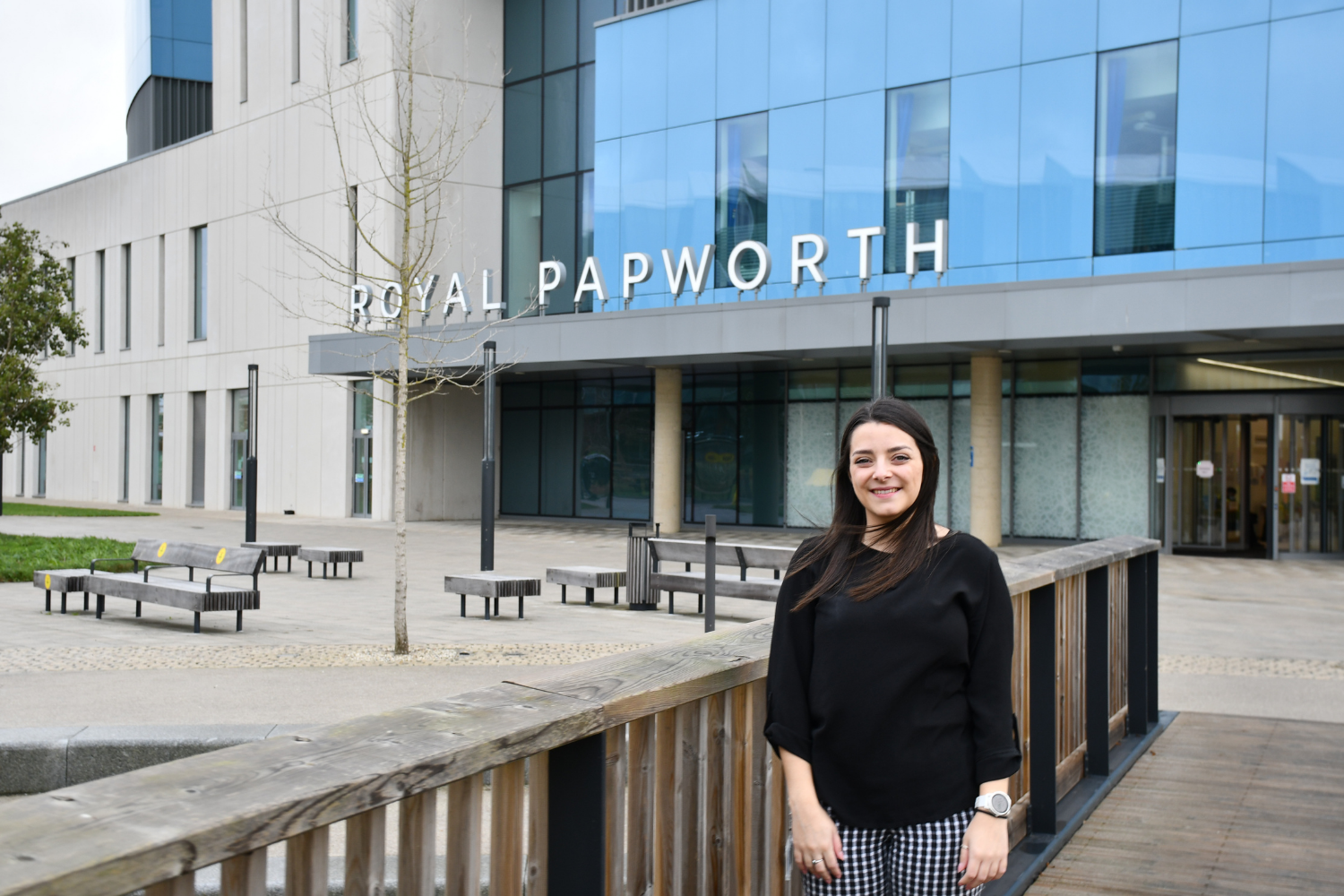 Sustainability officer Hannah Greensill is helping Royal Papworth to reduce its impact on the environment.
Last year, we were one of the first hospitals in the country to switch to reusable gowns, reducing our disposable gown usage by 85% in 12 months, and we now no longer buy disposable gowns for non-surgical settings.
We also now carry out more virtual appointments and tests which patients previously would have come to the hospital for - for example, our cardiac device service carried out remote follow-up appointments with more than 4,000 patients fitted with a cardiac rhythm management (CRM) device in 2020/21, compared to fewer than 1,500 the year before thanks to remote monitors.
This equipment enables day-to-day monitoring of patients, meaning we can detect health changes earlier and invite them to hospital only as and when necessary. This has prevented hundreds of journeys, reduced the amount of single-use personal protective equipment (PPE) used for face-to-face appointments, and improved the overall experience for patients.
However, we recognise we've still got a way to go - plastic use, energy and water consumption, meat-free meals, and staff and patient education are all areas where we want to do more. Our plans for ongoing sustainable development are set out in our 2021-2026 Sustainability Strategy, and our Green Plan will be finalised early next year.
In the meantime, I want to encourage everyone to think about how your actions affect the environment and to make sustainable changes, no matter how small, where possible.
Sustainability isn't just a task for one person or team; it should be something that we all strive to achieve.
By working with colleagues from across Royal Papworth Hospital, I hope we can make a difference.