About the series
The highly acclaimed 'Surgeons: At the Edge of Life' returns to BBC Two in November 2021 for series four, once again based at Royal Papworth and Addenbrooke's hospitals in Cambridge.
The six-part programme, filmed during the summer by Dragonfly Film and Television, reveals the extraordinary and pioneering work of some of the country's top surgical teams.
Three operations will be featured from Royal Papworth Hospital, two cardiac cases and one thoracic.
Footage was mostly shot from fixed rig cameras linked to a remote gallery in order to not distract the operating teams. Shots include close-ups of surgeons, anaesthetists and other members of the surgical teams at work during the most critical moments during the operations.
The series was filmed during summer this year with the film crew following the same strict infection control measures and tests as hospital staff. It follows another highly acclaimed series at the hospitals broadcast last year.
Mr David Jenkins, Divisional Director for Surgery and Transplant at Royal Papworth Hospital NHS Foundation Trust, said: "We are delighted to once again be showing the public the incredible work that takes place behind the theatre doors in the NHS.
"Every operation would not be possible without the teamwork and skill of so many people from pre and post-surgery, as well as during the actual operation itself from perfusionists to surgical care practitioners and anaesthetists to nurses. We are very grateful to our patients and their families for agreeing to the filming and allowing us to showcase the very best of the NHS."
View the series on BBC iPlayer
Series list
Episode 1 - Thursday 11 November
In episode one of series four, consultant surgeon Ravi De Silva and his team have a patient with a life-threatening illness.
Thirty-three year-old Verity has a condition called Turner Syndrome, a female-only genetic disorder that affects about 1 in every 2,000 baby girls.
A person with Turner Syndrome only has 1 normal X sex chromosome, rather than the usual 2.
It has caused Verity's aorta to become enlarged - to twice the normal size - and in danger of fatally rupturing. Ravi needs to replace a diseased section of the aorta with a synthetic one.
He also wants to try and save her aortic valve rather than put in a mechanical one, which would come with higher risks such as possible infection and the need for Verity to take blood thinners the rest of her life. But this means a much more complex procedure.
The operation is called a 'valve sparing aortic root replacement and ascending aorta replacement'.
Featuring interviews with:
Mr Ravi de Silva, Consultant Cardiothoracic Surgeon
Dr Florian Falter, Consultant Anaesthetist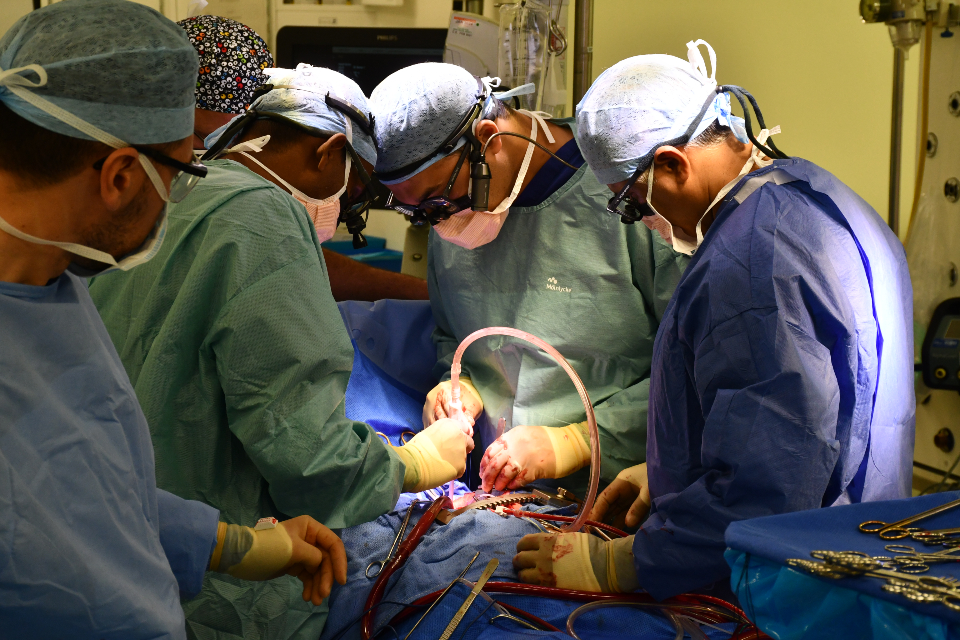 The surgical team - Ravi, Aravinda, Peter and Florin - operating on Verity's aorta.
Related links
Read a preview of episode one
Episode 2 - Thursday 18 November
Consultant cardiothoracic surgeon Narain Moorjani and his team are operating at the edge of what is possible. His patient Gertrude is an active and vibrant 80-year-old who needs surgery on three of the four valves in her heart.
An irregular heartbeat has caused two of the valves - the mitral and tricuspid - to stretch and become defective. She also has aortic stenosis, which means her aortic valve is hardened and narrowed. All of this means her heart does not pump enough blood around her body. Without the operation her heart will fail and Gertrude, who says she still feels 30 years old, does not want to sit around waiting for her life to end.
To operate on the valves, perfusionist Terri-Louise needs to put Gertrude on heart bypass and the team will then stop her heart. The bypass machine will take over the job of circulating and oxygenating Gertrude's blood. But with a patient as old as Gertrude, being on bypass is a great strain on the body so Narain needs to work swiftly as well as with precision.
The tricuspid and mitral valves need to be repaired, so Narain needs to call on all his technical skills to carefully stitch flexible rings into the tissue around the valves to strengthen them. But the aortic valve, which controls how blood is pumped around the body, is so damaged it needs to be completely replaced with an artificial valve that must sit tightly against the heart. Even if Narain can safely do the repairs, the biggest challenge for Gertrude will be coming off bypass, when her heart must take back the demanding job of pumping blood around her entire body.
Featuring interviews with:
Mr Narain Moorjani, Consultant Cardiothoracic Surgeon
Terri-Louise Smith, Perfusionist
And a special feature with our clinical engineering team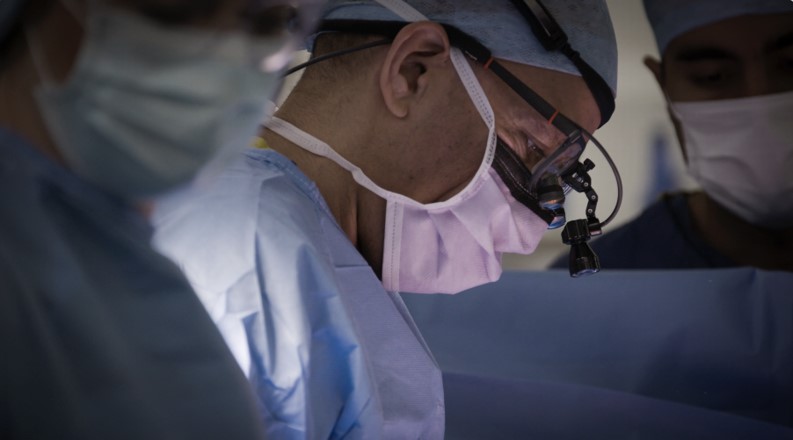 Narain in the middle of the operation on Gertrude, 80.
Related links
Episode 3 - Thursday 25 November
In episode three at Royal Papworth Hospital, cardiothoracic surgeon Aman Coonar takes on a challenging case which tests his team's skill and expertise to the limit. His patient, 30-year-old Dannee, started having trouble breathing and developed a persistent cough early in 2020.
It was assumed to be COVID-19, but when her cough persisted and her health deteriorated, Dannee had a chest x-ray. It revealed she had a rare type of tumour in her right bronchus – the airway that leads to the lung. By then the blockage had already caused serious infection, and she was told that if the tumour was not removed, it would threaten her life.
Dannee's condition brings her to Royal Papworth, where Aman takes on her case. To rid Dannee of the tumour and give her the best chance of a normal life, Aman needs to do what's called a sleeve resection, taking out the tumour, part of the airway and the upper lobe of Dannee's right lung. But then he faces the complex task of reattaching the lung to the remaining airway.
There are considerable risks. Aman must operate right up against the pulmonary artery - one of the biggest blood vessels in the body - where the slightest damage could cause a torrential bleed. But even when he does manage to remove the tumour, if Aman cannot reconnect the airway and lung, he will have to perform a pneumonectomy – the removal of the entire lung.
Featuring interviews with:
Mr Aman Coonar, Consultant Thoracic Surgeon
Trudi Bircham, Senior Surgical Care Practitioner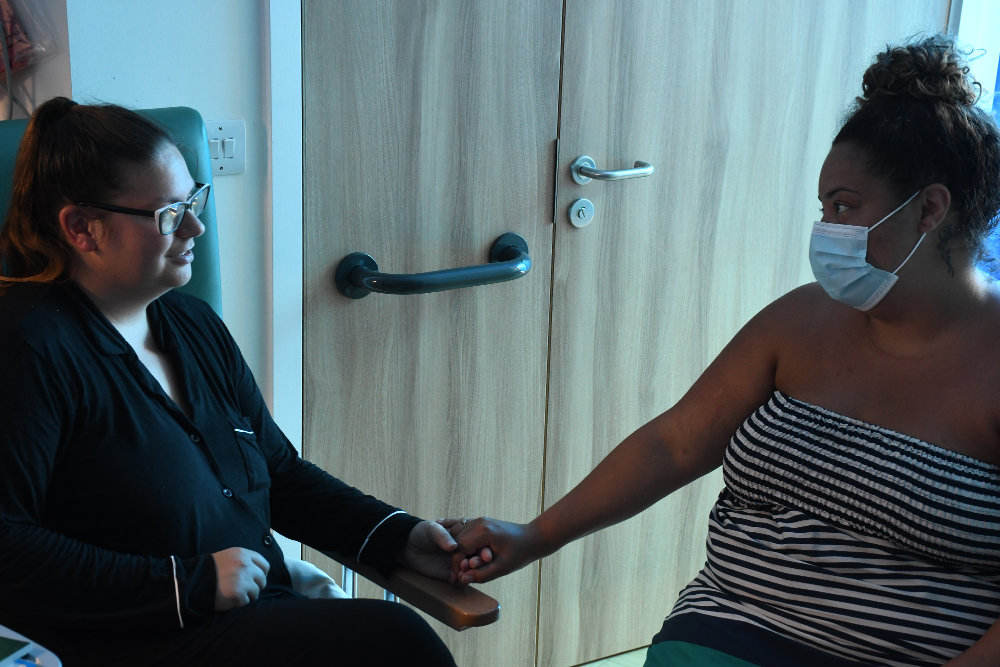 Dannee with her wife Delia just before her lung operation.
Related Links
Read a preview of episode three
Behind-the-scenes
Go behind-the-scenes of filming for serious four of 'Surgeons: At the Edge of Life' at Royal Papworth Hospital, including a 360 degree view of an operating theatre and the staff involved in an operation.

Consultants involved in series four
Mr Aman Coonar, Consultant Surgeon

Mr Coonar qualified as a doctor in London. His general surgery and cardiothoracic surgery training was at Guy's, St Thomas's, King's, Royal Brompton and the London Chest Hospitals.

In 2005-2007, Mr Coonar worked at the Toronto General Hospital in Canada and took fellowships in general thoracic surgery and lung transplant surgery.

Mr Coonar has been a consultant at Royal Papworth Hospital since 2007 and his practice is in pure thoracic surgery. He works closely with a large team including other surgeons, specialist nurses, radiologists and physicians.

Mr Coonar was appointed President of the Royal Society of Medicine Cardiothoracic Section in December 2013.

He handles benign diseases and cancer. His main clinical interests are:

minimally invasive surgery (video-assisted, endoscopic and others)
lung cancer surgery (including advanced cases and patients with poor lung function)
mesothelioma surgery
chest wall surgery
airway surgery
lung volume reduction surgery
surgery for thoracic sarcoma
resection of metastatic cancer to the chest


Mr Coonar has published several research papers and book chapters, some of which have received awards.

Mr Ravi De Silva, Consultant Surgeon

Mr De Silva returned to Royal Papworth Hospital after practicing as a consultant in Oxford University Hospital for 4 years. He had previously spent 6 years training at Papworth, and so came back to a familiar environment in which he is able to pursue his clinical and research interests.

Mr De Silva has considerable expertise in adult cardiac surgery, with a particular interest in surgery of the aorta, minimal access surgery, aortic valve repair surgery, hybrid and off pump revascularization. He has a keen interest in education and training, and since 2019 has been the Director of the East of England cardiothoracic training programme which is recognised as the best surgical training programme in the UK for the last 3 years. He has published widely, and has particular research interests in the inflammatory effects of cardiopulmonary bypass, the pathogenesis of nitric oxide in cardiovascular disease, and safety in cardiac surgery.

Dr Florian Falter, Consultant Anaesthetist

Mr Narain Moorjani, Consultant Surgeon

Narain Moorjani is a cardiothoracic surgeon providing the full range of cardiac surgical procedures, including coronary artery bypass grafting and aortic valve replacement. He forms part of the specialist valve group, performing complex mitral valve repair surgery, as well as surgery of the thoracic aorta.

He also performs procedures to control abnormal heart rhythms, as well as minimally invasive cardiac surgery (including valve surgery through small incisions and coronary surgery without the use of the heart-lung bypass machine). He was the first surgeon to introduce minimally invasive cardiopulmonary bypass to Royal Papworth Hospital.

Narain Moorjani came to Royal Papworth Hospital having previous worked as a consultant cardiac surgeon at the Royal Brompton Hospital, London and Assistant Professor in Cardiothoracic Surgery in Philadelphia, USA. Prior to that, he completed a research doctorate of medicine (MD) at the University of Oxford and National Heart and Lung Institute, investigating the genes involved in the development of heart failure.

His research interests are currently focussing on the genes responsible for enlargement of the thoracic aorta.

In addition, he has published several international best-selling, award-winning cardiac surgery textbooks, including 'Operative Mitral and Tricuspid Valve Surgery', 'Key Questions in Cardiac Surgery' and 'Cardiac Surgery: Recent Advances and Techniques', with further cardiothoracic surgery textbooks due out soon.

More recently, he has been awarded the National Cardiac Benchmarking Collaborative (NCBC) Cardiac Service Improvement and Best Practice Award and 2nd place in the National Patient Safety Awards for the introduction of the Papworth Haemostasis Checklist, which has significantly reduced the amount blood transfusion required and number of patients returning to theatre for bleeding following cardiac surgery.

From an educational point of view, he has developed a unique portfolio of award-winning, simulation-based, curriculum-aligned, cardiothoracic surgery training courses, which are run in Great Britain and Europe.