27 March 2023
Royal Papworth Hospital NHS Foundation Trust and Amazon Web Services have won a prestigious national award for promoting staff wellbeing and recognition.
Positive incident reporting tool Laudit was the idea of consultant cardiologist Dr Will Davies, who in 2018 devised the idea to celebrate the everyday extraordinary work carried out by NHS staff.
Laudit celebrates the everyday extraordinary achievements of staff at Royal Papworth Hospital.
Last Thursday (23 March) it won the 'Workforce and Wellbeing Initiative of the Year' award at the HSJ Partnership Awards.
"We are excited to win this award, which recognises the best of partnership working and innovation. Laudit allows the celebration of all the fantastic work our staff do on a daily basis to make sure our patients have the best possible care," said Dr Davies.
"I am immensely grateful to all our partners and the support of our charity who have been instrumental in driving this project forward."

The Royal Papworth team pick up the award on stage

Laudit is a simple, online platform where staff can log incidents of everyday extraordinary work, naming the individuals involved.
The award judges praised it for being a 'really simple idea, effective and low cost with fantastic results across all staff groups'.
They also praised the team's passion and clear link to organisational values, with opportunities to scale and provide to other organisations.
Dr Davies thought up the idea after a particularly challenging case in a cardiac cath lab five years ago.
"So many people came together in difficult circumstances to achieve a great result that day," remembered Dr Davies.
"We were diligently recording and reporting incidents and near-misses, which is of course vitally important, but I realised we had no way to capture examples of excellence, whether that be in caring for patients or supporting each other.
"In the five years since, our staff have taken time out of their busy work lives to recognise and record more than 7,000 instances of colleagues going above and beyond.
At times of increased organisational pressure, such as during the coronavirus (COVID-19) pandemic, there has been a significant increase in positive reporting.
In May 2022, in collaboration with Royal Papworth Charity and Amazon Web Services, a more sophisticated version of Laudit was launched, improving user experience and reporting capabilities.
Around 200 Laudits are now being sent each month, a significant increase on the previous 12-month average of 150, helping to support a culture of workplace recognition.
"Research has shown that praise from peers can dramatically increase motivation and performance, which is why I wanted to make it as simple as possible for staff in the hospital to recognise colleagues who go the extra mile," Dr Davies said.
"The Laudits get sent to colleagues, as well as their line managers to give them sight of their team members' extraordinary work, boosting morale across our workforce."
Olivia Charles, Healthcare Enterprise Account Manager at AWS shared: "The way that we have worked with Royal Papworth has been unique and a hugely rewarding experience.
"It is brilliant to be recognised by the HSJ Partnership Awards. We are very proud of the contribution that we have made to Laudit and are excited to see what other opportunities we can explore with Royal Papworth."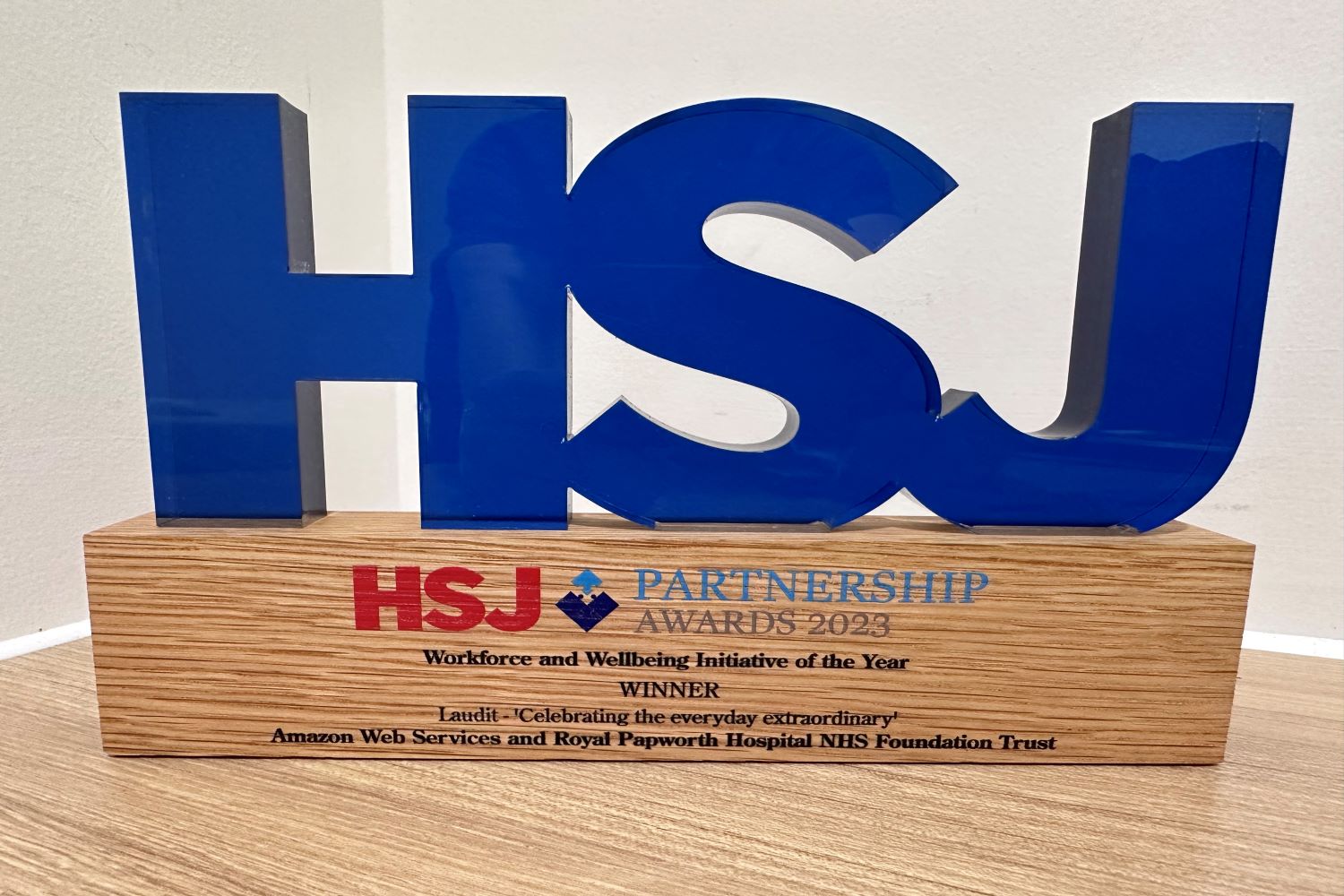 The HSJ Partnership Award for 'Workforce and Wellbeing Initiative of the Year' winner

The development of the new Laudit tool has been made possible thanks to funding from Royal Papworth Charity and Eastern Academic Health Science Network.
The current focus is working with other health and care organisations across the country to allow Laudit to benefit their workforces too.
If you would like to find out more about Laudit, please visit www.laudit.org.uk or email laudit@nhs.net.