The Papworth Trials Unit Collaboration (PTUC) is fully registered with the UK Clinical Research Collaboration (registration number 60).
If you would like support with the project management of your research then please contact the PTUC team as soon as possible to discuss how best we can support you.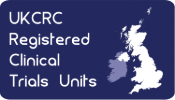 · Royal Papworth Hospital's Trials Unit, established in 1994, is a long-standing collaboration between the R&D Department at Royal Papworth Hospital, the MRC Biostatistics Unit, University of Cambridge and Kings College London.
· The Unit is an integral part of the R&D Department and provides the expertise and infrastructure for the set-up, management and publication of high quality, multi-centre, randomised clinical trials and research studies.
· Our experienced Senior Management Team, under the directorship of Dr Robert Rintoul, includes Dr Vikki Hughes (Senior R&D Manager), Dr Patrick Calvert (Clinical Director of R&D) and Dr Sarah Fielding (Clinical Trials Unit Operational Manager).
· The CTU has a team of Clinical Project Managers who manage all aspects of a study's design, set up, conduct and analysis including expertise in grant writing, protocol development, project management, monitoring and audit, and regulatory submissions.
· The Clinical Project Managers are supported by Trial Managers, Database Managers (led by Jo Steele), Statisticians from Royal Papworth and MRC Biostatistics Unit at University of Cambridge (led by Dr Sofia Villar) and Health Economists (led by Professor Julia Fox-Rushby, Kings College London). The CTU also has its own finance and contract service and access to copyright and IP advice through a service level agreement with Health Enterprise East.
We have the infrastructure and expertise to develop, conduct and sponsor the following types of clinical research:
Drug trials (clinical trials of investigational medicinal products - CTIMPs)
Medical device trials
Observational studies
Physiological research studies
Qualitative research
What is our project management service?
Our project management service, which is available to investigators throughout the UK, includes:
Clinical trial / Protocol design

Sponsorship

Health economics

Support with Grant applications

Data management

Data base provision and eCRF design

Randomisation

Trial set up and coordination

Trial closure

Monitoring

Statistics (including analysis)

Dissemination of results (writing for publications)

Archiving
·
What support is available for researchers?
· Details of support for Royal Papworth researchers are available here.
· Details of support for non-Royal Papworth researchers are available here.
Which clinical specialties do we work with?
The expertise of the PCTU, as part of the largest cardiothoracic unit in the UK, includes the management of research studies in the following clinical areas:
· Cardiac surgery
· Inflammatory lung disease (bronchiectasis, cystic fibrosis)
· Imaging
· Immunity
· Interventional cardiology
· Pulmonary hypertension
· Sleep disordered breathing
· Thoracic oncology, including Mesothelioma
· Thoracic surgery
· Transplantation (heart/lung)
· If your clinical specialty is not listed above, please ask us, we are flexible!
What are the benefits of working with a Clinical Trials Unit?
· The National Institute for Health Research (NIHR) has produced a video highlighting the role that Clinical Trials Units (CTUs) play in developing an NIHR funding application, explaining both the role and benefits of working with CTUs. Watch the video here.
· A podcast featuring Professor Julia Brown, Director of the UKCRC Reg CTUs Network on the value of Clinical Trials Units for the Cochrane Collaboration is available here