At Royal Papworth Hospital, we take training and development seriously and offer a wide range of opportunities to help you progress in your career and develop as a person.
Whether it's our line manager development programme or our values and behaviours training for all staff, there are opportunities for everyone.
All staff complete an annual appraisal. This is an opportunity to discuss progress and plan for future learning and development requirements, including personal and professional development.
For clinical and nursing staff, there are also opportunities to move around different specialties across our hospital.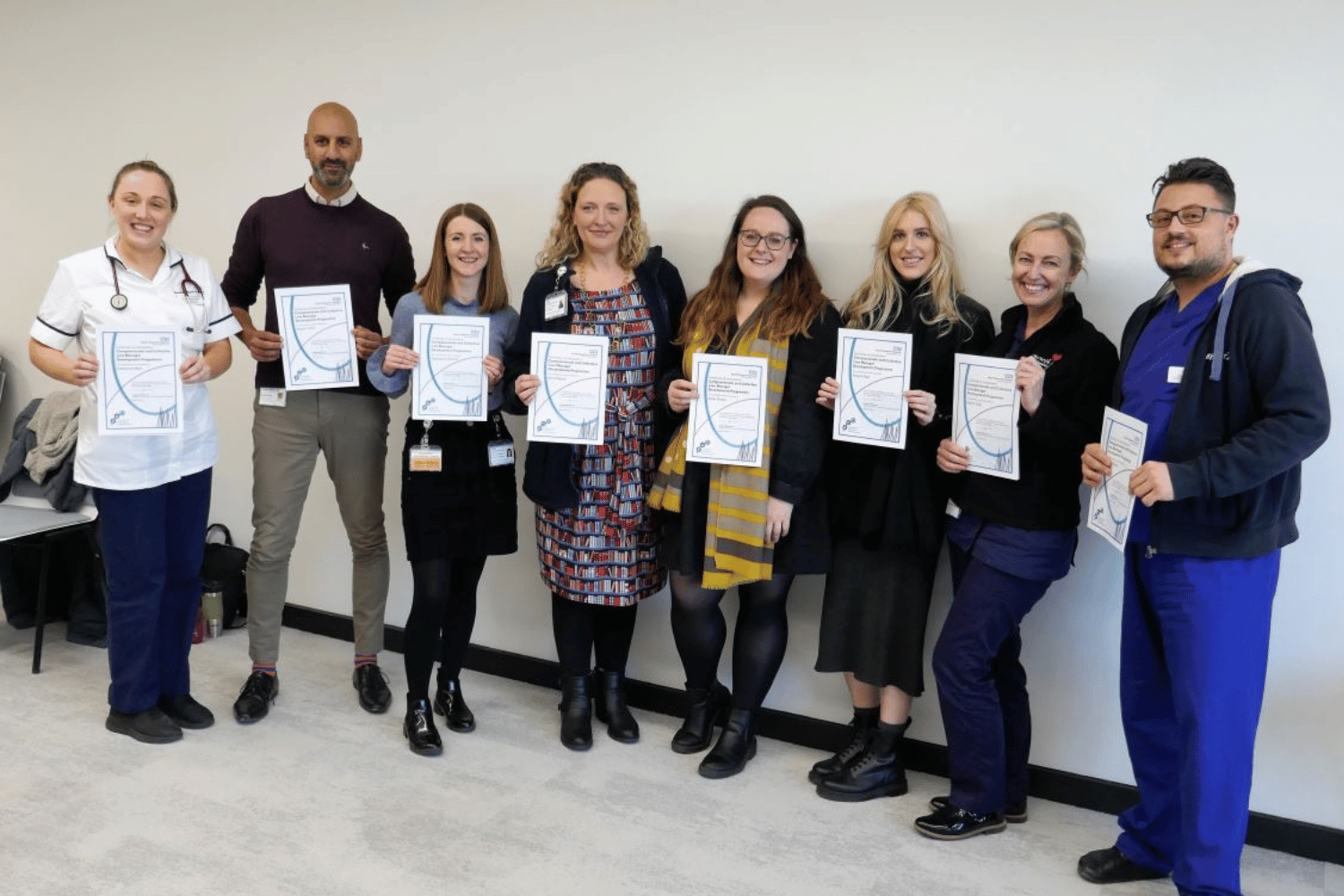 Our line manager development programme helps people to become compassionate and inclusive leaders

Learning and education opportunities at Royal Papworth Hospital include:
Values and behaviours training, aligned with our values.
A first-of-its-kind transformational reciprocal mentoring inclusion programme.
Line manager development programme.
Clinical skills development.
Discounted training spaces with Royal Papworth Professional Development.
Clinical and corporate simulation exercises.
Apprenticeships and vocational developments.
Professional qualifications and accreditation, including our popular Masters-level module in Cardiothoracic Critical Care for nurses.
Mandatory training.
Work-based and experiential learning.
Coaching, mentoring and supervision.
Workforce development, leadership and management skills.
External conference attendance, representation and presentation.
Futher information about specific training opportunities:
All staff
We offer a comprehensive Trust induction programme for all new joiners which includes hands-on practical sessions, presentations from experts across the hospital and the chance to meet other new staff.
This will be supplemented by a local induction in your specific area of work.
Clinical staff
Clinical staff will have a clinical induction as standard as part of their onboarding into the trust – consisting of Chief Nurse welcome, tour of the hospital and clinical areas, a range of clinical skills bespoke to job role and training on our state-of-the-art systems.
All new clinical staff will also have a four-week supernumerary period where they will be supported by an experienced member of the team.
Newly qualified professionals will commence on the preceptorship programme delivered by the clinical education team, consisting of six in-house study events across six months plus being supported in their clinical area by a preceptor (an established professional with over a years' experience) for 12 months.
Line Manager Development Programme
Our Line Manager Development Programme is a nine-month course (one session per month, nine sessions in total) covering the skills and behaviours required for compassionate, collaborative and inclusive leadership.
What can you expect from the course?
You will have the opportunity to develop your skills as a line manager by undertaking nine different modules together with a series of management skills workshops.
We have lead facilitators for all nine modules. They get to know their cohorts well and develop people individually and as a group because they can build trust over time.
The management skills workshops are facilitated by internal and external experts in their field.
They are also open for other line managers meaning participants are able to network across cohorts and also meet people from other departments / areas.
The interactive sessions combine personal reflections, group work, role play exercises, and will practice courageous conversations – be prepared to be pushed out of your comfort zone with long-lasting and positive effects.
But the programme doesn't just stop after nine months. It is an ongoing initiative with the overall aim to professionalise leadership development and continuously trained like any other profession.
This allows graduates to further network across the trust and practice challenging conversations, further explore topics like de-escalation of conflicts and stay updated with talks on new developments in leadership.
Transformational Reciprocal Mentoring Inclusion Programme
Transformational reciprocal mentoring is a systemic change programme which aims to address inequity within organisations and systems.
Our TRMIP pairs senior leaders in Royal Papworth Hospital alongside colleagues who have a lived experience of disability, race or gender, encouraging them to learn from one another and explore how they can create positive change and a more inclusive workplace.
Participants will enter a reciprocal mentoring relationship with another member of staff to become 'partners in progress'. This unique, mutual learning relationship will provide the opportunity to develop from each other and understand important challenges faced by some of our BAME colleagues, those with a disability and those who want to level the playing field around gender issues.
The aim of the programme is also not just to create positive change in the Trust, but also to develop the participants through a significant personal development opportunity.
The approach has been developed by NHS England and NHS Improvement (NHSEI) and is built upon a proven theoretical and practical framework that will help us deliver genuine and sustainable change.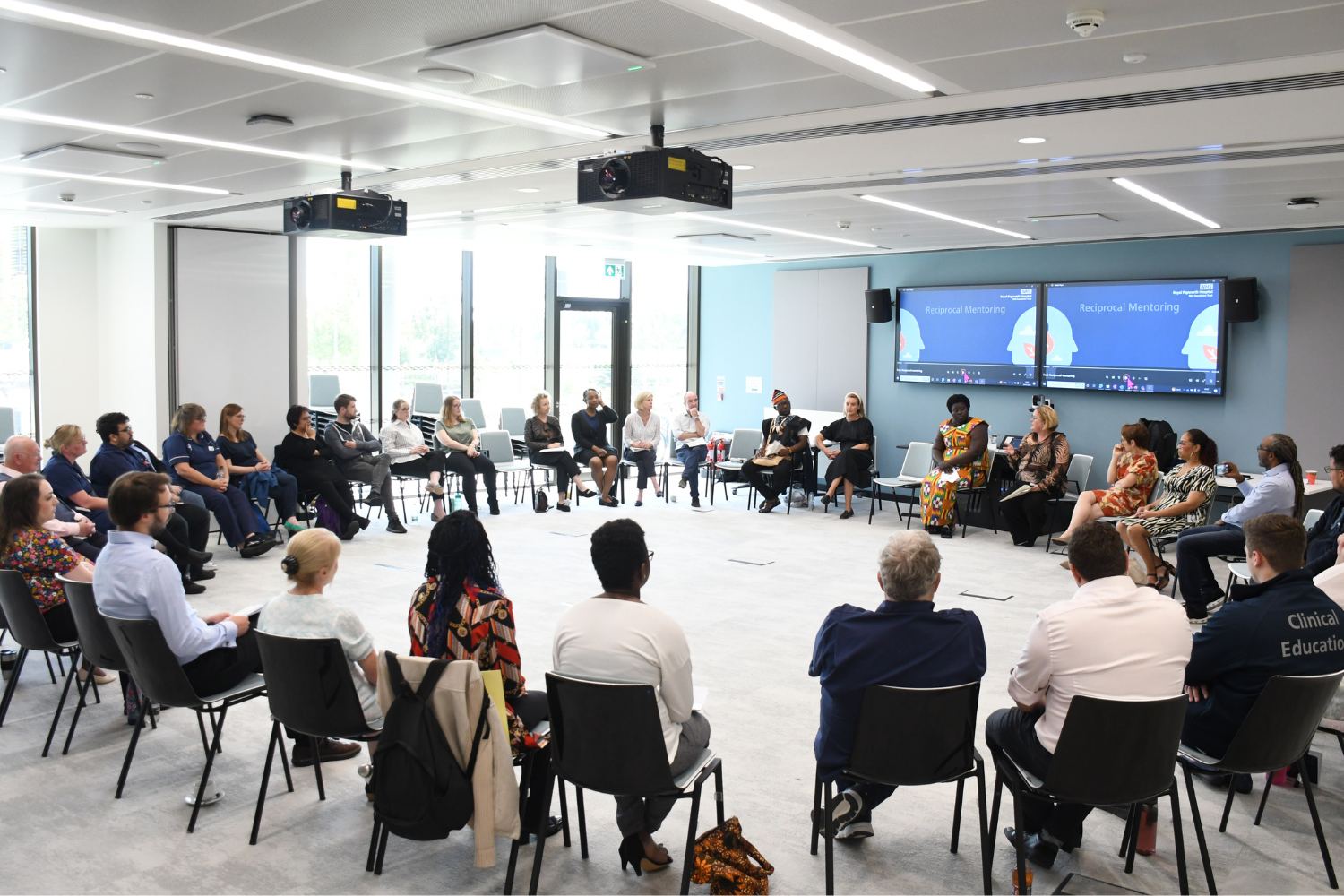 Cohort one of our TRMIP at their graduation ceremony
Training for newly qualified nurses
We offer a 12-month preceptorship programme for all newly qualified professionals to help them develop their skills and confidence in specialist cardiothoracic care and treatment.
All newly qualified professionals will be enrolled onto a six-day, in-house training programme, with a blended approach of face-to-face and virtual learning. The programme focuses on caring for cardiology, respiratory and surgical patients, as well as covering topics such as leadership.
These study days are co-ordinated and facilitated by the clinical education team with subject matter experts from multidisciplinary specialist teams across the hospital.
As well as the preceptorship programme, newly qualified nurses will be matched with a 'preceptor' (a nurse who has been registered for more than a year) for a six month period who will provide 1:1 support and regular check-ins throughout this first year.
Our Continuous Professional Development team also offers regular study sessions to help nurses gain competencies in cardiothoracic nursing – topics include administering oral medication, IV medication, chest drains, removing pacing wires, CPAP monitoring, tracheostomy care and ventilation.

Training for non-EU overseas nurses
If you join us as an overseas nurse from outside the EU we offer support to help you prepare for the NMC part-two Objective Structured Clinical Examination (OSCE) test. In January 2018 we developed our first OSCE support programme which includes an 8-day study programme providing theory, practical and simulation education focused on the clinical skills with are reported to be tested during the exam, such as:
Assessing, documenting and escalating vital observations using the National Early Warning Score (NEWS2), Glasgow Coma Scale (GCS) and neurological observation assessments
Planning holistic care for a patient's physical, mental and social health
Safe administration of medication
Written communication when transferring patients care
Basic life support, reversible causes of cardiac arrest and SBAR tool handover
Aseptic Non-touch Technique (ANTT), wound assessment and wound dressing change.
Assessment of patients' Peak Expiration Flow (PEFR)
Removal of a urinary catheter
Safe collection of a urine sample
Infection prevention and control
Hand hygiene
Teaching is provided by senior nursing staff in our Education team and is also supported by our extended Education team and registered nurses who have previously passed their OSCE exam. As an OSCE faculty we provide professional knowledge and experiences to enhance learning and preparation.
These study days are offered as protected learning time for those staff participating in the OSCE process and should be incorporated into shift allocation. Additionally, we provide two mock OSCE exam days to enhance the OSCE experience. Mock exams will include four nursing process stations covering Assessment, Planning, Implementation and Evaluation. We also assess all clinical skills that could potentially be assessed when at the two clinical stations. Individual feedback will be provided.

For candidates working in specialist area such as theatres, labs and critical care, clinical insights of the ward areas will also be provided as per local agreement. We will liaise with your preceptor and line manager to identify any challenges in your clinical area and help you gain experience outside of the classroom setting.
In addition, all of our Band 4 staff are encouraged to attend the Trust's Deteriorating Patient Study Day. This programme was designed and provided by the Education team and Alert team and focuses on the early recognition of a deteriorating patient and the timely escalation of patient care. Attendance at this study day provides students with the opportunity to relate OSCE teaching of the National Early Warning Score 2 (NEWS2) to situations they may face when working clinically.
Once you have passed the OSCE exam, you will join our preceptorship programme to help you build your skills and confidence as a registered nurse at Royal Papworth Hospital.
Training for healthcare support workers
If you join Royal Papworth as a healthcare support worker, you will be enrolled onto the Care Certificate course (unless you have already taken the course elsewhere) which will provide you with the fundamentals behind caring for our patients.
Once you have gained the Care Certificate, you may wish to apply for further training.
We offer an in-house HCSW development programme which consists of a mixture of face-to-face study days and virtual learning.
Other training paths exist in conjunction with our local universities which offer apprenticeship routes into Nursing Associate and Registered Nursing roles.
We currently support staff with the Level 5 Nursing Associate Apprenticeship and the Level 6 Registered Nurse Degree top up programme.
Training for nurses returning to practice
At Royal Papworth Hospital, we support nurses who have taken a career break - for whatever reason - to regain their NMC Pin and practice as a registered nurse.
Nurses who are returning to practice are eligible to join us as a Band 3 healthcare support worker while taking part in a three-to- four-month course to regain their nursing skills.
The Return to Practice Course offers the chance to revisit clinical skills with the support of a nursing supervisor.
At the end of the programme, participants undergo a robust assessment to ensure they are competent and able to perform as a registered nurse. Once participants have passed this assessment they can be appointed as a Band 5 registered nurse.
Apprenticeships at Royal Papworth Hospital will now have the benefit of the expertise and support of the apprenticeship team at Cambridge University Hospitals (CUH) as part of a new shared service. Please contact the apprenticeship programme manager at CUH, on 01223 254832 if you have any query regarding new apprenticeships.
This new shared service will support our clinical education team but will not otherwise affect the delivery of clinical apprenticeships within the hospital.
We work very closely with Cambridge University Hospitals (CUH) and enjoy a shared service agreement supporting work experience opportunities. This is overseen by the Work Opportunities Team at CUH.