31 December 2020
Dressed in her NHS blue scrubs with navy blue clogs, Abby performs one of many vital checks on a patient in critical care.
Tapping the touch screens of an array of monitors, she listens to the regular feedback of beeps and chimes, letting her know that her patient is doing ok.
Looking across to the next patient bed space, she shares a smile with a colleague over something that happened earlier in the day. Despite – or perhaps because of – the seriousness of the conditions their patients experience, there is a real sense of camaraderie in the department.
"I feel completely at home here," Abby said. "The team morale is strong and although the patients are at one of the most delicate times they'll ever have in their lives, we feel so proud to play a vital part in their recovery."
At the age of 33, Abby is about to become a qualified nurse, fulfilling a promise she made to herself when joining the NHS 10 years ago as a domestic cleaner.
Her journey since then has involved living in Tunisia, Birmingham and Cambridge, progressing from a band one on the NHS career ladder all the way through to what will be a band five come the start of 2021.
'I always wanted to train to become a nurse'
"Whilst living in Tunisia, I applied for my domestic role in 2010 and returned to Birmingham. In 2015 I joined Royal Papworth, working as a healthcare support worker, but always wanted to train to become a nurse".
"In September 2016 I began on the foundation nursing degree course at Anglia Ruskin University in Cambridge; this was a mix of studying and working on the job here at Royal Papworth Hospital for almost two years.
"When I passed that course I started my current position as a band four assistant practitioner. After further training and studying as part of the top-up nursing apprenticeship during the past 15 months I am now converting that foundation degree into a registered nurse (RN) degree, which will be complete come February 2021."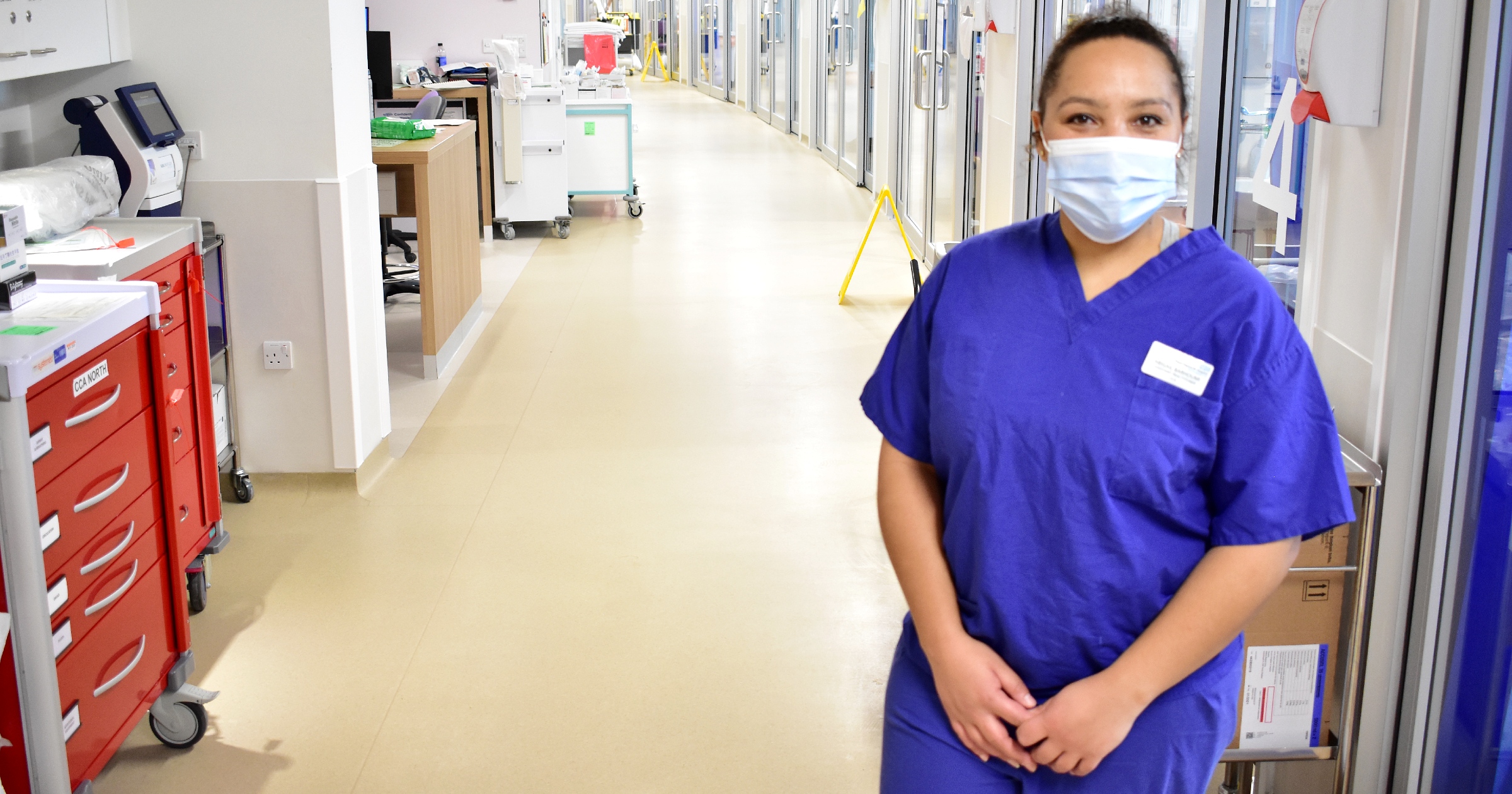 Abby will become a staff nurse in critical care from February 2021
Of the decade she has spent in the NHS, there's no doubt that 2020 – bookmarked as International Year of the Nurse and Midwife - has been the most gruelling and tiring in her career.
During the first wave of the coronavirus (COVID-19) pandemic, the hospital's critical care unit expanded to twice its usual size and cared for some of the most seriously ill patients in the East of England, as one of five centres providing extracorporeal membrane oxygenation (ECMO) for patients experiencing severe respiratory failure.
Although Abby continues to care for coronavirus patients during the second wave of the virus this winter, she hopes that 2021 will be a better year for her and her colleagues as she prepares to begin the year as a pre-registered nurse before formally graduating into a registered nurse.
"I've learnt so much during my time here with all the rotations across all departments in the hospital, plus everything that has been thrown our way in the past 12 months, too.
'I'm so excited to formally become a registered nurse'
"Critical care is all about the teamwork in action. During the surge in the spring it was really difficult and everyone was pushed to their limits. Still being a student and caring for these patients was hard but the team was so supportive.
"I'm so excited to formally become a registered nurse in the next few months. I would never have been able to afford going to college and then university full-time so this pathway has given me an option that works for me to become a registered nurse.
"It has taken longer than it does for other people, but I have no financial debts and have enjoyed the work-life balance that training in this way has given me. I just want to thank the hospital and my colleague for their support, guidance and friendship along the way."
Nursing vacancies at Royal Papworth Hospital