12 December 2022
Michael Nash is used to heavy lifting in his job as a forklift truck driver, but when his lungs were doing more heaving lifting than normal, he knew there was something wrong.
Michael, from Fareham in Hampshire, experienced regular periods of breathlessness, which he had assumed was due to being overweight. One day he blacked out at work and in the process resulted in him breaking his femur. When going to hospital for treatment, it was then that Michael was diagnosed with Pulmonary Hypertension.
Pulmonary hypertension is a type of high blood pressure in the blood vessels that supply the lungs. Left untreated, it is a serious condition that can damage the right side of the heart. The walls of the pulmonary arteries become thick and stiff and cannot expand as well to allow blood through. The reduced blood flow makes it harder for the right side of the heart to pump blood through the arteries and working continuously against resistance can cause the heart muscle to weaken and lead to heart failure.
Michael's condition led to him becoming increasingly limited in his ability to function. At one stage, his oxygen levels dropped to 60%. When it became apparent that medical therapy could no longer control his condition, it was determined that he required a bilateral lung transplant to be undertaken at Royal Papworth Hospital - a procedure where both lungs are removed and replaced with two donated lungs. A lung transplant can prolong survival and improve quality of life.
In order to get on the transplant list, Michael had to make substantial lifestyle changes, including losing three and a half stone in weight. Such was his determination, Michael has now lost seven and a half stone in total and developed a passion for walking, especially to his local coffee shop and back!
To raise awareness of pulmonary hypertension and organ donation, Michael has been keen to document his experience, becoming somewhat of a media celebrity in the process.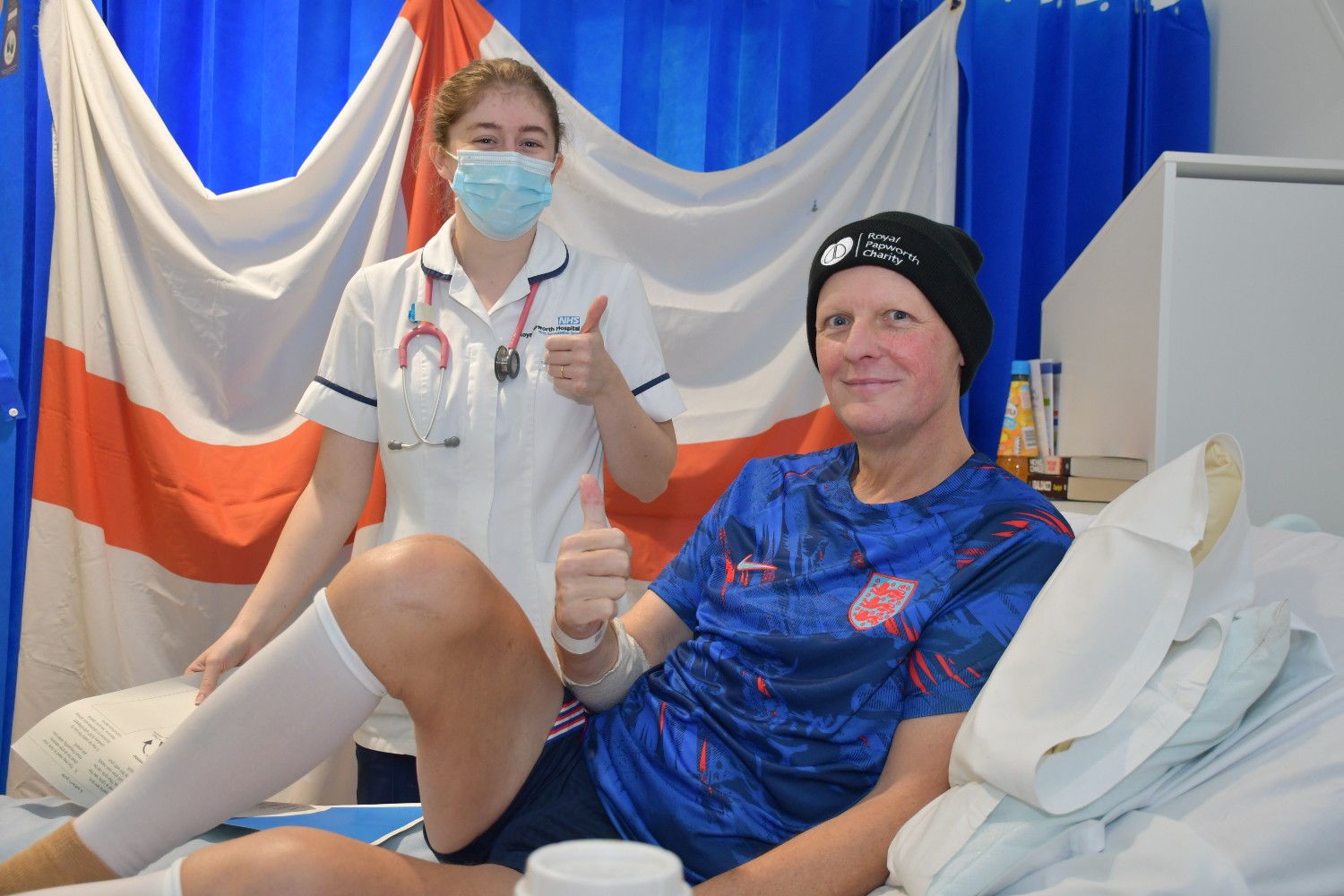 Michael with physio Florence Edwards following is bilateral lung transplant

An avid listener of the Chris Evans Breakfast Show on Virgin Radio, Michael has had his text messages read out on the show as they have followed his journey over the past year. This has included him losing the requisite weight to get on the transplant list and the anxiety he felt of multiple 'false alarms', where the transplant was unable to go ahead. Thankfully for Michael, it was lucky 13 which led to him finally receiving his bilateral lung transplant last month.
The team at Virgin Radio have been so captivated by Michael's story that they have invited him into the studio in the coming weeks to tell his tale.
Michael, who was discharged from Royal Papworth Hospital recently, said of his experience: "For years I had been struggling to catch my breath but to be diagnosed with pulmonary hypertension and be told that it required a lung transplant was somewhat of a shock.
"It was scary going down to theatre for my operation but the first thing I remember after waking up was my girlfriend on one side and a nurse on the other holding my hands. My first thought was the experience of being able to breathe so well without the need for additional oxygen, and how my quality of life would improve. I just wanted to get out of bed and walk again!
"I'm a keen listener to Chris' show and have been messaging him since my diagnosis. It has helped me knowing that they have been so interested in my story, and it came as a complete surprise to be invited to their studios to join them on the show before Christmas. It gave me such a boost in my recovery and an added motivation to get better as quickly as possible. I'm so excited to meet them all in person and publicly thank all who have helped me."
Caroline Patterson, a Consultant Lung Transplant Physician at Royal Papworth Hospital said: "Organ donation saves lives but only 1% of people die in a way that makes organ donation possible. Michael's experience highlights how this precious gift can dramatically improve quality of life for recipients and allow them to return to independence.
"Prior to his hospital discharge, Michael was walking laps of the hospital duck pond but we are delighted he will soon be able to revisit his favourite coffee shop."
Michael is extremely grateful for all the support he has received in the run-up to and after his transplant surgery.
"I've got so many people to thank but I'm particularly grateful to Weight Watchers for helping me lose the weight needed to get on the waiting list for my transplant in the first place, and to the NHS and Royal Papworth Hospital in giving me the life-saving treatment that allow me to be here today and supporting me in my recovery."
Michael was able to get the treatment he needed thanks to organ donation and donors across the UK. Around 4,400 transplants took place in 2021/22. However, there are around 7,000 people still on transplant waiting lists; including more than 200 children and 420 people died last year while waiting for a transplant.
Even though the law around organ donation has now changed to an 'opt out' system across England, Scotland and Wales, family members will still always be involved before organ donation goes ahead and will be expected to support their loved one's decision. This means it is still just as important as ever to register your decision on the NHS Organ Donor Register or by calling 0300 123 23 23 to ensure your family know what you want. NHS app users in England can also use the service to record, check or update their organ donation decision.