4 July 2023
A chartered surveyor from Northampton has become the first person in the UK to sign up for a new heart transplant research trial being led by Royal Papworth Hospital NHS Foundation Trust.
The trial is testing a new way of protecting the organ when it is being transported from donor to recipient, which could be one of the biggest changes to heart transplantation in more than 40 years. Instead of using ice to preserve the heart, it is connected to a machine which keeps the heart supplied with oxygen and nutrients.
More than 200 participants globally have been recruited to the trial across 15 international sites, with three of those being UK hospitals. Six patients have come from Royal Papworth Hospital, making us the largest UK recruiter.
The trial is supported in the UK by the National Institute for Health and Care Research (NIHR).
Adrian, 65, a keen cyclist, had been fit and well throughout his life until around 2004 when he began to experience breathlessness when exercising.
"It was getting harder to get up certain hills. I didn't take any notice of it but then I started getting a cough and other issues, so my wife, Mary, encouraged me to go to my GP."
At the age of 50, Adrian was diagnosed with cardiomyopathy, a type of heart disease which makes it harder for blood to be pumped around the body. The next 15 years saw Adrian and his doctors manage with medication and a pacemaker before his condition deteriorated and he entered end-stage heart failure.
In October 2022, Adrian was admitted to Royal Papworth Hospital where he was put on a waiting list for a heart transplant. After a short wait, Adrian underwent a heart transplant in December 2022.
In the time between being admitted and having his transplant, the trial opened to recruitment and Adrian was told about the research:
"I was given a leaflet, which I read through. I thought it would help one way or another, so I was quite happy to sign up and contribute something to this research."
In contrast to the standard method of transporting hearts on ice, the new technique connects the cooled heart to a pump that provides it with oxygen and nutrients during transportation for DBD (donation after brain stem death) transplants.
Patients who sign up for the trial are randomised to either of the arms, which means the heart has either been transported in the standard way or in the new way. It is not known which until the trial ends, but this did not deter Adrian from taking part:
"In fact, the first thing I said when I came off the anaesthetic was 'I can breathe, breathing's easy', and it's been working perfectly ever since!"
"If this process can help improve heart transplantation in the future, then we need to do these tests to find the proof. I'm very pleased to have done it and if it helps someone else's life, that's even better!"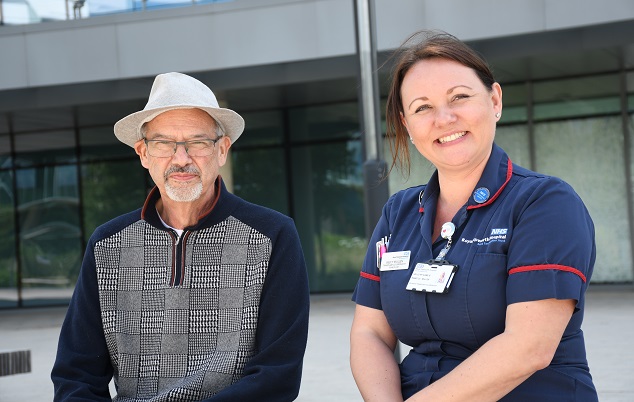 Adrian with transplant nurse Beccy
Mr Marius Berman, Surgical Lead for Transplantation at Royal Papworth Hospital and Principal Investigator, said: "I am very grateful to Adrian and all six of our patients who agreed to take part in this important multi-centre, international trial, which could fundamentally change the way we perform DBD heart transplants.
"The study has now finished recruiting as it reached the target of 202 participants. I am very happy that Royal Papworth transplant team has helped with this important research, and in particular transplant nurse Beccy Mullen who was instrumental in the trial.
"We are all eager to see the results which might impact in the near future how we transport hearts from the retrieval to the transplant site."
Dr Patrick Calvert, National Specialty Lead for Cardiovascular Disease for the NIHR's Clinical Research Network, said, "We are extremely grateful to Mr Berman and the team, who work tirelessly to further the knowledge we have about how to care for transplant patients through research. We can't express our thanks enough also to Adrian, and all those who sign up to take part in research to improve care, so often for the benefit of future patients if not themselves."
Christoffer Rosenblad, Chief Executive Officer for XVIVO, said, "We are thankful for the support from patients and clinical trial investigators in the UK who choose to participate in the ongoing clinical trial. XVIVO's investigational heart technology is currently being evaluated in clinical trials in Europe and Australia, and soon the US, in order to seek regulatory approvals for commercialisation.
"We believe that the new innovative heart technology from XVIVO has the potential to change the paradigm in heart preservation as it will open up for using more available hearts, and in turn saving more lives."
Discover more about research and development here at Royal Papworth Hospital here.