17 June 2021
Cystic fibrosis (CF) is an inherited and incurable condition. It causes sticky mucus to build up in the lungs and digestive system. This is due to a reduced number of, or ineffective, proteins called 'cystic fibrosis transmembrane conductance regulator' (CFTR) and causes lung infections and problems with digesting food.
Chi Palas and Susan Wing, CF Specialist Nurses, and Lead Nurse for CF Sam Henman, have been discussing why they love working with CF patients and the current breakthroughs offering hope for the future.



Why do you love working within the field of cystic fibrosis?
We love working with patients with CF as every day is different and, as specialist nurses, we are fortunate that we get to know our patients very well because they are under our care for a long time. We find these patients very inspiring people as they carry on and achieve amazing things in their lives despite facing the difficulties of a life limiting disease.
We feel proud that we get to make a difference to many of our patients' lives, no matter how small or simple that difference may be.
Teamwork is also a key part of what we do. Cystic fibrosis patients are reviewed and assessed in our multidisciplinary meetings involving physiotherapists, pharmacists, psychologists, social workers, dietitians, consultants, specialist nurses and ward nurses. Everyone has a seat at the table offering their expert insight, meaning everyone's contribution is equal and this all improves the care offered to our patients.

What is life like for people with CF?
Life with CF can be extremely challenging as there are a broad number of daily treatments and medications that need to be administered. CF also affects your personal and work life as you may have to take time out of these activities to have appointments or to be admitted to hospital for intravenous antibiotics. Many patients strive and work very hard to balance all of these things and to achieve a "normal" life.
We support a lot of our patients through all different stages of their lives as sometimes planning for the future is difficult. Despite all the challenges, most patients are positive and robust to these obstacles.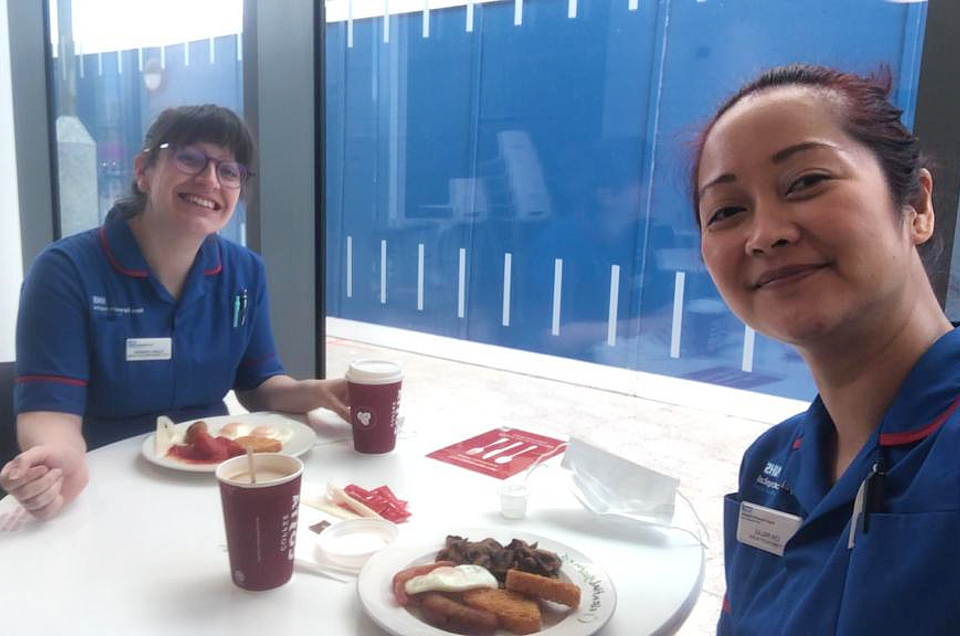 Susan and Chi enjoying one of their 'Breakfast Club' meetings



What are the current big talking points this CF Week?
Kaftrio is the newest member of the CFTR modulator therapy family. This has been a life changing treatment for some of our patients who were facing the possibility of transplant. It is so easy to take as it is just tablets, which means many patients manage good compliance. Some enjoy the benefit of increased lung function, thinner sputum that is easier to clear, less exacerbation of their condition and the ever-coveted feeling of normality!
Many of our patients were very afraid when COVID-19 first surged last year, but they were very sensible and followed the government guidelines well, alongside good compliance to treatments. Our patients are feeling a little bit apprehensive about the lifting of the COVID-19 restrictions but are also looking forward to meeting their loved ones again.



How are we improving care for our CF patients at Royal Papworth Hospital?
We are always looking to improve the care we offer to our patients. We are continuing with virtual appointments for routine check-ups to reduce the risk of any cross infection and to reduce the footfall through the hospital. Most of our patients have also been offered home spirometry equipment so they can keep track of their lung function at home. A decline in this can be an early indicator for needing treatment.
If face-to-face appointments or treatment is required patients can come to our ambulatory care unit which is located in outpatients to receive a clinical review. In Pod A in outpatients where the CF patients attend, there is enhanced ventilation to protect our patients not only from viruses such as COVID but also from cross infection.
There is also the pioneering Project Breathe, which has now been running for more than two years here at Royal Papworth Hospital and is being rolled out to other centres in the UK and internationally.