29 September 2022

A woman celebrating the 35th anniversary of her heart-lung transplant has been reunited with her transplant surgeon to mark Organ Donation Week.
Katie Mitchell, 50, from Sidcup in Kent, underwent lifesaving surgery in 1987 at Royal Papworth Hospital NHS Foundation Trust at the age of 15 and was one of the youngest patients at the time to have the operation.
She had been diagnosed aged 11 with a rare condition called Eisenmenger Syndrome: congenital heart disease in which the pressure in the pulmonary arteries is high, causing an increased resistance to blood flow through the lungs. This leads to irreversible lung damage and heart failure.
Before her transplant she was so ill she could barely climb the stairs and her lips, mouth and cheeks were blue, but felt 'immediately better' when waking up after her operation.
Katie is now one of the longest surviving patients in the world ever for this type of transplant and more than three decades later has had a career, got married and had two kidney transplants.
During a special visit to the hospital on Thursday 29 September, she met-up with her surgeon, Professor John Wallwork, now chairman of Royal Papworth Hospital, and members of the transplant team who have looked after her since.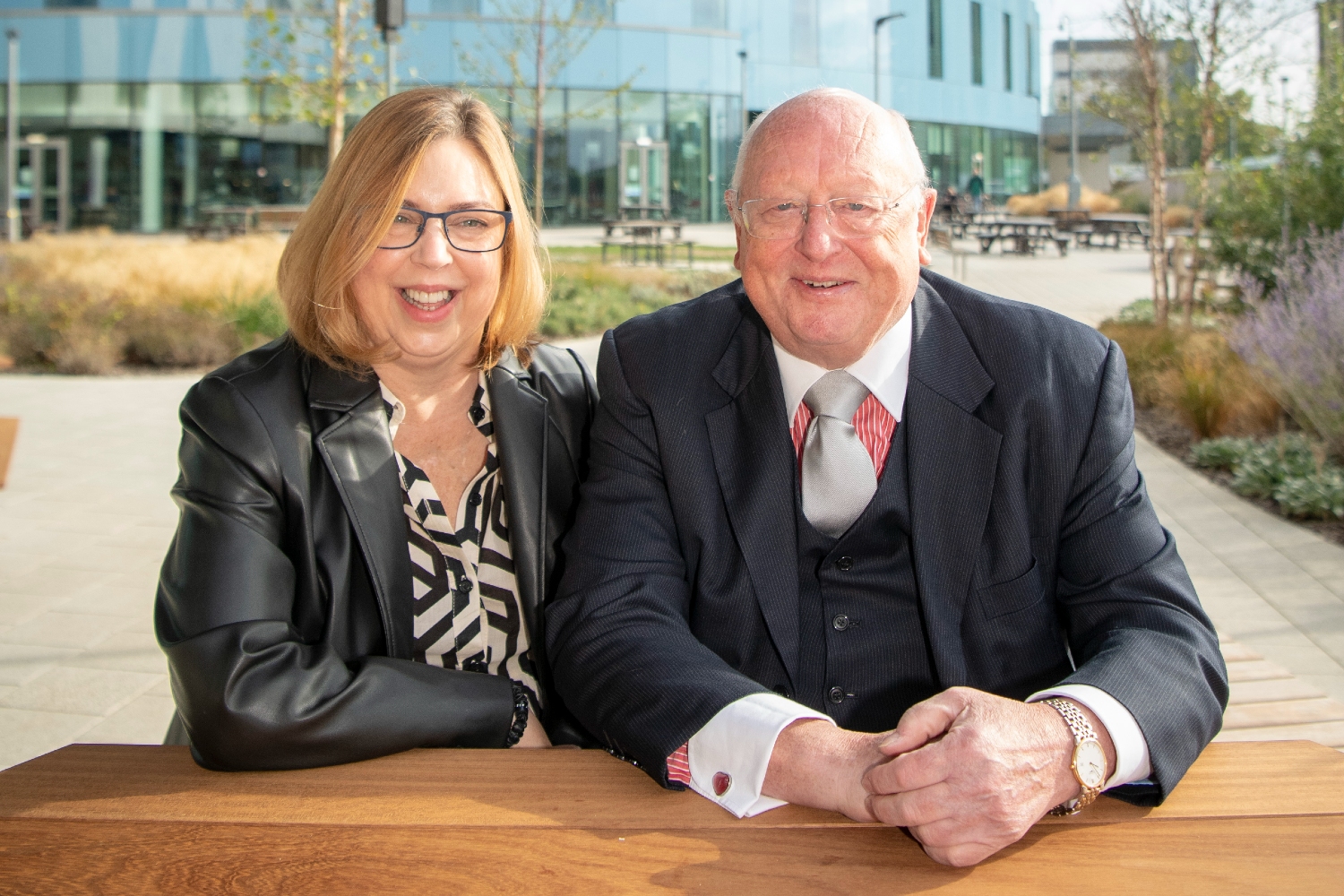 Prof Wallwork led the team that performed Katie's heart-lung transplant in 1987
"Thanks to organ donation, I was given the gift of a normal life," she said. "It has allowed me to do normal things I wouldn't have been able to otherwise.
"I can't really remember a time before I had a transplant because it was so long ago, other than the time immediately before when I was really very ill and I couldn't walk up the stairs.
"It took me about 30 minutes to get up or down the stairs and then that was me for the day, I would stay there.
"I was told after my transplant I would feel better and I felt that immediately. I was pink rather than blue and could breathe so easily."
It was first thought Katie was asthmatic. At the time she was diagnosed with Eisenmenger Syndrome there was no treatment for the disease and most patients died between the age of 30 to 50.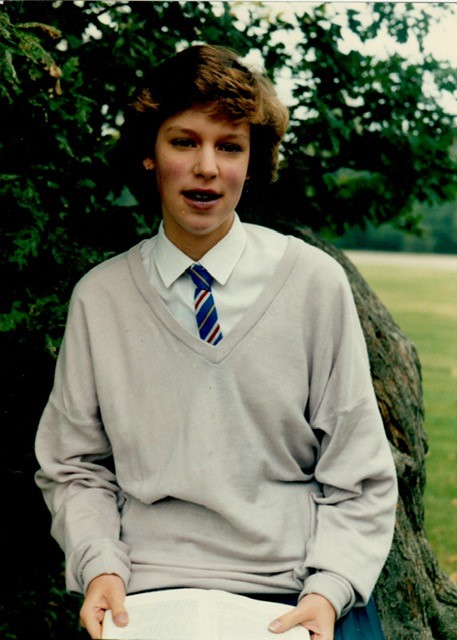 Katie pictured in about 1987 or 1988. She was so ill her mouth had turned blue.

That changed when, in 1984, a team at the then Papworth Hospital performed Europe's first successful heart-lung transplant, a team led by Professor Wallwork.
"Without him I wouldn't be here," Katie reflected after the reunion.
"The medical team, the transplant team, my donor and their family, none of this would be possible without them.
"The generosity of one family at a difficult time has turned into a chance of life for me. I've always worked full-time and just got on with life."
Professor Wallwork said that at the time of the operation there was not the experience to predict for how long people may live.
"We didn't have survival data because it was so new, but we had people getting sicker and sicker and needed a transplant otherwise they would die.
"We can't do any of the work without organ donors – they are selfless in turning tragedy into something good.
"Katie was coming towards the end of her life at the age of 15. To see her now this many years later having led a good life, not just having survived, is wonderful."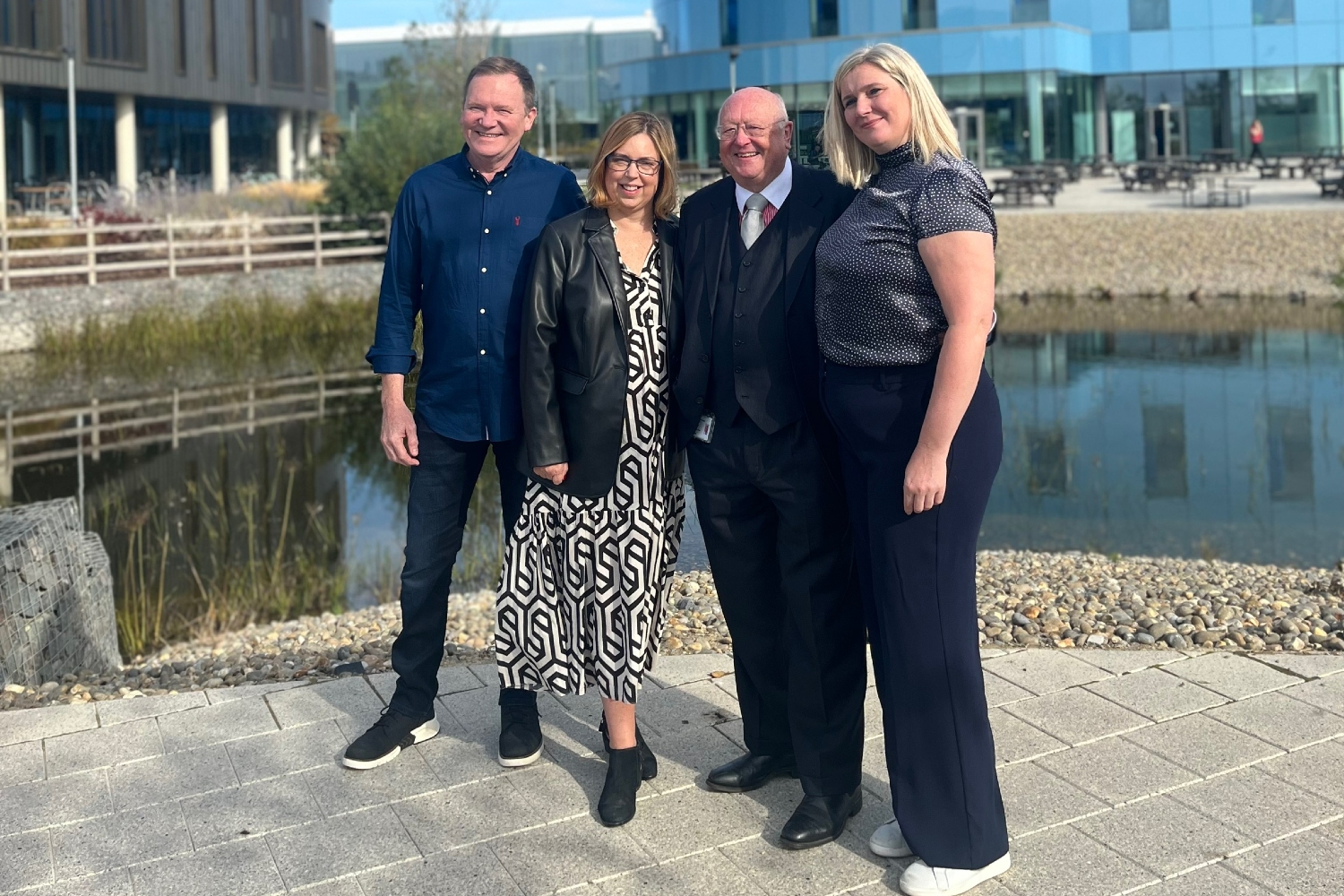 Katie with husband Lex, Professor Wallwork and friend Samantha.

Katie was joined at the reunion by her husband, Lex, and lifelong friend Samantha.
"We'd got to the point where she wasn't really able to go out or do anything and if she did it was exhausting for her," Samantha told the Press Association.
"I can remember being at her home with her and when she needed to go upstairs she had to do three steps sit down as she couldn't do it in one go.
"And once she got upstairs that was it she wasn't coming back down again for the rest of the day as it was too exhausting.
"Watching that decline was very difficult, we were both 15 at the time."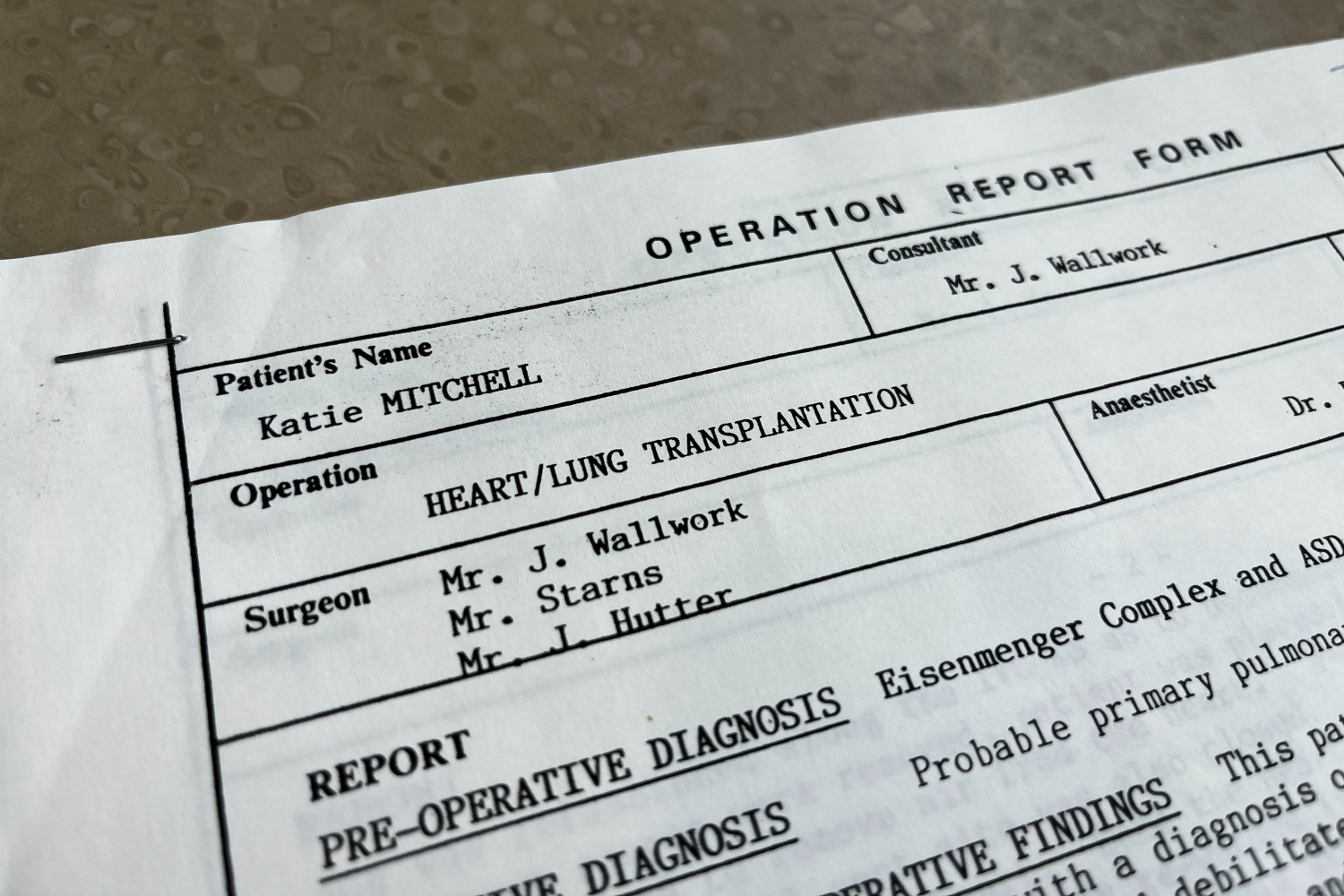 Katie's original operation report form from 1987

Reflecting on how things turned out, she said: "It's awesome, isn't it.
"I don't think there are even words in the dictionary to describe it.
"I've had 35 years of my friend that we wouldn't otherwise have had.
"She knows my son, my brother's children, she's part of the family, we've done family holidays together, we've done day trips together, we've been away on holiday just me and her.
"None of that would have been possible without the donor family, John and his team and Katie being brave enough to take it on, though arguably she didn't have much choice."
In addition to her heart-lung transplant at Papworth in 1987, Katie has also had two kidney transplants from deceased donors, in 1994 and 2015, at St Guy's and St Thomas' in London.
Royal Papworth Hospital has now performed 2,906 transplants since its first in 1979, with 1,672 heart transplants, 359 heart-lung transplants, 277 single lungs and 598 double lungs.
Celebrating 35 years
Like Katie, Carol Town, 68, also this year celebrated 35 years since her heart-lung transplant at Royal Papworth in 1987.
Carol was diagnosed with Eisenmenger Syndrome at the age of five in 1959.
She spent much of her childhood in hospital, suffering from symptoms such as extreme breathlessness, heart failure and asthma.
With her health continuing to deteriorate, she was told that her only hope was the development of a pioneering type of transplant.
Carol was referred to Royal Papworth Hospital and, following 18 months on the waiting list, was called on her way home from work to say that suitable organs had become available. She was 33.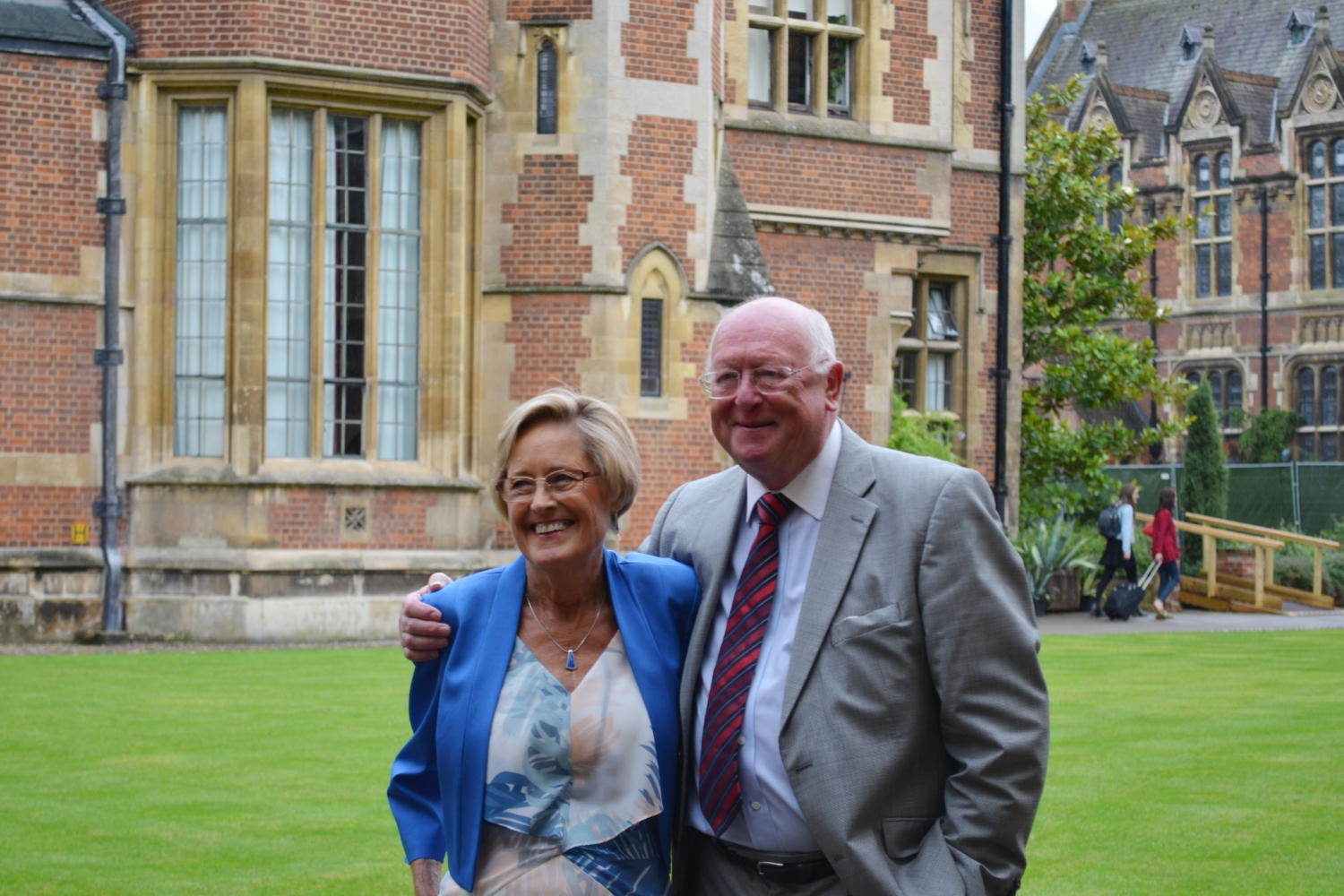 Carol Town and Professor Wallwork pictured in Cambridge in 2017

Her surgery in July 1987 was successful and was discharged several weeks later in time for her fourth wedding anniversary in August.
Carol's transplant allowed her to continue her work as a counsellor and therapist for the NHS and various charities, contributing a further 30 years of service until her recent retirement.
She has also climbed Snowdon, travelled the world, and has just celebrated her 39th wedding anniversary with husband Stephen, who together have a son, Joss. She completed in the British Transplant Games and until recently still walked and swam regularly.
Carol also had surgery at Royal Papworth in 1992 to remove part of a lung and, in 2005, a kidney transplant.