23 March 2020
A transplant team at Royal Papworth Hospital has become the first in the world to transplant a DCD (Donation after Circulatory Death) heart-lung bloc.
Aaron Green, 25, received the life-saving operation in summer 2019.
DCD transplantation involves using organs from donors who have died because their circulation has stopped, compared to the traditional method of Donation after Brainstem Death (DBD) donors whose death has been confirmed using neurological criteria.
DCD transplants have increased substantially over the last decade and now represent approximately 40% of all deceased organ donors.
"On average, there are about four heart-lung transplants in the UK each year. This is because very few suitable donor organs are available and priority is generally given to people who need a heart transplant only," explained Mr Pedro Catarino, Clinical Lead for Transplant at Royal Papworth Hospital NHS Foundation Trust and lead surgeon for Aaron's operation.
"This means there have been very few opportunities to try this new technique since we performed our first DCD heart transplant here at Royal Papworth five years ago."
Aaron, who is from Arundel, West Sussex, was born with transposition of the arteries, a condition where the pulmonary artery and the aorta are swapped over.
He had corrective surgery aged just 18 months but ended up developing pulmonary hypertension (increased blood pressure within the lungs' arteries), which really started to impact his life once he reached the age of 20.
"By 22 I was on a constant infusion of intravenous medication and by 24 I was admitted to Royal Papworth on a permanent basis," Aaron recalled.
"I was on the transplant waiting list for 110 days. In that time I had three false alarms and had begun to get extremely sick. My fiancée, Julie, and my family were getting ready to say goodbye when the organs became available.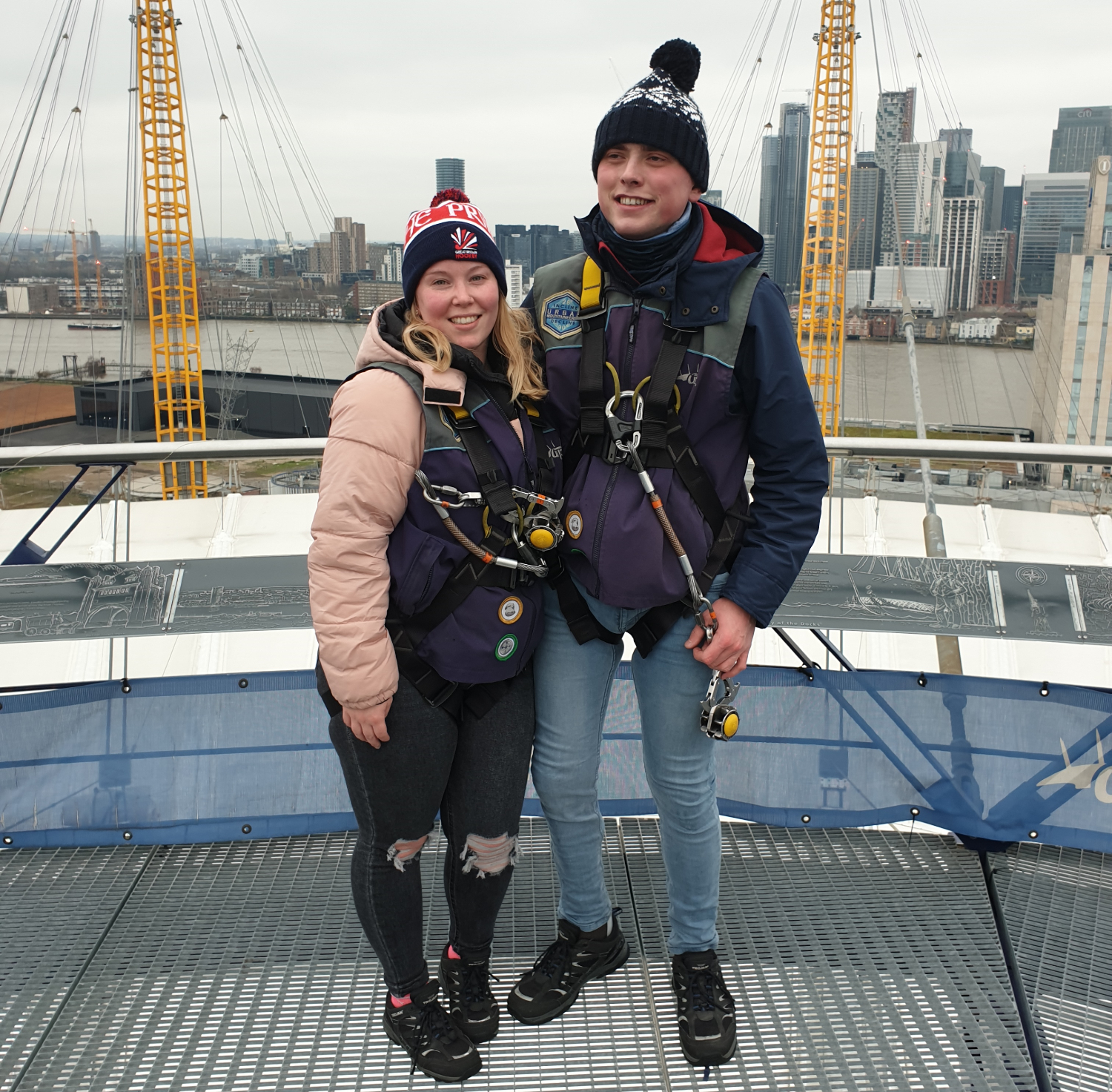 Since his heart-lung transplant, Aaron is now back playing cricket and has taken up cycling. He's due to marry fiancee Julie in September.
"I'd been told a few weeks prior to my transplant that the operation that they were looking to do with me had never been done before. I trusted the team and their confidence. When Richard Quigley [Lead Nurse for Transplantation] came to see me in Critical Care to tell me 'we may have found the organs', by that time I was on a lot of medication which kept me calm, but I remember thinking 'everything is going to be okay'.
"My first memory post-transplant was being extremely weak to the point where I could barely lift my hand. But I saw my skin and for the first time in a long time I wasn't blue."
Now, almost a year after his life-saving operation, Aaron has recently started a new job and is working full-time for the first time in five years.
He is also due to marry Julie in September.
"I have started getting back to cricket and my teammates and friends raised money to buy me a road bike, so I am cycling too. I am climbing hills and going for walks; I could barely manage the stairs before so it's a huge improvement.
"I'd like to say 'thank you' to my donor and their family. I can't imagine how difficult that situation was for you, but I am extremely grateful that you decided to donate."
"Aaron was a very sick young man", said Richard Quigley.
"He had multiple cardiac arrests in the weeks leading up to his transplant. That's one of the reasons why we went for this world-first and pushed the boat out and I'm extremely glad we did because he's doing really well.
"My job can be so incredibly rewarding, especially when it comes to stories like Aaron's, but sadly there are still many people who die on the transplant waiting list.
"We hope that Max and Keira's Law will have a positive impact and offer hope to those who are still waiting for their life-saving operation."
Max and Keira's Law, also known as an 'opt out' system, will see all adults in England considered to agree to donation unless they opt-out or are in one of the excluded groups.
A similar change in Wales a couple of years ago has helped to dramatically raise the number of people and families agreeing for organ donation to go ahead.
The Law will be enacted in England on 20 May 2020.
Royal Papworth also performed the UK's first successful DBD heart-lung transplant back in 1984, and the first DCD heart transplant in Europe in 2015.
Watch the BBC's report (YouTube)
Warning - contains graphic images