24 March 2023
A Cambridge institute dedicated to improving cardiovascular and lung health has received a £16 million gift from Canadian entrepreneur and philanthropist Dr Victor Dahdaleh.
The Victor Phillip Dahdaleh Heart and Lung Research Institute (HLRI) is home to the largest concentration of scientists and clinicians in heart and lung medicine in Europe. It opened in July 2022 with the ambitious goal of identifying ten new potential treatments or diagnostic tests for heart and lung diseases within five years.
The HLRI is located on Cambridge's rapidly expanding Biomedical Campus, immediately adjacent to Royal Papworth Hospital. The institute brings together population health, laboratory and clinical scientists, with NHS clinicians and patients, with the aim of improving outcomes for people with cardiovascular and lung diseases such as heart attacks, pulmonary hypertension, lung cancers, cystic fibrosis and acute respiratory distress syndrome.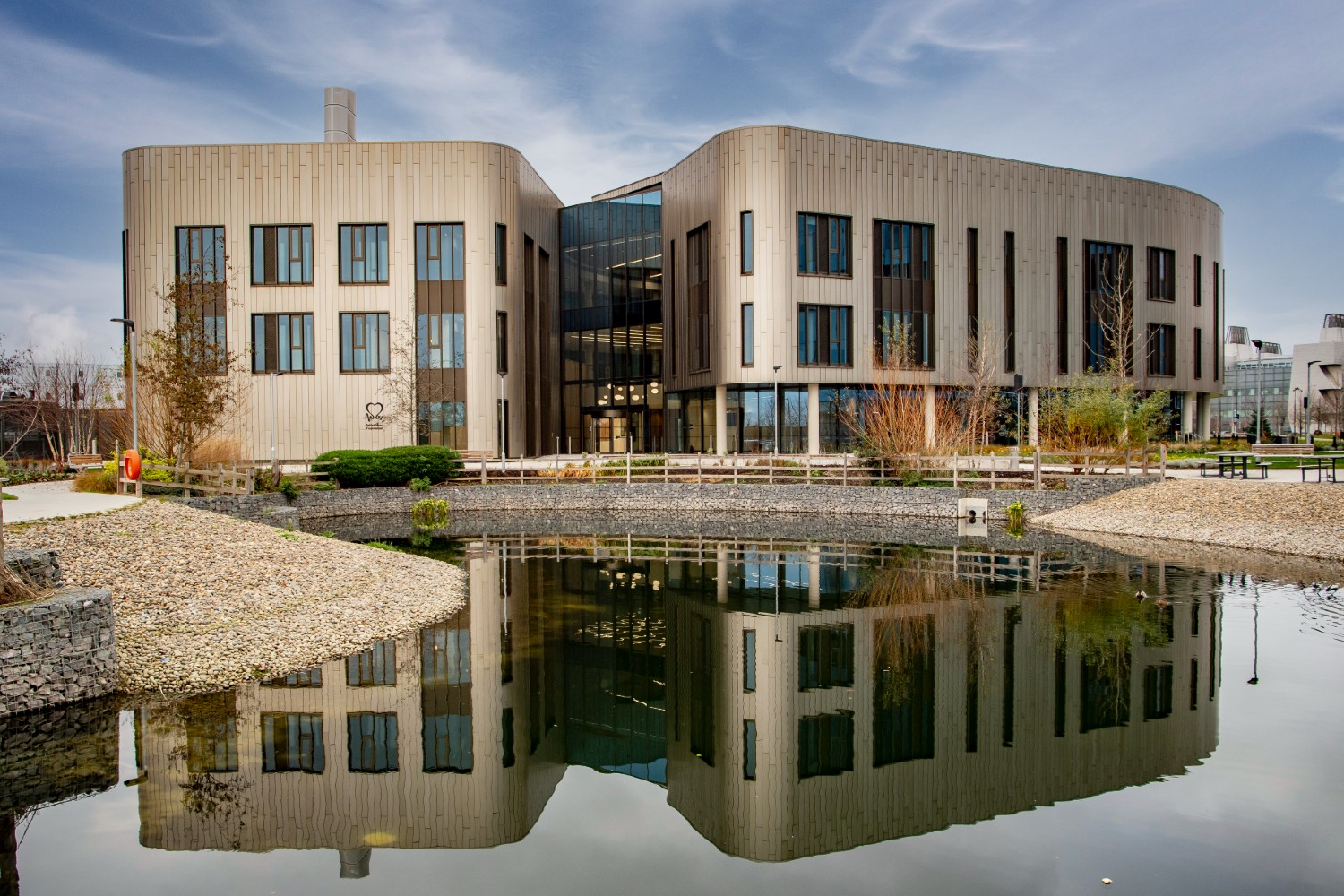 The Victor Phillip Dahdaleh Heart and Lung Research Institute

Dr Dahdaleh said: "Cambridge is one of the greatest Universities in the history of civilisation and, 800 years on, it is at the cutting edge of scientific progress. Over the years in which I have been supporting education and medical research around the world, I have realised the UK is a global leader in the prevention, identification and treatment of heart and lung diseases.
"I'm supporting this new Institute because, through collaboration with Royal Papworth Hospital and other leading institutions, it will enable a concentration of expertise that will make medical advances in these fields that are of international importance."
Dr Dahdaleh has previously supported research at the University of Cambridge looking into COVID-19 and national research on mesothelioma, a type of lung cancer linked to asbestos exposure and a condition which is treated at Royal Papworth.
Cardiovascular and lung diseases kill more than 26 million people a year and have a major impact on the quality of life of many more. Alongside the immense human cost, the economic burden of these diseases – an estimated annual global cost of £840 billion – is already overwhelming and unsustainable. Yet declining air quality and increasing rates of obesity are set to compound the scale of the challenge faced worldwide.
Dr Anthony Freeling, Acting Vice-Chancellor of the University of Cambridge, said: "We are truly grateful to Victor for his generous donation. There has never been a more pressing need to develop new approaches and treatments to help us tackle the heart and lung diseases that affect many millions of people worldwide. The Victor Phillip Dahdaleh Heart and Lung Research Institute is in a strong position to make a major difference to people's lives."
Professor John Wallwork, Chair of Royal Papworth Hospital NHS Foundation Trust, said: "When we moved our hospital to the Cambridge Biomedical Campus in 2019, one of our ambitions was to collaborate with partners to create a research and education institute on this scale. Victor's kind donation will support all the teams working in HLRI to develop new treatments in cardiovascular and respiratory diseases, improving the lives of people in the UK and around the globe."

Royal Papworth Hospital Chairman, Professor John Wallwork (yellow tie) speaks to Sir Victor Philip Dahdaleh and other dignatories.

The HLRI includes state-of-the-art research facilities, space for collaboration between academia, healthcare providers and industry, conference and education facilities. It also includes a special 10-bed clinical research facility where the first-in-patient studies of new treatments are being conducted.
Professor Charlotte Summers, Interim Director of the HLRI, said: "We have set ourselves ambitious goals because of the urgent need to improve cardiovascular and lung health across the world. Victor's generous gift will help us realise our ambitions. Collaboration is at the heart of our approach, with our researchers and clinicians working with patient, academic, charity and industry partners within the Cambridge Cluster, nationally and internationally."
Dr Dahdaleh is also a significant supporter of the Duke of Edinburgh awards, York and McGill universities in his homeland of Canada, and the British Lung Foundation. Dr Dahdaleh and his wife Mona, via the Victor Dahdaleh Foundation, have a commitment to supporting scholarships for disadvantaged students pursuing higher education in addition to their extensive philanthropic support for research into cancer, lung and heart disease.
The HLRI has already raised £30 million from the UK Research Partnership Investment Fund, £5 million from Royal Papworth Hospital Charity and £10 million from the British Heart Foundation, with additional funding from the Wolfson Foundation and the University of Cambridge. Additional support has been provided by the Cystic Fibrosis Trust for a Cystic Fibrosis Trust Innovation Hub within the institute.