17 January 2020
Shanice Moncur, 24, says she is "looking forward to the future" having become the first person in the UK to receive a donated pair of lungs using a technique pioneered by doctors at Royal Papworth Hospital near Cambridge.
Following retrieval of the donor lungs they were immediately placed on to the Organ Care System – which preserves organs - where the functions of the lungs can be assessed.
This novel technique enables the retrieval team to have the time to carry out a full, functional evaluation of the donor lungs prior to transplantation and, on occasion, make improvements to organs.
That could involve clinicians administering drugs to the lungs, in-turn improving the ventilation so that their condition improves. They are then transported back to Royal Papworth where the final assessment is made and the definitive decision whether or not to transplant is made.
Lungs that would otherwise be declined are therefore made available, which increases the number of patients that can be transplanted.
Shanice says the operation – which took place in November 2018 - has transformed her day-to-day life and means she can start planning her future with husband Robert, who she married a few months previously.
"I feel completely different; I can hold a conversation together now without having to stop and gasp for air. I can walk without fighting for breath and I'm back working.
"If I went back to my old lungs now I just wouldn't be able to cope. I couldn't fly for about 12 months after the operation so we're looking forward to the future and planning holidays together."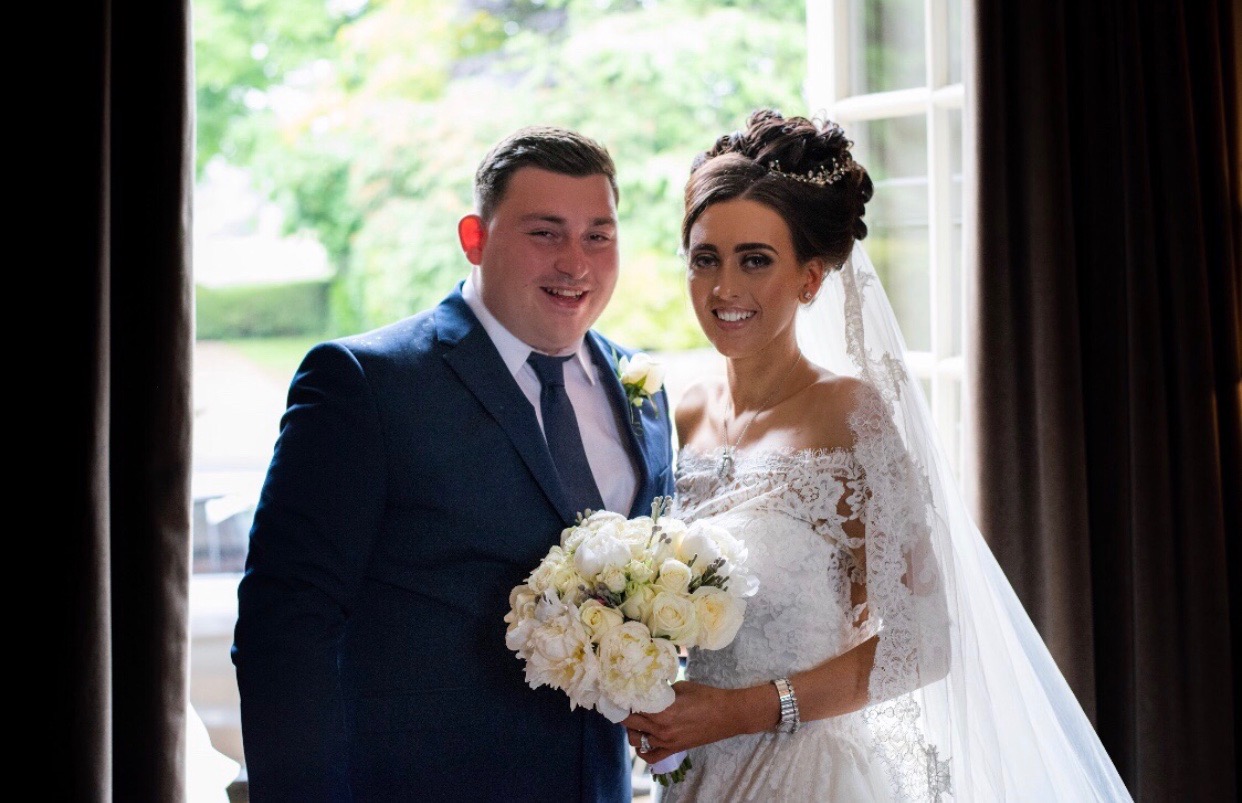 Shanice with her husband, Robert, on their wedding day in 2018
Shanice, from Darlington, was diagnosed with cystic fibrosis when she was a baby, but it wasn't until she was in her mid-teens that the condition really began to take its toll on her body.
"I had to sleep with an oxygen mask, and sometimes needed it in the day. I was on Intravenous therapy (IV) for the six months up to my transplant, and was also being fed through a tube. I needed 3,000-4,000 calories a day because my infection levels were so high and all the calories in my body were being burned quickly.
"I'd worked since I left school – helping administer teacher pensions – but it got to the point where I was struggling to get from the car park into the office. I eventually had to take time off, and then leave work completely when I went on the transplant waiting list.
"I just want to say a big thank you to all the staff who were and still are involved in my care during this journey, I can't thank them enough. Also, to my donor family - I will always be grateful to you for giving me this second chance at life - thank you from the bottom of my heart."
Shanice's dad Lawrence said she was like a different person since the transplant.
"It's unbelievable to see her now – compared to what she was," he said.
"It was heart-breaking to see her constantly in hospital, the quality of life she had, not being able to do things friends her own age were doing. She didn't like going out for meals, because of the coughing. She was a bit embarrassed and self-conscious.
"It's a new life for her now."