15 July 2021
A pioneering project at Royal Papworth Hospital has received a prestigious funding award to test state-of-the-art artificial intelligence (AI) technology.
'Advance notice of deterioration in cystic fibrosis' – being run in conjunction with the University of Cambridge - has been named as one of 38 'Phase 2' winners at the AI in Health and Care Awards.
The study is using AI alongside home monitoring to create predictive algorithms which can forecast dips in the health of adults with cystic fibrosis (CF) before they begin to feel unwell.
It builds on a previous national trial of home monitoring in CF, called SmartCare (2015-17), which was also run out of Royal Papworth Hospital and followed almost 150 people with CF for six months.
AI alongside home monitoring has led to multiple health and cost benefits for patients
The study drew on two main elements: home monitoring, where patients collected daily measurements of lung function, pulse rate, oxygen saturations, activity, weight, and wellness from their home to build up a picture of their health over time; and then machine learning of this data which helped to create the predictive algorithms.
Through this change in care patients benefited from improved health with a reduced number of days in hospital on intravenous antibiotics, less deterioration in their lung function, and were supported to take action to stay well without repeated hospital check-ups.
It also allowed doctors and nurses to intervene when needed and begin antibiotic treatment earlier than it would otherwise have been started.
As a result of the success of SmartCare, the US CF Foundation supported a clinical implementation study of home monitoring, called Project Breathe (2019 - ongoing), which began at Royal Papworth Hospital for the East of England and is now being rolled out across Scotland, Wales and, from July 2021, Ontario in Canada.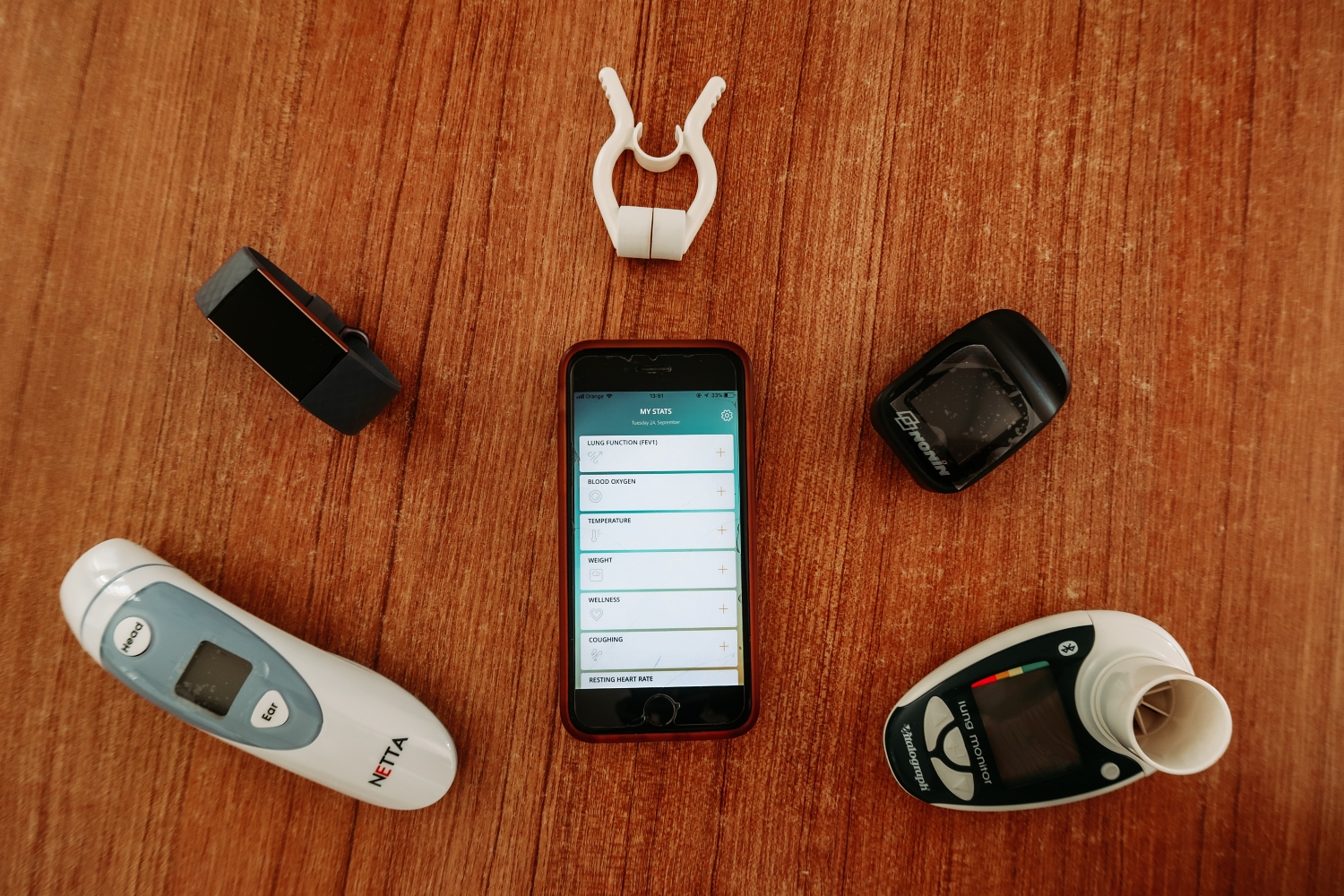 Home monitoring equipment has improved care for, and the health of, cystic fibrosis patients.

"Using the predictive algorithm to treat patients earlier could potentially reduce long-term lung damage," said Professor Andres Floto, Honorary Consultant Physician at Royal Papworth Hospital and Professor of Respiratory Biology at the University of Cambridge, who is leading the AI project.
"We are also hoping to remove the need for people to attend hospital for routine clinic appointments, as well as empowering and motivating patients to take control of their own health.
"This NIHR award will now allow us to refine the predictive algorithm using data acquired from several hundred more patients. We can then develop software to issue a lung health score using a traffic light system, sending an alert to the patient.
"Green would mean everything is ok, amber indicates that a person's health is beginning to deteriorate and they should begin to take pre-agreed steps to improve their condition, and finally red will tell them to contact their CF centre immediately. We then want to test the predictive algorithm in a multi-centre randomised controlled trial.
"Our hope is that by the end of this study we will achieve regulatory approvals to roll out our platform to all CF adults initially in the UK, and then across the world."



The project is hoping to develop a lung health score using a traffic light system.

The funding is part of a £36 million boost for AI technologies to revolutionise NHS care, announced earlier in June by NHSX.
'Advance notice of deterioration in cystic fibrosis' is a joint project being run by Royal Papworth Hospital NHS Foundation Trust, the University of Cambridge (Cambridge Centre for AI in Medicine and Department of Medicine), Microsoft Research, Magic Bullet and CF centres in Glasgow, Edinburgh and Cardiff.
Background
The NHS AI Lab will fund programmes to support the UK to become a world-leading, safe and ethically robust setting for the development and deployment of AI technologies. The Lab has also launched an AI Ethics Initiative to ensure AI products will not exacerbate health inequalities, including working with the Ada Lovelace Institute to design and trial algorithmic impact assessments.
The AI in Health and Care Award will distribute £140 million over three years, with the next round of applications set to open in late June.
The AI award is managed by the AAC delivered in partnership with NHSX and the National Institute for Health Research (NIHR).
366 applications were received which were reviewed through a series of stages including long-listing, due diligence checks, clinical and peer reviews, and interviews.
Four categories of AI products are being supported:
Phase 1 - to support the demonstration of the technical and clinical feasibility of the proposed concept, product or service.

Phase 2 - to support the development and evaluation of prototypes and generate early clinical safety/efficacy data.

Phase 3 - to support the first real-world tests in health and social care settings of AI products or tools to develop evidence of efficacy and preliminary proof of effectiveness, including evidence for routes to implementation to enable rapid adoption.

Phase 4 - to support the spread of AI products or tools that have market authorisation but insufficient evidence to merit large-scale commissioning or deployment. Successful products will be adopted in a number of NHS sites to stress test and evaluate the AI technology within routine clinical or operational pathways to determine efficacy or accuracy, and clinical and economic impact.