19 May 2020
"I don't like to think about how close I came to dying," reflects Eliza.
"At 14 I was told that my heart was that of a 70-year-old; and I felt that age, too."
Eliza and Yasmin were both 20 when they met in hospital.
Breathless, and with their health deteriorating, their daily dose of dozens of tablets meant that life was a little different compared to most of their friends who were either studying at university or beginning their careers.
Normally based more than 300 miles apart, the pair were brought together by one shared need: a life-saving transplant.
It can be painfully difficult watching all of your friends out doing 'normal' things
For Eliza, from Penzance in Cornwall, it was due to a failing heart as a result of Danon disease that cut-short her university studies. For Yasmin, based in Kent, idiopathic pulmonary hypertension had dramatically reduced her quality of life to the point that a bilateral lung transplant was the only long-term solution.
"It can be painfully difficult watching all of your friends out doing 'normal' things for a young person while you're sat at home making up your medications, picking up prescriptions and always attending appointments," admitted Yasmin.
"On top of that, you're not able to work and can't go on holiday.
"But when I turned up at Royal Papworth in early 2019, seeing Eliza made me feel so much less alone. It was such a relief to meet someone else my age in a similar situation."
"We were in the ward together for two nights," remembered Eliza, "before Yasmin was told that she had a match and went to theatre to have her transplant.
"I told her that I'd 'see her on the other side' and thankfully it all went well for her. I was still waiting for my call and would wait for another few weeks, but seeing Yasmin come out of her operation and begin her recovery was amazing and I was so pleased for my transplant buddy."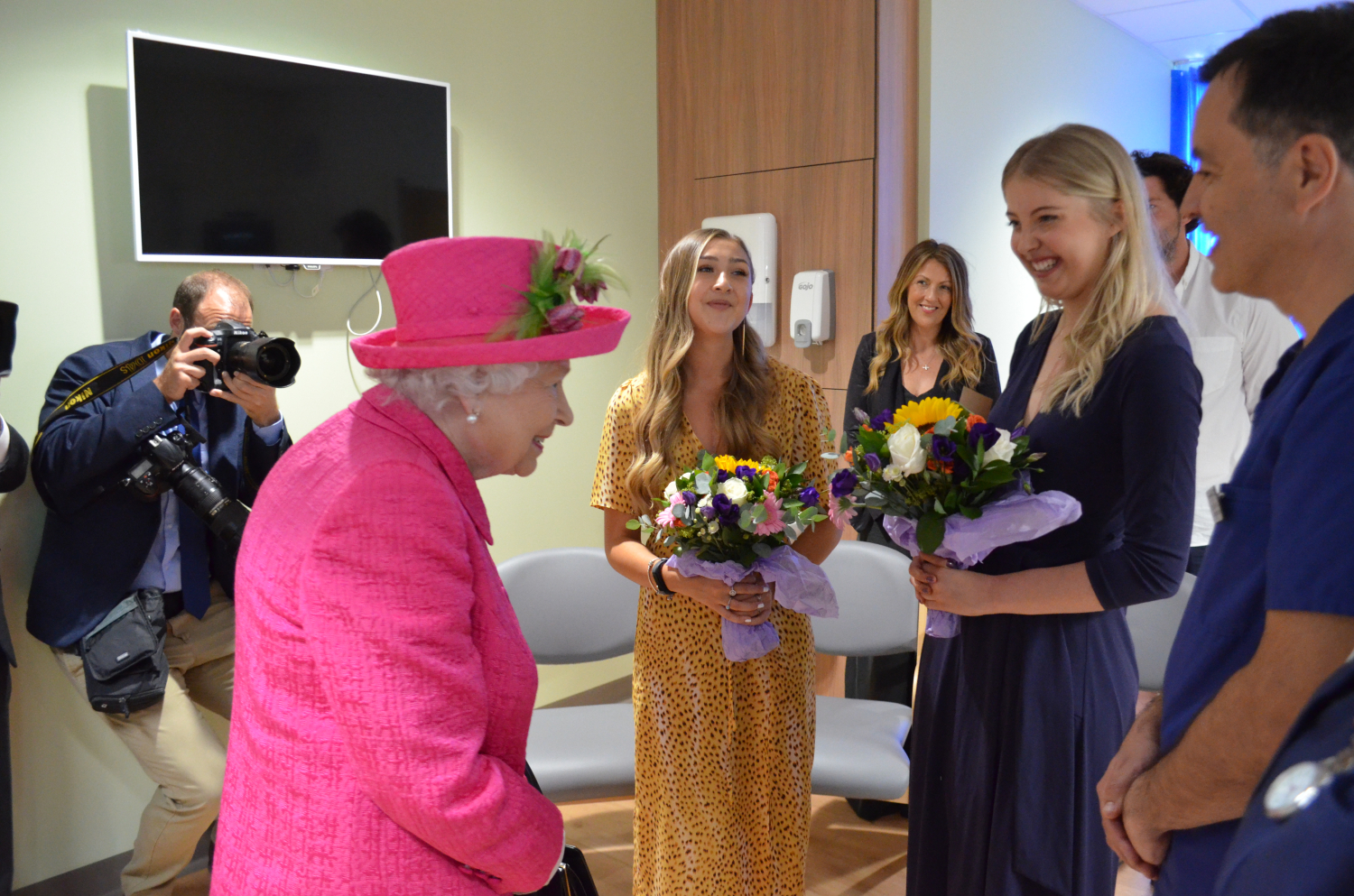 Yasmin (left in yellow) and Eliza met Her Majesty the Queen in July 2019 and spoke to her about their transplant and organ donation
In July 2019 they met Her Majesty the Queen when she came to open Royal Papworth's new hospital on the Cambridge Biomedical Campus.
Now, more than a year after their transplants, both Yasmin and Eliza are looking forward to the future.
They both continue to raise awareness of their previous conditions as well as advocating organ donation and the law change, which comes into effect from Wednesday 20 May 2020.
The change in the organ donation law will see all adults in England considered to agree to donation unless they opt-out or are in one of the excluded groups. A similar change in Wales a couple of years ago has helped to dramatically raise the number of people and families agreeing for organ donation to go ahead.
Even after the law changes, people will still have a choice about whether or not to become a donor and families will still be involved before organ donation goes ahead.
We spoke to the Queen about our transplants
Campaigners like Yasmin and Eliza are reminding people that whatever your views about organ donation, the most important thing is still to speak with your family and ensure they know what you want.
Yasmin said: "Going back to last year, I remember feeling guilty that I had a match and Eliza hadn't yet, but on the day that I was saying goodbye to her because I was being discharged back home she got told she had a match. I remember walking away and just bursting into tears of relief to my mum.
"Since then we've met up at the hospital a few times when we have had appointments on the same day and we even got to meet the Queen, which was a special day. Although to be honest, I was more excited and nervous to be meeting my surgeon for the first time!"
"We spoke to the Queen about our transplants and sharing our story in this way hopefully helps to spread the word about organ donation.
"Nearly a year ago I was saved by the most incredible gift from a selfless donor who allowed me to receive their lungs. I can't describe how precious that is and hopefully this change in the law will ensure more people are donors and more transplants can take place."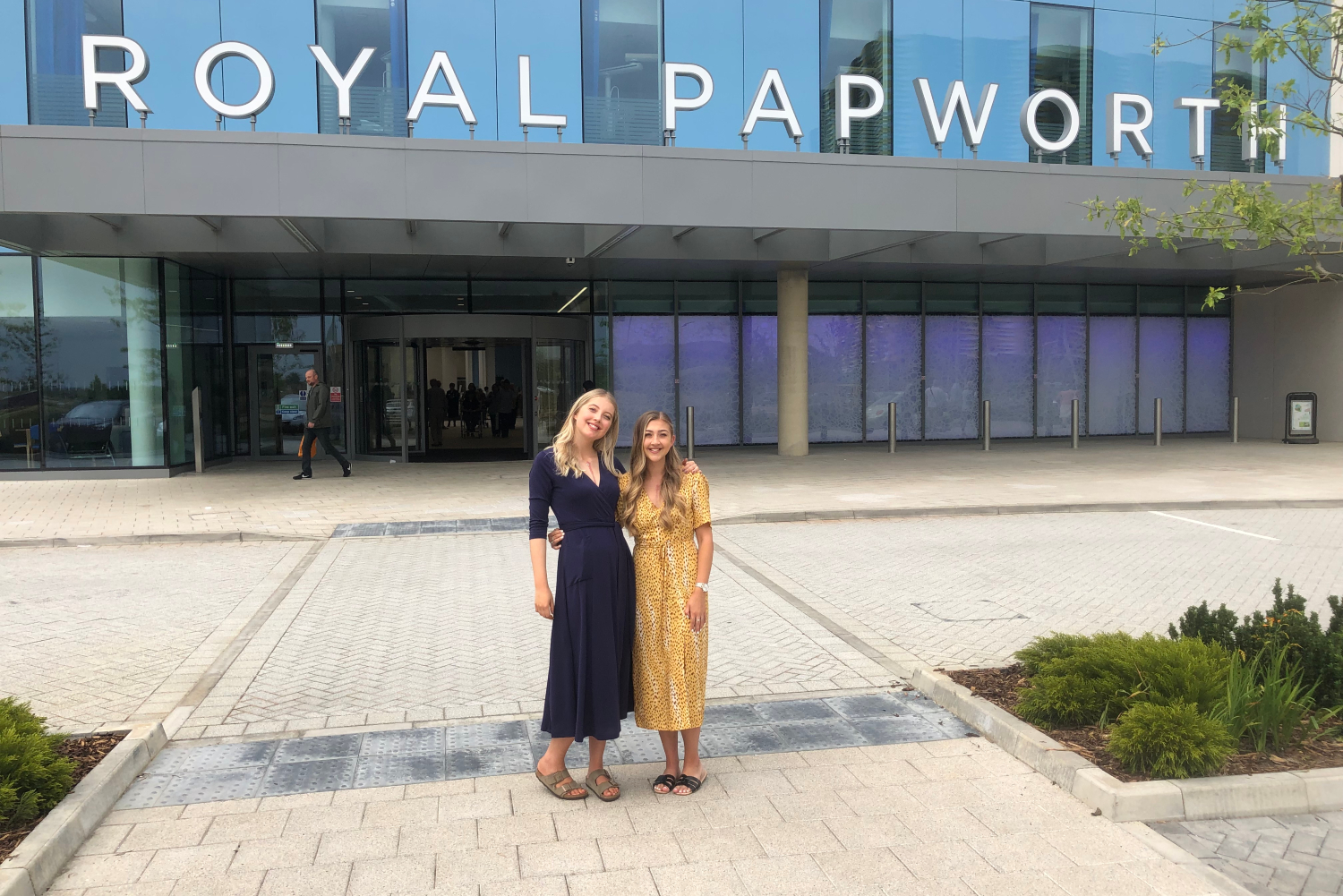 Eliza and Yasmin pictured outside Royal Papworth Hospital, which is based on the Cambridge Biomedical Campus
"I'm now raising £30,000 for Royal Papworth Hospital Charity to enable someone else to have the same opportunity I did," added Eliza. "That's how much the machine cost for the type of heart transplant I had.
"We've had half marathons, quiz nights and art exhibitions and we're currently at £18,000.
"Every time I have a positive or fun day, which I would not have been able to experience prior to the heart transplant, I always think about my donor and their family. In my head I thank them for this amazing gift – the gift of life."
Follow Yasmin's Instagram page, where she talks about pulmonary hypertension and organ donation: @lung_transplant_yasminswift.
As well as raising £30,000 for Royal Papworth Hospital Charity, Eliza has also started a podcast for the transplant community; just search 'transplant chats with Eliza' on your podcast provider.
Find out more about the organ donation law change in England.
Find our more about Royal Papworth Hospital's transplant service.