15 October 2020
Imagine arriving at Manchester Airport from Cameroon, completely on your own. You don't know anyone in the UK, you don't speak English. You have no idea what will happen next.
For Victor Tapah, 32, who fled from Cameroon in 2012, this was his first experience of England.
"It's scary when you have options. But for me, I didn't have any."
Eight years later, an extraordinary journey has brought Victor to the critical care department at Royal Papworth Hospital in Cambridge where he works as a nurse.
"In UK, the media doesn't talk about Cameroon. But it is a very difficult country to live in as an activist or politician. Since 2016, there has been civil war in the Northwest Southwest (known as Southern Cameroons) with around half a million people forced to flee their homes.
"I was persecuted for not agreeing with how the country has been ruled since 1982. I know people who have been put in prison for carrying out peaceful protests. For example, in September this year, more than 600 people were arrested for peaceful protests and most of them are still in prison today. Also, the person who came second in the 2018 presidential election is under house arrest because of this.
"Leaving my family and friends was hard, but moving out was my only chance to feel safe and have a minimum of freedom."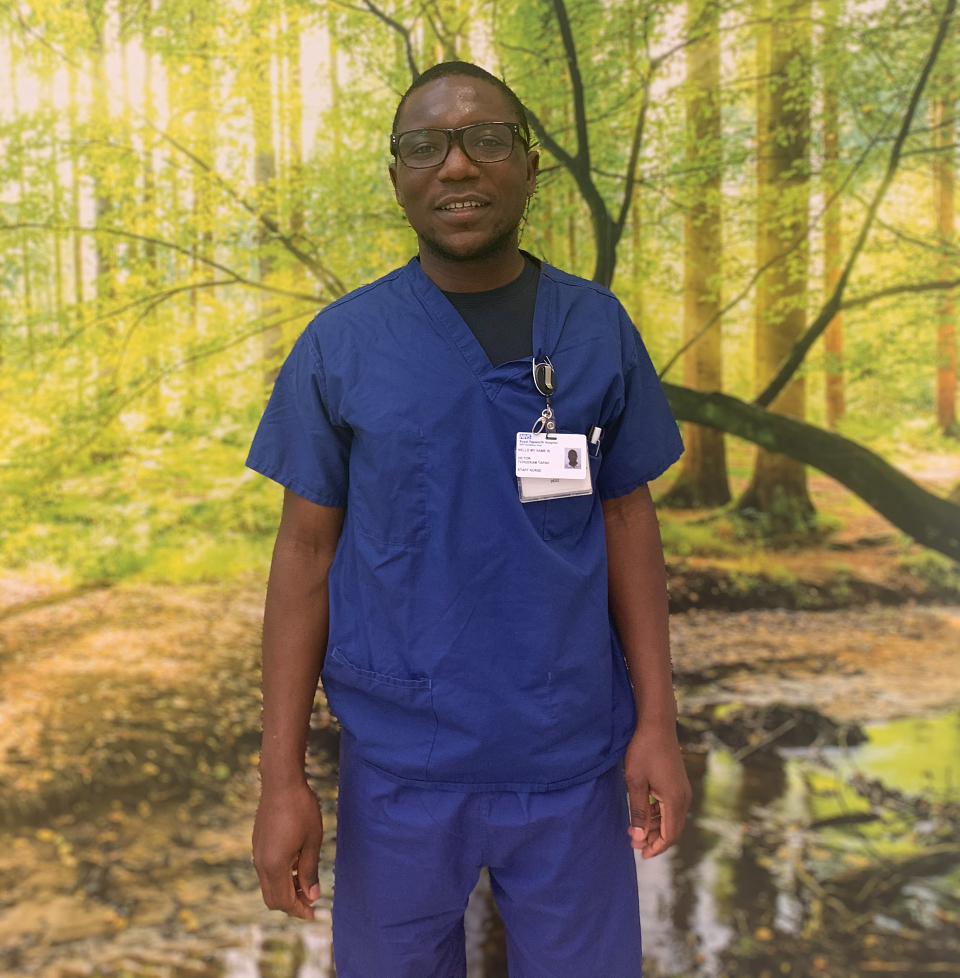 Victor has been a critical care nurse at Royal Papworth Hospital since October 2019
Arriving in Manchester by plane, Victor went to the refugee council who organised his transport to the Home Office in London to apply for asylum. While he waited for his claim to be considered, Victor lived in dilapidated accommodation in East London and took part in English courses.
Three years later, in 2015, Victor was finally granted refugee status, giving him permission to stay, work, and study in the UK for five years, after which time he can apply to settle in the UK.
"It was such a relief," says Victor. "Finally, I had some ID, I could be someone. But this relief was very short as I still have friends who have been waiting for about 10 years now."
Having refugee status meant Victor could finally work. He had been an accountant in Cameroon, but getting his skills registered in the UK would have been a long process. He saw an opportunity to apply for a funded place on a nursing degree course and decided to apply.
"I was offered a place on a nursing course at Anglia Ruskin University in Cambridge and decided to give it a go. I applied for a loan for my accommodation and moved into a house share – it was still basic, but nothing compared to the previous one. This was much better and quite clean.
"The course was challenging because of the language barrier, scars from the asylum process, and also because I have a stammer. But I made good friends on my course and I finally qualified with a first class degree last year."
Victor applied for his first nursing job in the critical care team at Royal Papworth Hospital, joining in October 2019. Little did he know then that his first year would involve working on the frontline during a global pandemic, caring for people who had become critically ill with COVID-19.
"The pandemic made us all come together as a team. We pushed ourselves to the limit. After that experience, I feel that whatever comes to me, I am prepared."
For Victor, the hardest thing about being a refugee is being away from his family who he has not seen for more than eight years.
"Every time I call my family they ask me when I am coming home. I miss them a lot, especially as my father is going deaf and struggles to hear me on the phone. But unless the situation in Cameroon changes, it would be too risky for me to go back."
Victor is a rep for public service trade union UNISON and is passionate about promoting equality for black people working in the NHS. He is particularly keen to see more black people take on senior roles in their organisations.
"To me, Black History Month is a chance to celebrate the contribution that black people make to the NHS and the country. But it can't just be for a month, it needs to be ongoing."
Victor on what Black History Month means for him