3 September 2020
Each week the NHS gets closer to restoring all of its services; at Royal Papworth Hospital our detailed recovery plan is currently ahead of schedule, for example surgical activity is back to January 2020 levels.
Although we are seeing an increasing number of patients at the hospital each day, we continue to treat people remotely where possible, via video and telephone outpatient appointments.
To achieve this, our Respiratory Support and Sleep Centre is one of the many teams who have introduced new ways of working.
Normally, a patient who is booked in for a home sleep study would come to hospital to pick up and be taught how to use the equipment, before taking it home, using it overnight and then returning it to hospital the next day.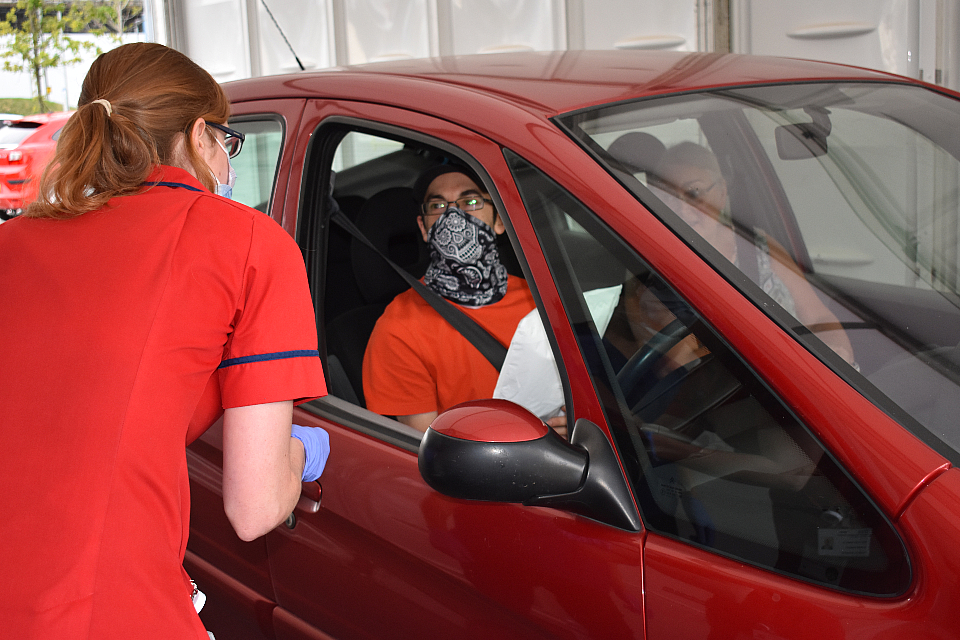 Claire Francis, Clinical Scientist in Sleep Physiology, handing over a home sleep study kit to a patient
Now, they are supplied with a link to a video demonstration to learn how to affix the home sleep study device. They are then given a pick-up time to collect the equipment via a drive-through service in the former COVID-19 testing facility in our hospital car park, where they can then ask our staff questions if seeking further clarification. The whole process, if there are no questions, takes less than a minute and the patient does not need to leave their vehicle.
Mandy Williams, CPAP Practitioner and Staff Nurse, said: "We are also creating further video guides, teaching patients how to record information from their CPAP (Continuous Positive Airway Pressure) machines that they can supply to nurses and consultants ahead of virtual outpatient appointments.
"Previously, this would have been done at the hospital by a member of Royal Papworth Hospital staff, so prevents the need for a patient to travel to see us, saving them time and money as well as keeping them safe."
If you are asked to come to Royal Papworth Hospital for an outpatient appointment or for treatment, we have strict infection prevention and control measures in place to keep patients and staff safe, including:
• Patients must wear a face covering at all times.
• Visiting suspension still in place, which helps ensure social distancing.
• Staff wearing face masks in non-COVID secure areas.
• Staff frequently washing their hands and using alcohol hand gel.
• One-way systems where appropriate.
• Increased cleaning of surfaces.
• Enhanced ventilation throughout the hospital.
• Single patient bedrooms and clinic rooms.
• Changes to patient flow to keep patients safer.
We will keep you safe, so please do not delay treatment.