19 November 2020
During the first wave of the coronavirus (COVID-19) pandemic in the United Kingdom, Royal Papworth Hospital treated more than 120 critically ill patients for coronavirus and had the highest occupancy of patients across the East of England within its critical care unit.
During the spring, multidiscplinary teams at the leading heart and lung hospital used acute Continuous Positive Airway Pressure (CPAP) therapy for a subgroup of patients. CPAP is a type of non-invasive ventilation – normally used to treat patients with common sleep disorders – and was utilised in an attempt to avoid putting patients onto invasive mechanical ventilation.
The results were very promising, though further evidence is needed to confirm the findings.
Delivery of acute CPAP was a great example of the whole hospital's response and approach to the coronavirus pandemic. Teams from critical care, the Respiratory Support and Sleep Centre, respiratory physiology, radiology and so many other disciplines worked closely together to achieve excellent outcomes.
Read the full paper in the Journal of the Intensive Care Society.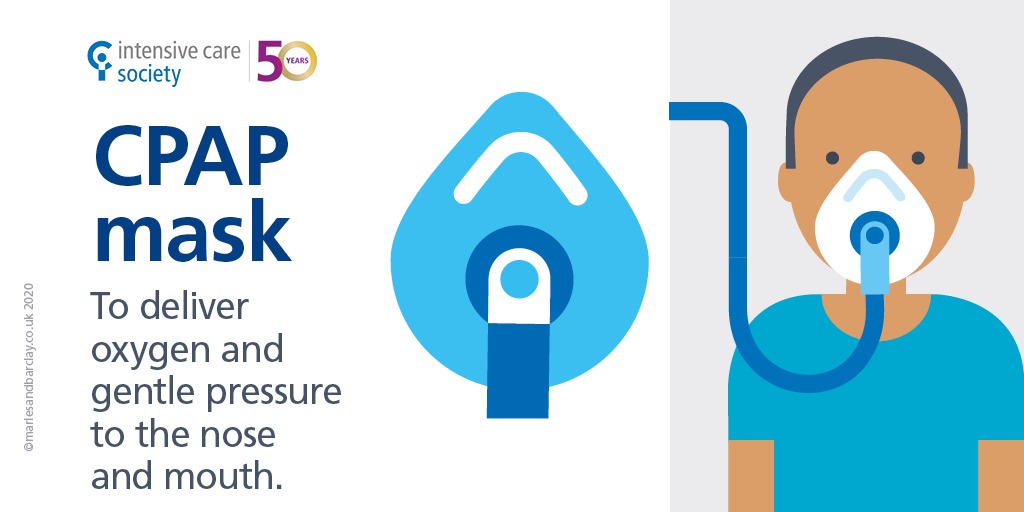 The different roles played by CPAP masks and mechanical ventilation in helping to improve a patient's oxygen levels. Images used with thanks and credit to the 'Intensive Care Society' and 'Marles + Barclay'.