18 May 2020
Extracorporeal membrane oxygenation is, put simply, the process of supporting someone who is in respiratory failure.
Unable to breathe for themselves, ECMO does the job of the lungs, allowing the organs to rest and recover. It may also prevent recognised complications associated with conventional ventilation.
"The procedure involves pumping blood out of the patient, adding oxygen and removing carbon dioxide," explains Dr Alain Vuylsteke, Clinical Director at Royal Papworth Hospital.
"It is only really used as a last resort and is a highly-specialised skill, so there are only five centres in England who are commissioned by the National Specialised Commissioning Team to provide ECMO for respiratory failure. We are one of those centres and help to provide a co-ordinated national response service, advising other hospitals and retrieving patients when appropriate."
The system works via an online referral portal, with a specialist multidisciplinary team discussing each case and providing clinical advice on how best to manage those patients so that ECMO can, wherever possible, be avoided.
In a typical month, our teams would retrieve four ECMO patients. In April, that number was 26.
If ECMO is indeed potentially the best support to offer, a specialist multidisciplinary team is dispatched to assess the patient and initiate ECMO support, before bringing the patient back to Royal Papworth Hospital.
In a typical month, our teams would retrieve four patients from across the East of England and parts of north London, bringing them to Royal Papworth for ECMO support.
However, the demand for the service has rapidly increased owing to the coronavirus pandemic, with our teams having retrieved 26 patients in April. To achieve this, consultant surgeons have been teamed with anaesthetic fellows, specialist nurses and perfusionists to go and assess and retrieve patients from other hospitals as our ECMO consultants have been needed to support the critical care expansion at Royal Papworth.
Laura Bowden is one of those specialist nurses on the retrieval team. She has worked with the ECMO team at Royal Papworth since it began in 2011.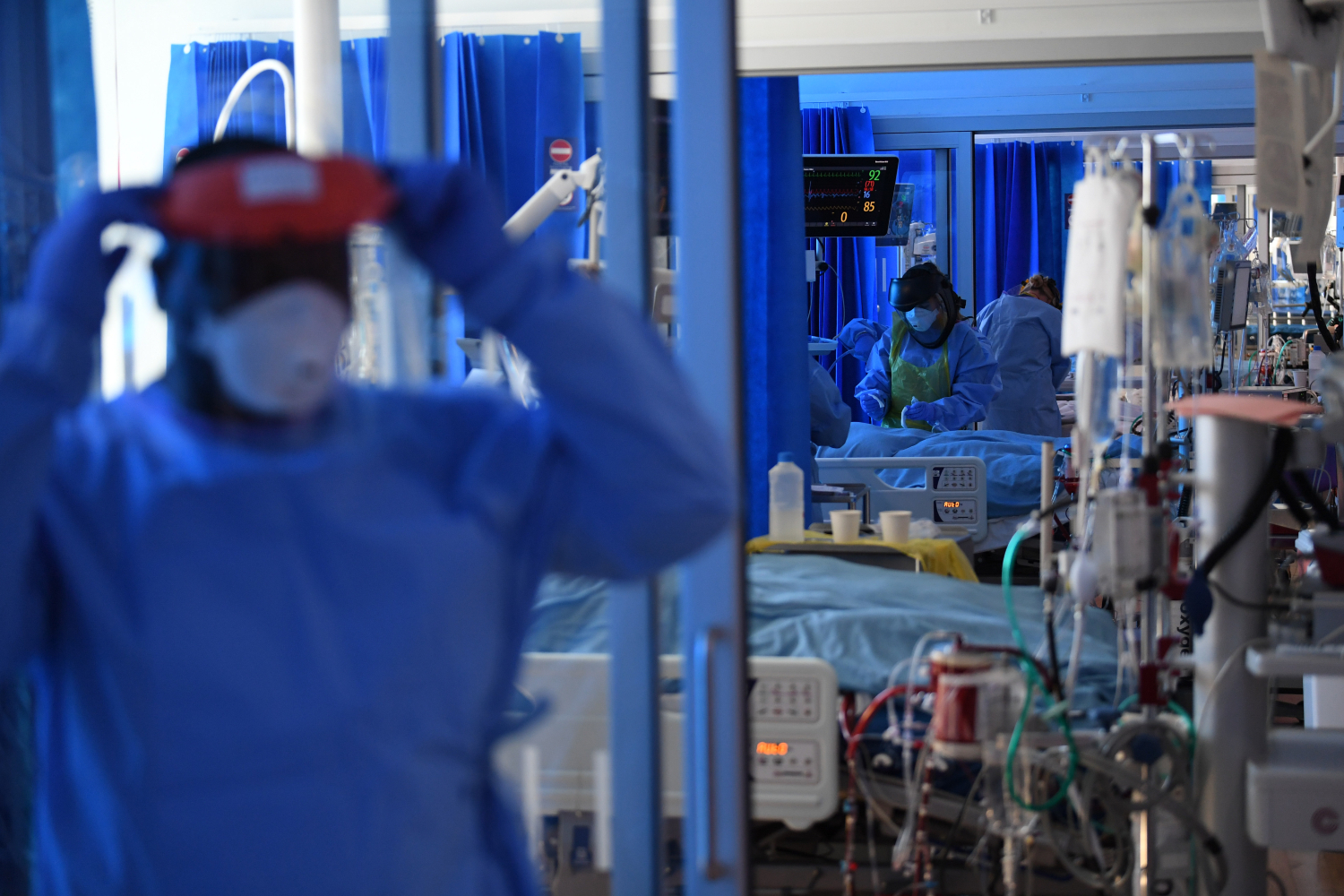 Our critical care unit during COVID-19. There have been up to 19 patients on ECMO in the unit at any one time.
"The maximum number of ECMO patients I can remember us having here at any single point is nine," Laura says, casting her mind back. "Usually, if you were to pick a random day in time we would have an average of four or five.
"Those numbers have gone out of the window during COVID-19. At times we have had up to 19 patients, which is a significant increase, but we worked hard to prepare for this and the team is pulling together with amazing spirit to give the very best care to each and every patient.
"On a national scale, anything above 15 ECMO patients is considered a surge. For example, last winter we peaked at 34. Across the five sites we have had up to 85. The numbers are huge but the system is coping admirably."
One of the changes that was introduced at the start of the COVID-19 pandemic is a 24/7 online referral system used by all the five centres, replacing the usual pathway of portal > nurse > consultant > decision.
Staffed by anaesthesia and intensive care consultants who had to work from home, they scan the referral portal and offer direct advice to the referring hospital, accepting the right patients and then mobilising the team for retrieval.
By the end of April we had more than 190 online referrals in five weeks.
"It was a challenging couple of weeks getting the new system running," says Dr Rachel Jooste, one of those consultants who form part of the new 'referral at home' team.
"The online referral portal was commissioned nationally on 15 March and it went live across all centres at midday on 25 March. We ran both systems for a few days before moving fully to the new model.
"By the end of April, we had already received more than 190 online referrals in five weeks, with 18% of those leading to retrieval. The referrals come to us 24/7 – the most popular times seem to be between one and four in both the morning and the afternoon. We offer vital information to the referring centre by sending a response online or calling them by phone.
"This is happening across the country. It's busy but such an important service, allowing us to have a unified response and cope with the increased demand."
Find out more about ECMO.