23 August 2021
On Tuesday 24 August, the 16th Summer Paralympic Games get under way in Tokyo, Japan.
One of those competing for Team GB will be Amy Conroy, part of the women's wheelchair basketball squad.
Thanks to a life-saving operation at Royal Papworth Hospital her father, Chris, will be able to watch her from home and in good health.
Mr Conroy, 66, has a condition called chronic thromboembolic pulmonary hypertension (CTEPH), a condition caused by blood clots which block the arteries of the lungs.
Over time, this leads to pulmonary hypertension and right heart failure and, when severe, worsening breathlessness and shortening of his lifespan.
"For the past few years I have noticed that my breathlessness was increasing and my capacity to do exercise was reducing, so I knew I had to go and get checked out," the retired teacher from Norwich said.
"I went to my local hospital, Norfolk and Norwich, and after a few visits and scans on my heart and lungs I was diagnosed with CTEPH.
"Following a test at Royal Papworth Hospital in April this year I found out I was eligible for surgery, which was a huge relief. I knew I wanted to have the operation; I had no reservations at all."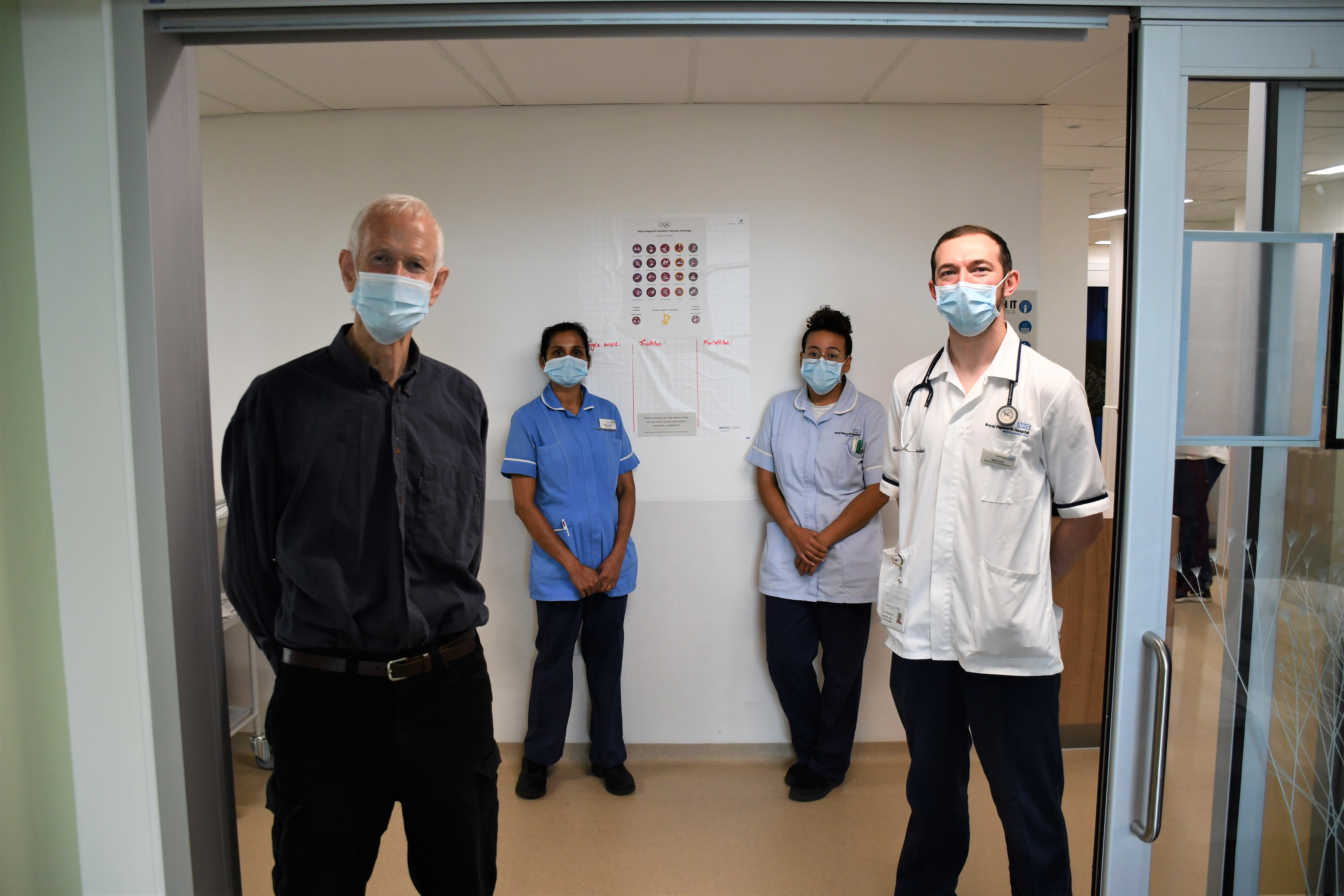 A whole team of people help patients recover after surgery, including nurses like Sonia (back left), healthcare support workers like Georgia (back right), and physiotherapists like Mike (front right).
Pulmonary endarterectomy (known as PEA or PTE) surgery is a highly complex operation which can take up to 10 hours to do. In the UK, this operation is only performed at Royal Papworth Hospital.
During the operation, the patient is drained of all their blood to give the surgeon a clear view of the clots which are deep in the lungs. This can only be safely done by cooling the body of the whole patient to 20°C - almost half the normal body temperature - to prevent damage to vital organs, including the brain.
The inside of the lung arteries are then cleared of clots and scar tissue before the patient is re-warmed and their blood is returned to their body from the heart-lung bypass machine.
In a large proportion of patients, their level of activity, quality of life and life expectancy will be significantly improved after the treatment.
"I remember speaking to one of the PEA specialist nurses who told me the operation was featured in a BBC documentary - watching that definitely helped me. It was like something out of a science fiction movie.
"Before the operation I would risk assess every trip I did - even a short walk to my local shop left me feeling embarrassed because I'd have to stop and catch my breath multiple times. I also am a keen painter but I had to do much less of that because my painting equipment is all on the top floor of my house and I couldn't manage the two flights of stairs to get there. It is only one week ago that I had my operation and I feel great already.
"I've had such a positive experience in hospital and brilliant treatment. I've felt so confident because of how organised everything is, you're never kept waiting because the porters are always there to take you down to x-rays for example.
"The people who bring the food and drink, who clean my room, everyone has just been superb and the atmosphere is one of co-operation and compassion. I feel so lucky to have one of the best hospitals in the world 60 miles from my home.
"I have a renewed appreciation of being able to breathe and walk. I cannot wait to start going to the gym again, volunteering at my local hospital and getting the paint brush back in my hand."
First up for Chris, though, is getting back home and watching his eldest daughter perform in the Paralympics.
After finishing fourth in Rio in 2016, he says that Amy and her teammates are determined to go one better this time around.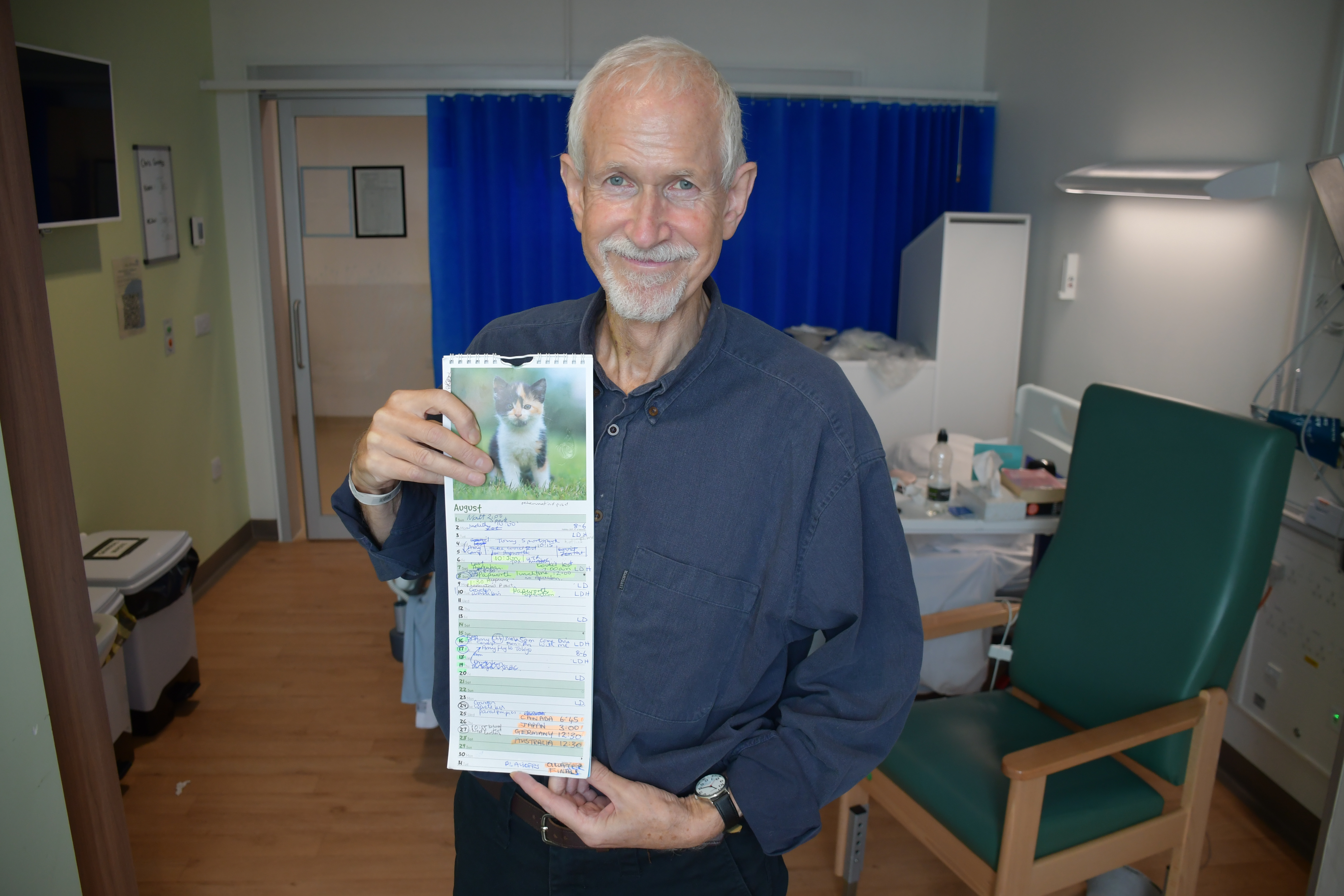 Chris has updated his calendar to ensure he doesn't miss a single game!
"I had a ticket to go and watch last year, but family aren't allowed to go this year so I'll be watching from home.
"Amy had to have her left leg amputated above the knee because of cancer when she was 13. She actually 'celebrated' becoming a teenager when she was in Addenbrooke's Hospital, which was very tough.
"She has shown so much resilience and determination from those difficult times. My younger daughter, Ali, is a nurse in London, so between them they make me so proud every day. I cannot thank the NHS staff enough for allowing me many more years with my family."
Mr Steven Tsui, Chris' surgeon, added: "PTE is a remarkable operation that has helped transform the lives of so many patients. At Royal Papworth Hospital, we have already carried out this operation on more than two thousand patients during the last 25 years.
"Mr. Conroy's operation went particularly well which explains his excellent recovery so far. I am delighted that he will get home in time to cheer for Amy."