7 April 2021
A retired occupational health nurse has praised the 'outstanding' staff at Royal Papworth Hospital after receiving treatment for both lung cancer and cardiac arrhythmia.
Judith Howard-Rees, 71 from Stowmarket, Suffolk, has had a difficult few months, having lost her partner to cancer in September of last year and then experiencing health problems of her own.
In November 2020, she was referred to Royal Papworth cardiologist Dr Patrick Heck with symptoms of cardiac arrhythmia, including a racing pulse, palpitations and dizziness.
Dr Heck also arranged for her to have a CT scan due to a problem with the circulation in her left arm. This looked at her arms and chest and revealed arterial vasculitis and a primary cancer in her upper right lung. She was referred to the vasculitis team at Cambridge University Hospitals and the oncology team at Royal Papworth Hospital for further treatment.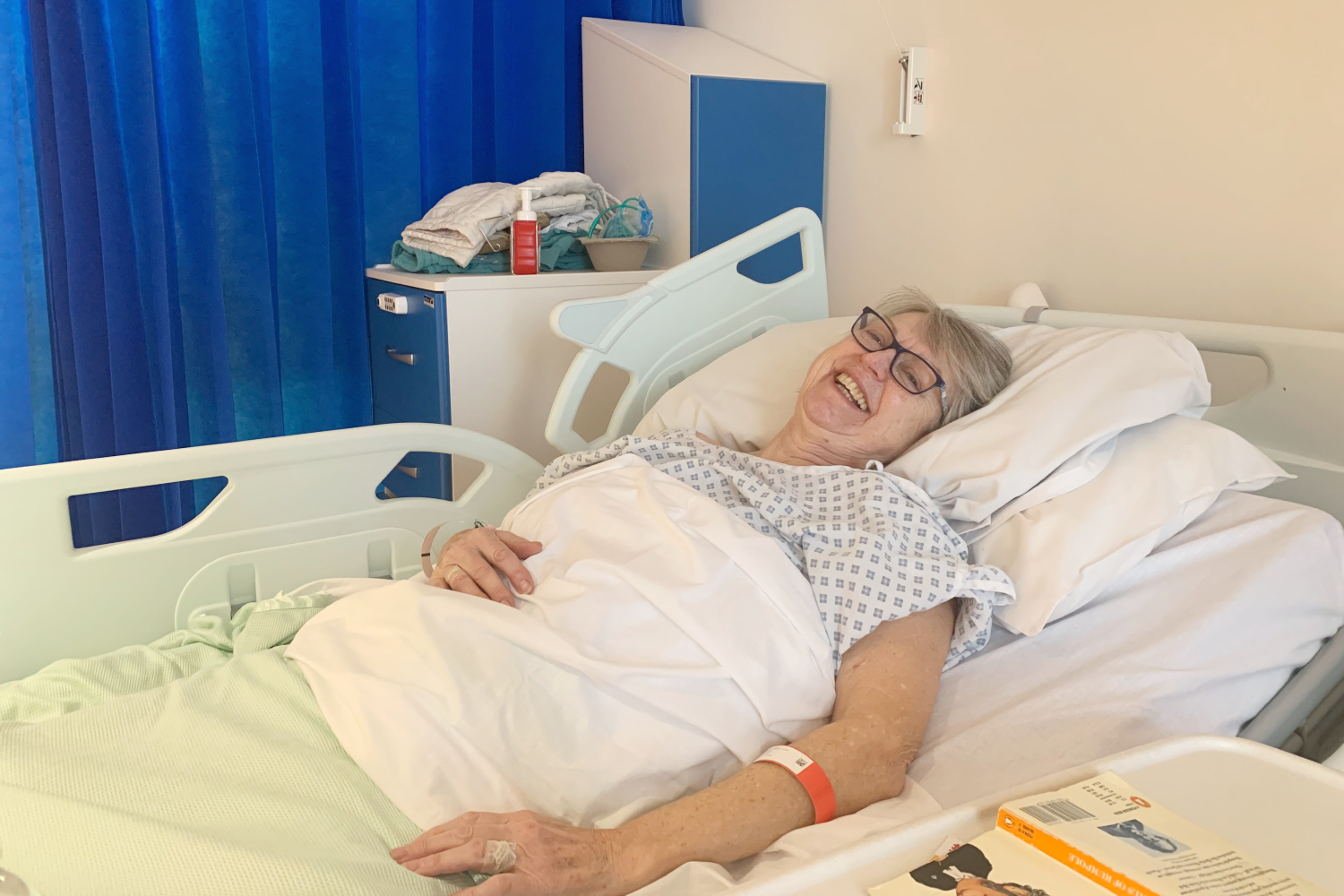 Judith's lung cancer was caught early and treated quickly.

"It was a bit of a shock, but I am very, very lucky that both conditions were caught early," says Judith.
Judith was quickly booked in for surgery to remove the cancer in her lung, which was performed by Mr Giuseppe Aresu in February 2021 and commenced treatment for her arm at Cambridge University Hospitals.
The less urgent ablation procedure to treat her cardiac arrhythmia was postponed in January due to the second wave of COVID-19 but took place as a day procedure last month.
Judith added: "I was disappointed when the procedure was postponed but I knew that the arrhythmia wouldn't kill me. I was just nervous about going out in case I suffered an arrhythmia while I was out – there's a lot of freedom with knowing that won't happen now. I wasn't nervous about coming into hospital during the pandemic – I knew I needed the treatment and I have felt very safe here.
'Everyone has been utterly charming'
"Everyone here at Royal Papworth Hospital has been utterly charming. All the staff have treated me like I'm their only patient, taking the time to get to know me no matter how busy they are. Having been a nurse myself, I know how important that is. I've actually felt quite lucky to have a few 'days out' and 'little holidays' to hospital during lockdown!
"I've been shielding throughout the winter, but I'm lucky that I've had a lot of friends looking out for me, bringing food, helping me with my garden or doing my shopping. Now that spring has arrived I'm looking forward to getting out for walks, gradually getting on my bike and doing some gardening. I have a lot to look forward to."