14 March 2023
Last week we celebrated International Women's Day, and our chief executive Eilish Midlane told us about her remarkable story, illustrating how compassion and inclusive leadership helped her advance her career against some of the challenges that women still face.
Eilish grew up in southern Ireland in the 1960s, at a when secondary education only became free for all in 1969, and where women were not allowed to work after they got married.
Fortunately for Eilish, she started school at a time when it had become the norm to stay in education until the age of 16 or 17, and spent six years at a school which prided itself in turning out not just educated young ladies, but ones equipped to be future leaders.
Initially, Eilish's ambition was to become a hotel receptionist, but discovered that she was too young for catering college and would instead have to find something else to do for a year. In considering her options, and obtaining guidance help from her careers adviser, it was suggested science may be a path for her to follow given it was a subject she showed a great talent for. One of her professors encouraged her to apply and pointed her towards accessing a European Social fund grant, designed at encouraging women into science. Roll on three years and Eilish had graduated with distinction.
With a solid education and a healthy science background under her belt, Eilish sought employment opportunities. Unfortunately for her, the health service in Ireland in the late 1980's was in a poor state and there was a ban on recruitment. Seeking opportunities elsewhere and with the encouragement from an uncle who lived in the UK, she took the chance to visit the UK for two weeks to scope out the job market and became an economic migrant in the process.
It wasn't all plain sailing, however. Her qualifications that she worked so hard for in Ireland appeared to have little worth in the UK job market, and while she was able to work as a locum, she would need further training and register to secure a substantive post. She used the frustration as a motivation and proceeded to secure a locum job at Edgware General Hospital, getting her feet on the healthcare ladder and securing the start she needed. It was far away from where she had been and what she was used to, but this woman from southern Ireland settled into London life quickly, experiencing the different food, smells, colours, and increase in noise that living off Burnt Oak Broadway offered.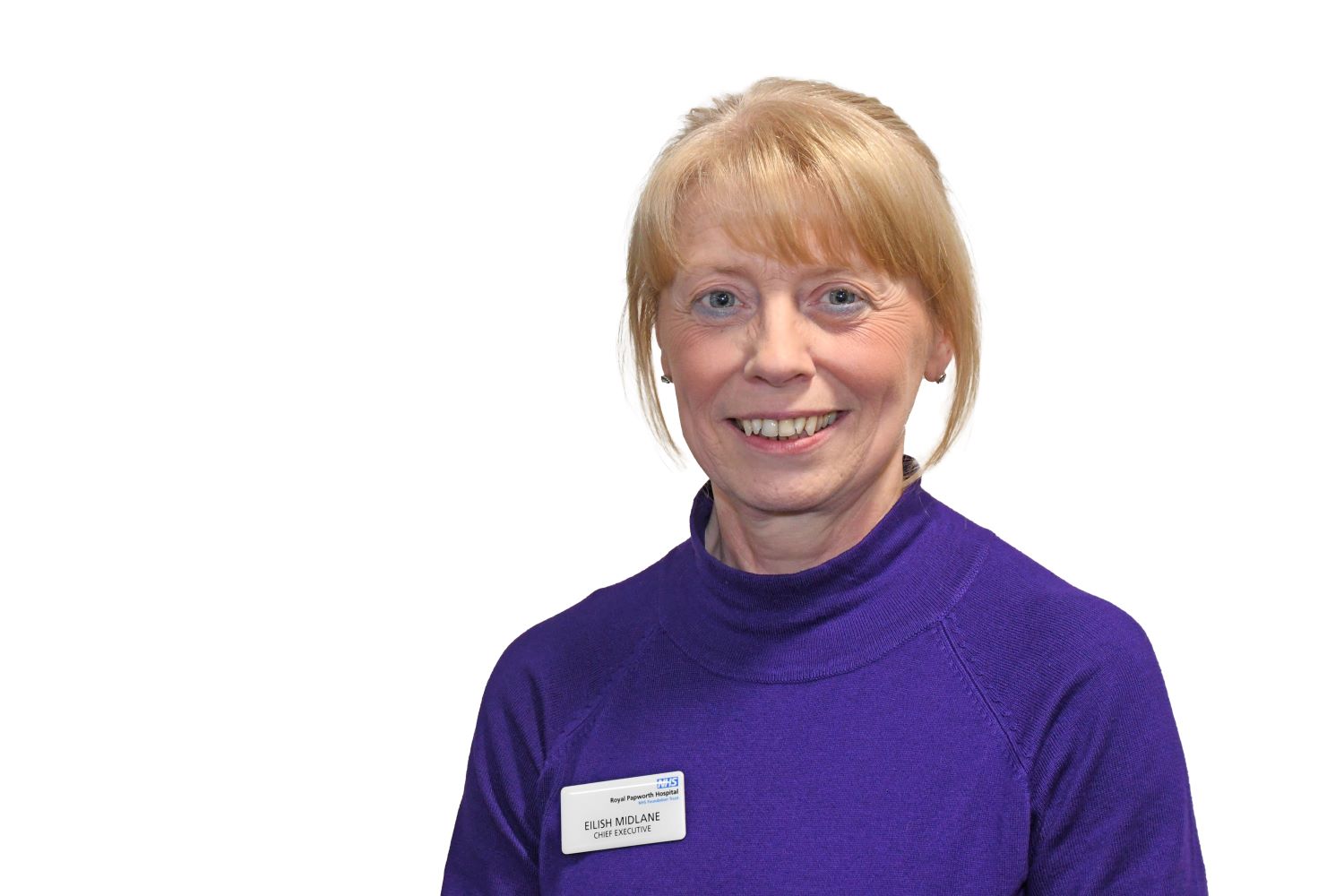 Royal Papworth chief executive, Eilish Midlane

A whirlwind career in the healthcare system had started and was soon moving at pace. In her second locum job she was inspired by her haematology manager, Jo Stiles, whose qualities of warmth, compassion, and humour, inspired Eilish to get her Irish qualifications recognised and to show the inner belief needed to push her ambitions forward. Time flies when you're having fun and are successful, and Eilish was promoted twice, studied part-time for her post graduate qualifications, and made lifelong friends in the process.

She also met and subsequently married her husband, and a daughter and a son followed. When Eilish returned from maternity leave, she found that there were plans to merge the lab service she was in with another. A consultation had been launched but she had not been included in its scope. This was because her male line manager admitted that he had assumed that a working mother with a new baby would not be interested in career advancement. Setting the record straight, Eilish was subsequently included in the scope and able to compete for the more senior role to which she was successfully appointed to.
From there Eilish moved out of pathology into general management at East and North Hertfordshire NHS Trust, and then to transformation, which is where the opportunity arose to join Royal Papworth as Chief Operating Officer in 2017, where she supported the move to the Cambridge Biomedical Campus. She said, "I felt compelled to apply. I have always adopted a "no looking back and no regrets approach."
Six years on and Eilish has achieved much so far in her time at Royal Papworth. As well as the hospital move, she has overseen a Care Quality Commission (CQC) outstanding rating and experienced the pandemic and subsequent recovery.
"It's fair to say that Royal Papworth has well and truly gotten deeply under my skin, I feel like we have achieved so much and applying to be chief executive was me expressing a desire to lead in building on those firm foundations, which are so much to do with our staff, who continually push the boundaries of clinical excellence, collaboration and compassion."
"I am where I am because of so many generous, and inspirational women and men in my life. My advice is to believe in yourself and seek out those leaders who believe in you. These leaders have helped me to see challenges as opportunities and have encouraged me to achieve my ambitions."