20 October 2023
A primary school caretaker and teaching assistant who suffered a heart attack in 2022 has returned to Royal Papworth Hospital with pupils from his school to thank some of the doctors and nurses who treated him.
Steve Ely, who works at Tydd St Mary Primary School near Spalding in Lincolnshire, had a heart attack in August 2022 when out cycling 10 miles from home.
After initially messaging his wife, Sonya – who is headteacher at the school – he turned back towards home. However with his discomfort growing, he soon stopped and was picked up by Sonya.
A brief visit to Queen Elizabeth Hospital in King's Lynn confirmed he had suffered a heart attack and he was then transferred to Royal Papworth Hospital, the UK's leading heart and lung hospital.
Steve went into a catheter laboratory for an angioplasty procedure carried out by consultant cardiologist, Dr Denise Braganza, who inserted two stents into his heart to hold open a narrowed artery.
He then spent time recovering in the hospital's cardiology wards.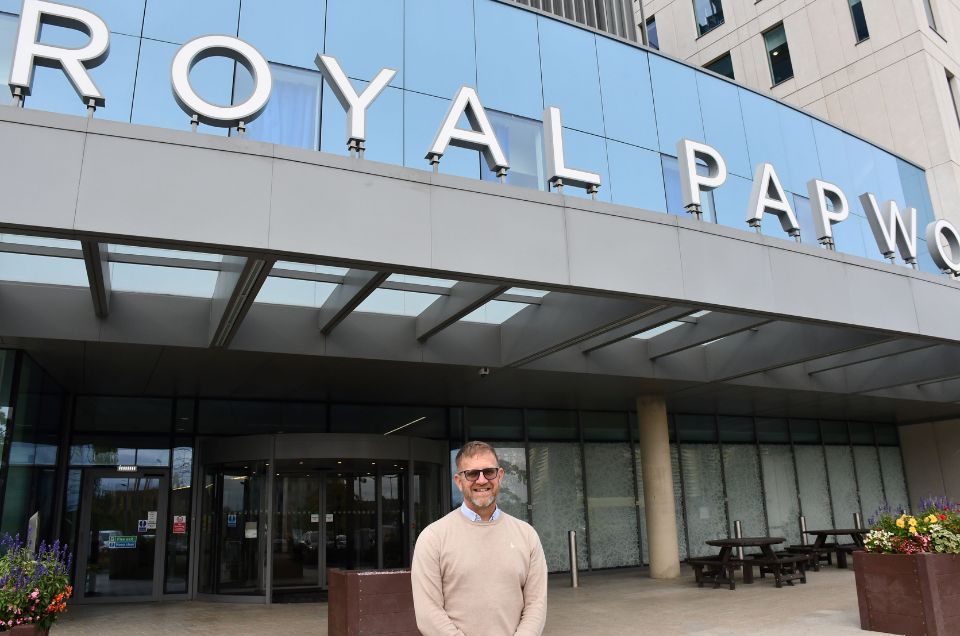 Steve on his return to Royal Papworth Hospital
Steve returned to his teaching assistant duties on a phased return in November, before recommencing caretaker duties in early 2023.
Now, just over a year since his heart attack, Steve recently returned to Royal Papworth Hospital with Sonya and seven pupils from the school.
Here they met Chief Executive Eilish Midlane, Dr Braganza – who showed the children examples of stents used in an angioplasty – and also nurses from the catheter laboratory team that treated Steve.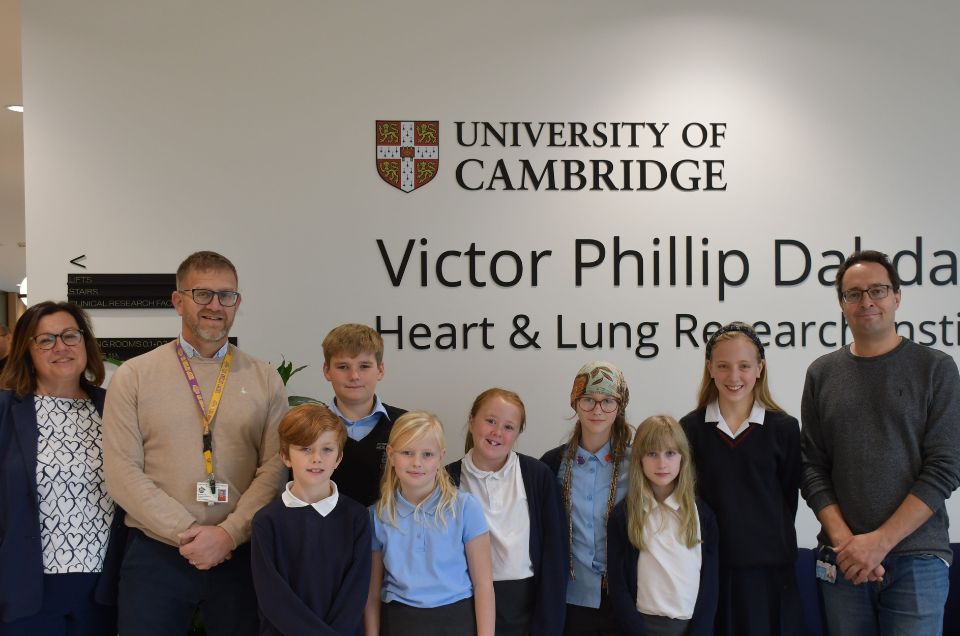 Our visitors also enjoyed a tour of the HLRI, thanks to Murray (far right)
The group also enjoyed a tour of the adjacent Victor Phillip Dahdaleh Heart and Lung Research Institute (HLRI), where they learnt more about some of the world-leading research tackling global cardiovascular and respiratory diseases.
"It's great to come back" said Steve, reflecting on his return to Royal Papworth.
"This is a special place and it's not sad to be back at all, as I've only got positive memories.
"Royal Papworth is an unbelievable hospital with amazing teams of people.
"Not only was my treatment first-class but the space, the tranquillity, the wide corridors, the natural light and the large patient rooms here really stood out. I'm so thankful to everyone for the care I received.
"For us to also go and learn more about the research at the HLRI and hear about advancements that will hopefully benefit people in the next 10-15 years, was absolutely incredible."
"I hope meeting the doctors and nurses here today has inspired these youngsters to work in the NHS in the future."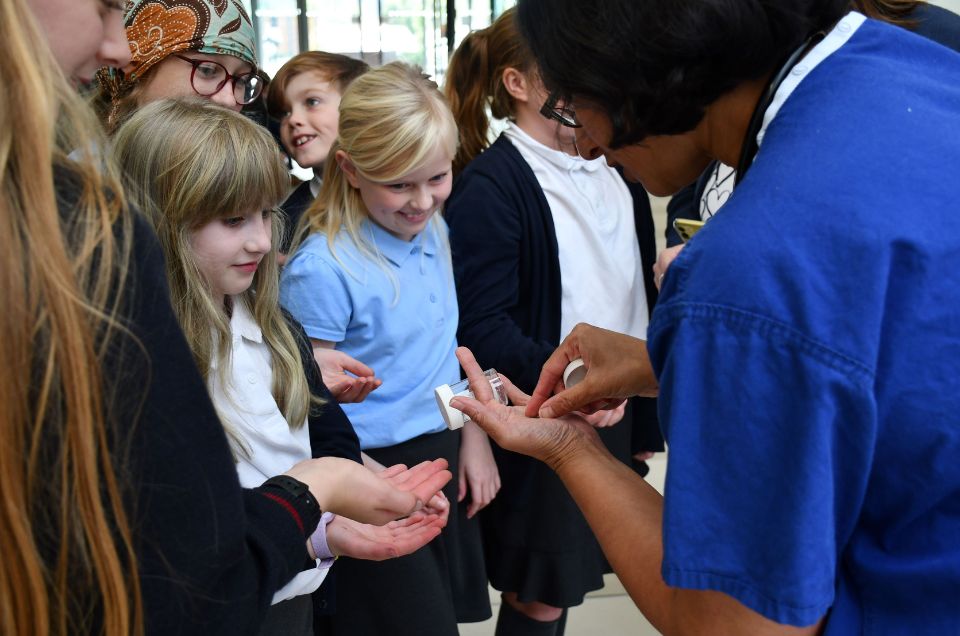 Pupils studying some stents shown to them by Dr Braganza
Dr Denise Braganza commented: "It was lovely to meet Steve again and see him doing so well.
"His pupils were a delight to welcome too, asking some great questions and they were able to see some stents up-close, exactly the type as those inserted into Steve's heart. We hope they enjoyed their visit and go on to develop a keen interest in healthcare."
Since Steve's heart attack, pupils and staff at Tydd St Mary Primary School have raised £6,444 for the British Heart Foundation (BHF) through a number of fundraising initiatives. Pupils donned roller skates, scooters and bikes for sponsored laps of the playground, while each class also walked the equivalent of a marathon distance around a track between them.
Then in May, Steve and four colleagues from the school also completed a 162-mile bike ride over three days from the school to Steve's hometown of Swindon.
"When Sonya told me the pupils wanted to raise money for the BHF because of me, that was quite emotional," Steve continued.
"We initially set a £1,000 target, hoping to make £2,000, as we didn't want the children to be disappointed if we didn't achieve it. However we hit the £1,000 within 24 hours and it kept going."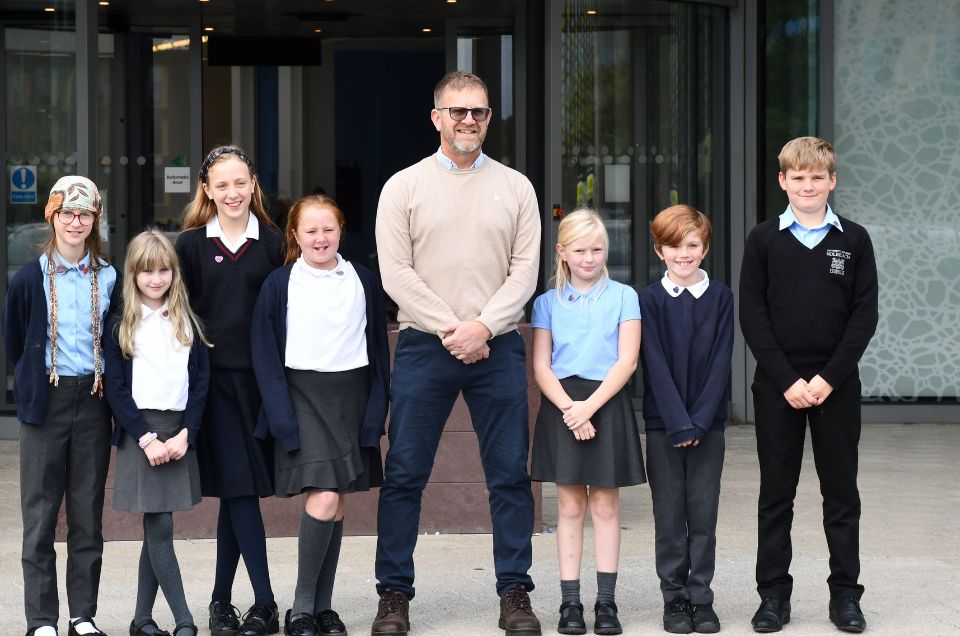 Steve and pupils from Tydd St Mary Primary School near Spalding in Lincolnshire
Gary Atyes is Fundraising Manager for Cambridgeshire at the British Heart Foundation: "Amazing support like this is vital if the BHF is to continue funding research to save and improve lives. This work has never been more needed, as despite the great progress we have made over the years, heart and circulatory diseases still kill around one in four people - so there is still so much more for us to do. The staff, pupils and their parents raised an incredible amount of money with their fundraising, they should be very proud".
A heart attack (myocardial infarction or MI) is a serious medical emergency in which the supply of blood to part of the heart is suddenly blocked, usually by a blood clot. Symptoms can include chest pain which might spread from your chest to other parts of your body, feeling lightheaded or dizzy, sweating, feeling sick or a feeling similar to indigestion.
A heart attack is a medical emergency. Call 999 and ask for an ambulance if you suspect a heart attack.