4 June 2021
A triathlete whose heart was shocked 27 times in 45 minutes by his implantable defibrillator is urging others to not delay seeking NHS treatment.
Doug Hosking, who is 50 years-old and from Cambridge, competed at a high level in triathlon until he had a cardiac arrest a few years ago, resulting in him needing an implantable cardioverter-defibrillator (ICD) to be fitted in his heart.
In December 2020, he experienced multiple dangerous fast heart rhythms – known as an arrhythmic or electrical storm. Thankfully, his ICD was there to repeatedly shock his heart back into action.
"The ICD saved Mr Hosking's life but has had a profound impact on him," explained Dr Claire Martin, Consultant Cardiologist and Electrophysiologist.
"Ventricular tachycardia (VT) is when someone has a fast, abnormal heart rate. It starts in your heart's lower chambers, called the ventricles, and needs immediate treatment. These arrhythmic storms are defined by having three or more episodes of sustained VT during a 24 hour period."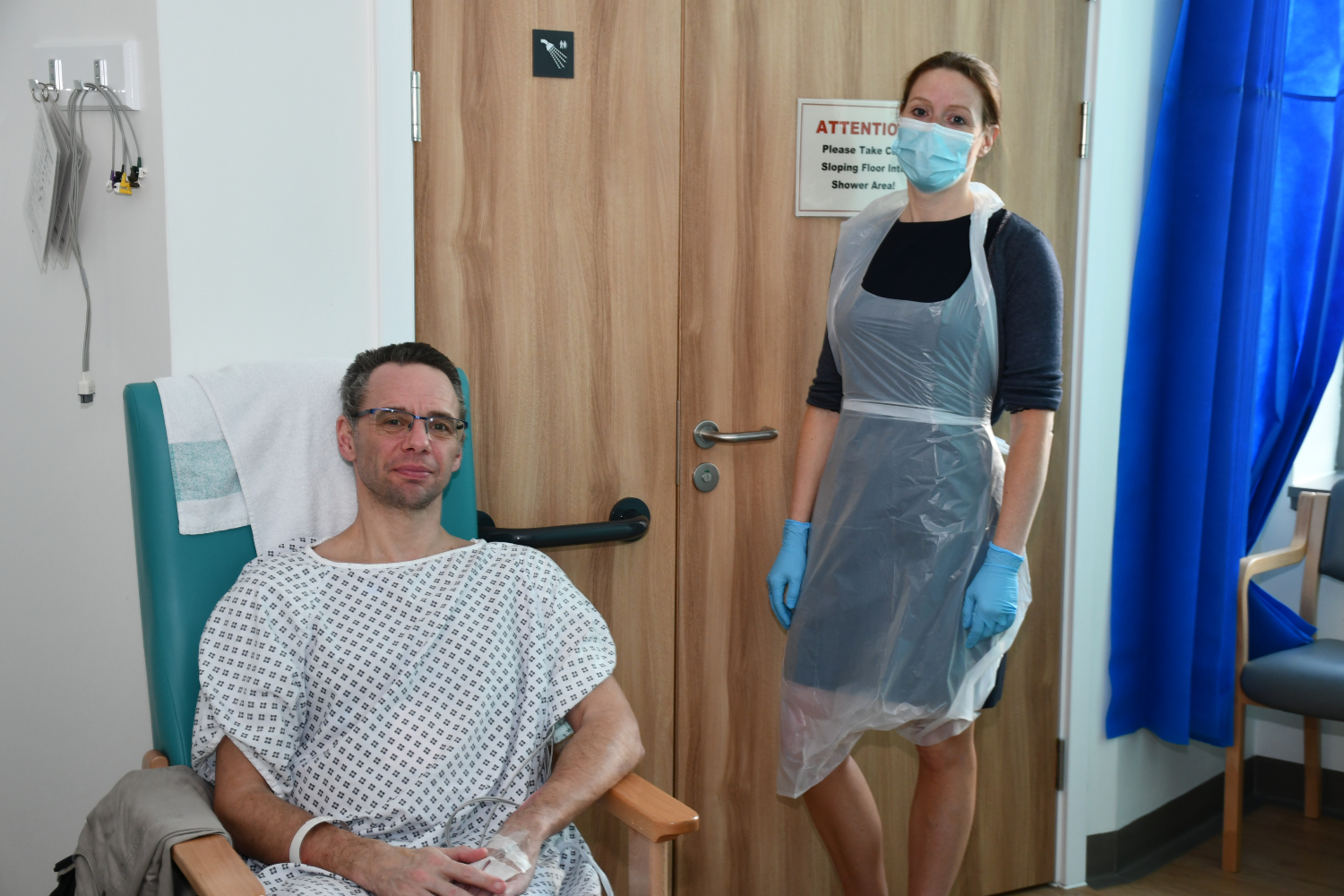 Doug with his consultant, Dr Claire Martin.
Doug was at home at the time, and says that the incident felt like someone had 'opened up my chest and kept punching me in the heart'.
"It completely floored me, to the point where I just stayed laying down until the ambulance arrived to bring me to Royal Papworth Hospital," he reflected on the incident which happened back in December.
"It was so scary and I have never felt anything like it. I am just so grateful to the team for saving my life and successfully treating my dangerous heart rhythm."
After being treated for his electrical storm, Doug came back to Royal Papworth Hospital in April to have a procedure called an epicardial VT ablation which helps to restore a normal heart rhythm.
In Doug's case, the abnormal heart rhythm lay on the outer surface of the heart, or epicardium, requiring a specific procedure to access this area. Royal Papworth is one of only a few centres in the UK to perform these types of cases, involving cardiologists, nurses, cardiac physiologists and radiographers.
"I've been staying at my mum's in Essex while I recover, and spent some time in hospital in Essex between December and April. The communication between hospitals has been superb to bring me back to Royal Papworth for further treatment and showcases the very best of the NHS.
"Being back under Dr Martin's care reassured me ahead of the ablation and I saw so many familiar faces on the ward. I remember coming back in April and there were nurses who knew me from the December admission - they were joking with me about being back, but it was so friendly and supportive and made me feel relaxed.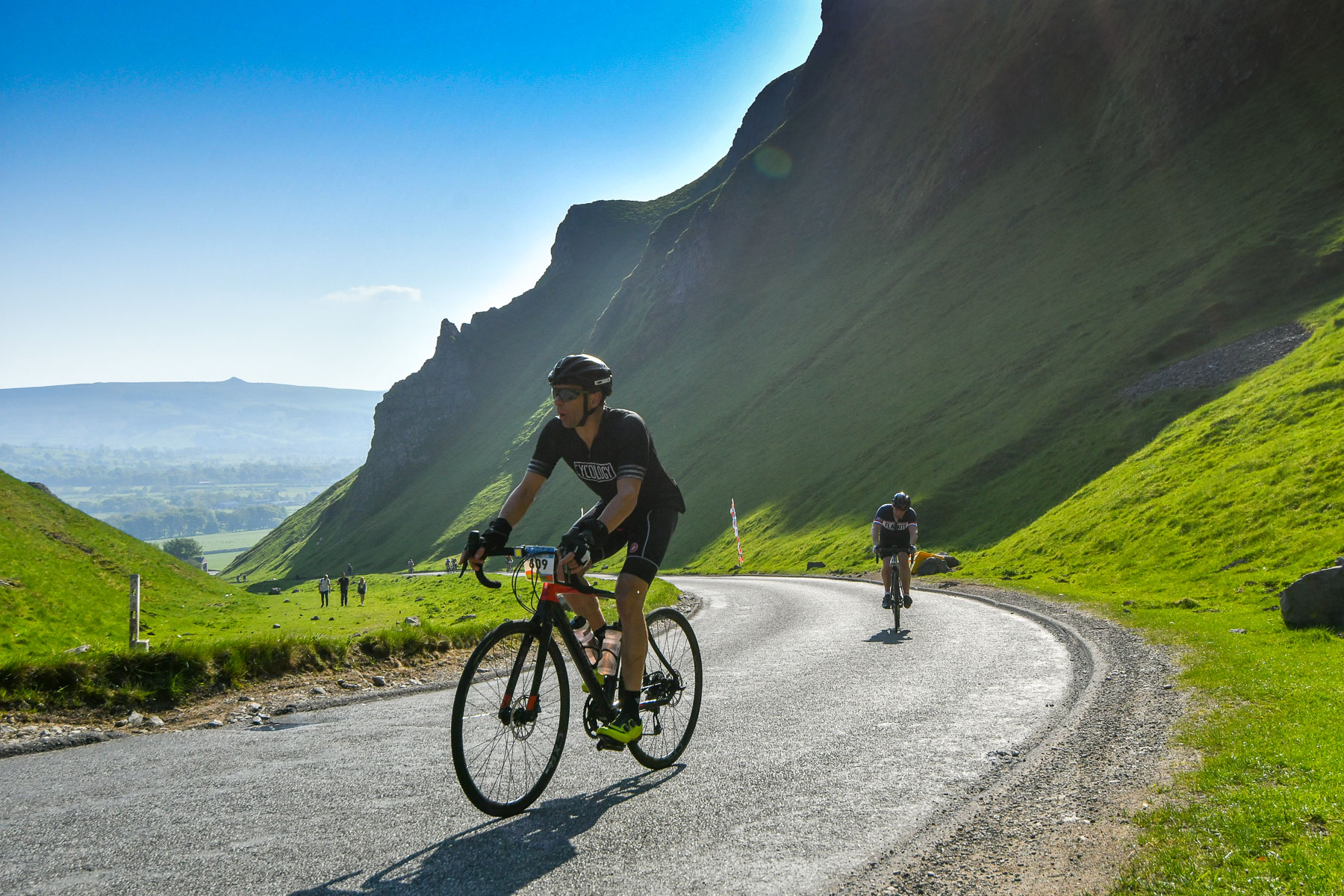 Doug was a keen triathlete until having a cardiac arrest a few years ago.
"There was even a member of staff who was on a different ward when I came in the second time, saw my name on a screen and came across on a break to come and see me and say hello. That was so compassionate.
"I felt completely safe throughout my two stays at Royal Papworth Hospital. I was tested regularly for COVID-19 and other infections, the pathways made me feel safe and staff were always protected in PPE. I would absolutely reassure everyone who needs hospital treatment to not delay."
Dr Martin added: "We have seen that some patients in a similar situation to Mr Hosking have been scared to come into hospital to have ablations to treat abnormal heart rhythms due to their fear of acquiring COVID-19, but the arrhythmias themselves are dangerous and need treatment."
"Mr Hosking is a perfect example of how we can quickly and successfully treat life-threatening arrhythmias to improve patients' quality of life. Not coming in for this urgent treatment could have been fatal, so we would urge everyone to seek help if you are experiencing symptoms such as chest pain, breathlessness or palpitations."
"We have had no cases of hospital-acquired COVID-19 at Royal Papworth for more than a year, so we can reassure you that we will keep you safe throughout your stay."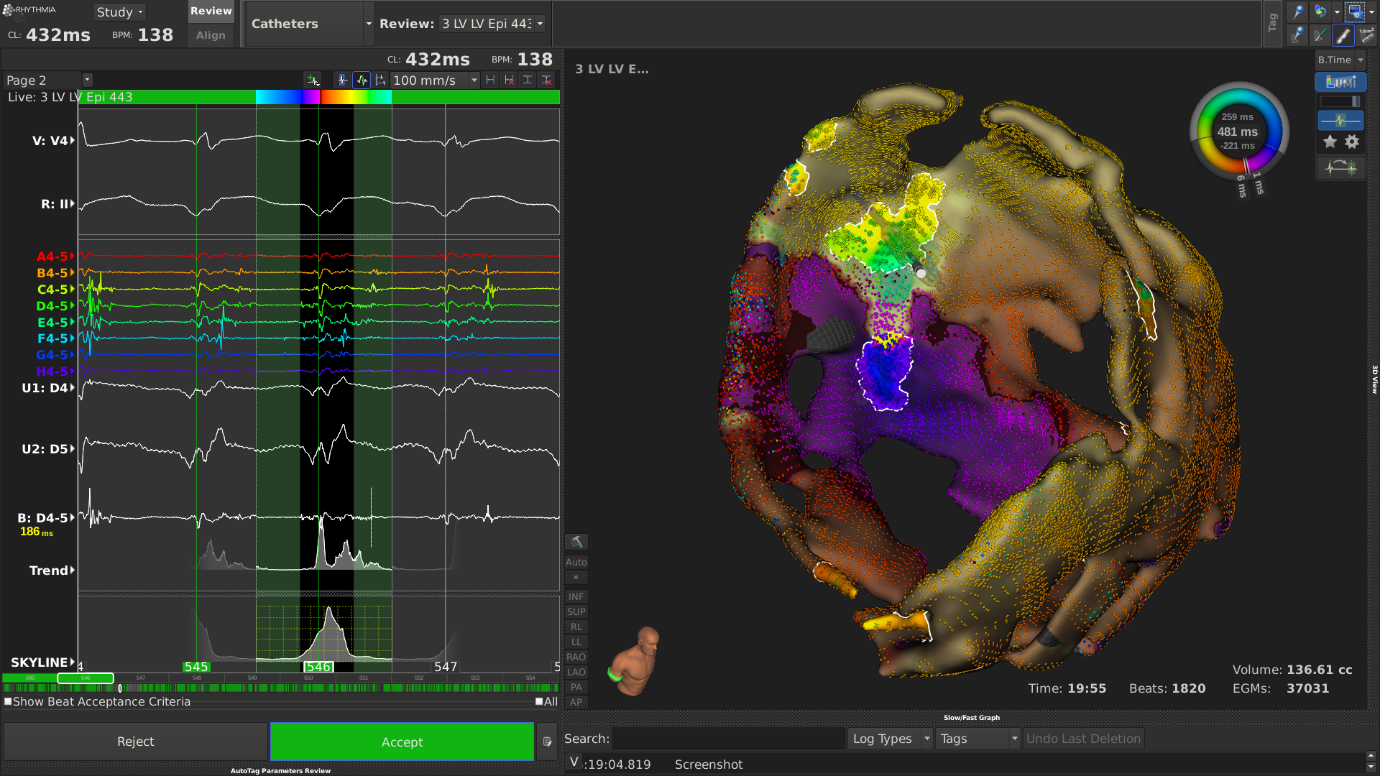 Electrical map of the epicardium (outside surface) of Doug's heart. The highlighted area is the region of electrical activity responsible for the abnormal rhythm.