12 August 2022

A heart has been drawn in the sky above Royal Papworth Hospital as a gesture of thanks to the NHS from a patient for the heart attack care he received.
Geoff Soden, 70, from Huntingdon, woke up with pain between his shoulder blades one morning in April.
After initially putting it down to an awkward night's sleep, 10 minutes later the pain had still not eased and was moving underneath his arms and across his chest.
He searched online and realised he had symptoms similar to a heart attack.
After calling 999, eight minutes later two paramedics from East of England Ambulance Service arrived and began assessing Geoff, diagnosing a heart attack.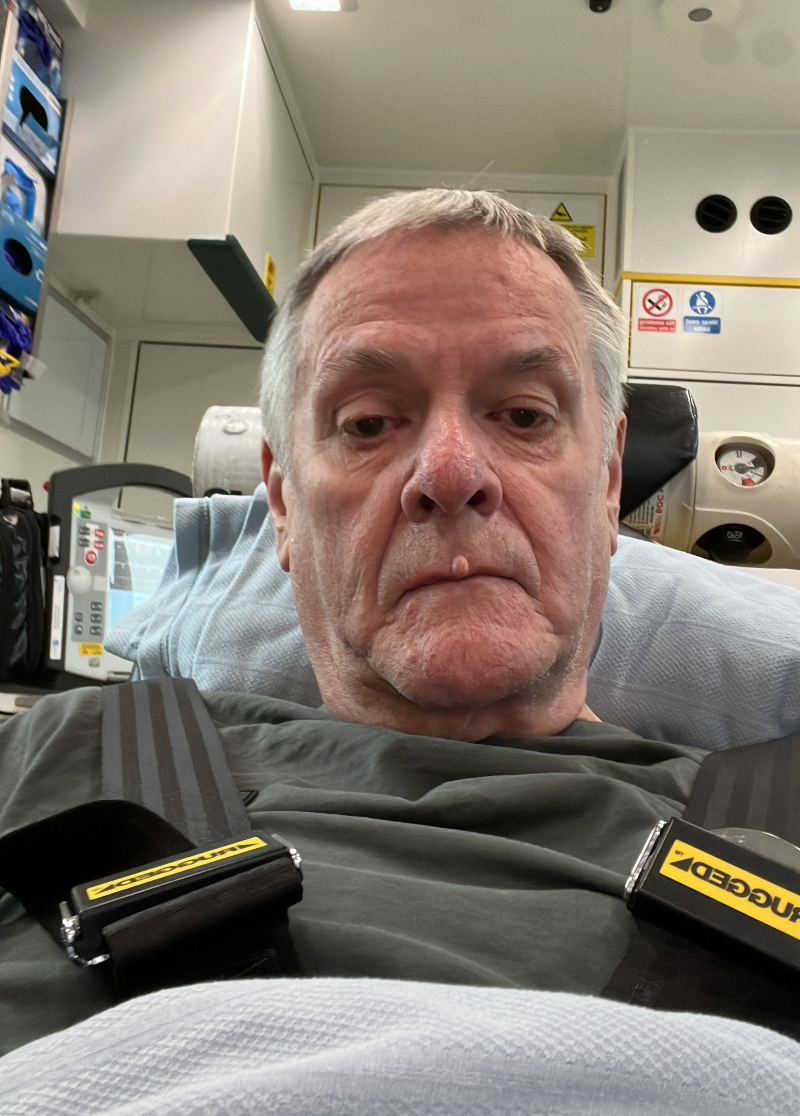 An ambulance arrived at Geoff's house eight minutes after he phoned 999.

"Melissa and Ruby were both amazing and put me at ease straightaway," Geoff said.
"They called Royal Papworth Hospital and promptly drove me in the ambulance with blue lights flashing, and within 35 minutes of me calling 999 I was being admitted into Papworth."
He went direct to the cardiology operating suite (catheter laboratory). A stent was inserted (coronary angioplasty and stenting) to unblock a coronary artery and, after a three-day stay on the ward, was discharged back home.
Within a week Geoff was back doing the things he loves, such as aerial photography which he has done for more than 35 years.
He then returned in July as a day case for a second stent to be inserted and is now regularly attending the hospital for cardiac rehab classes.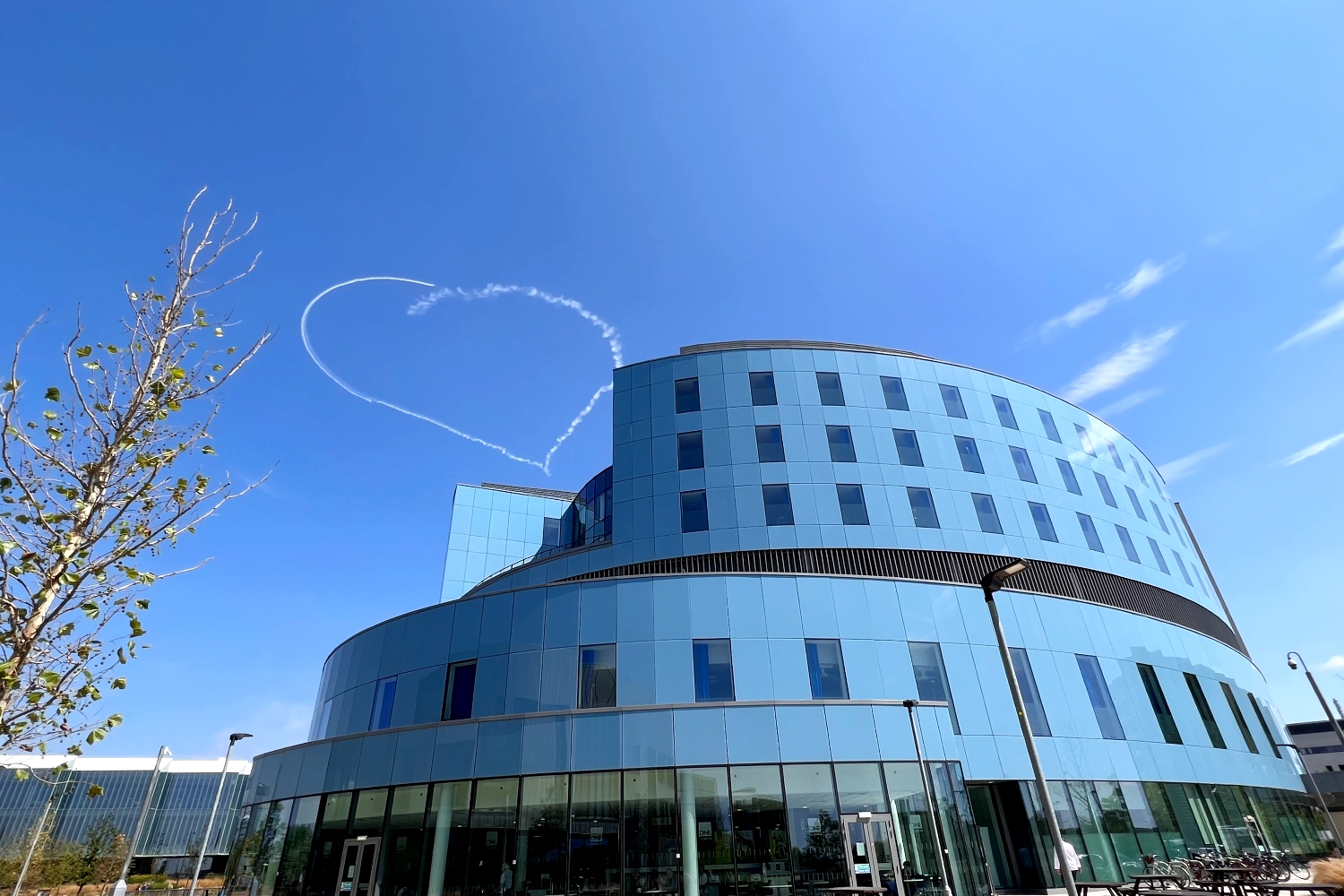 Geoff's friend Mark drew the heart in the sky above Royal Papworth Hospital

To thank the NHS teams who have cared for him, Geoff recently arranged for a friend to fly his plane and draw a heart in the sky above Royal Papworth Hospital in Cambridge.
"The ambulance crew, all at Royal Papworth, the 999 call handlers, everyone was absolutely brilliant and responded so quickly. I am so grateful.
"My friend, Mark, is the owner of Little Gransden Airfield and leader of the Global Stars Aerobatic team. I asked if he could draw a heart in the sky as a thanks to the teams who do such amazing work every day for thousands of people like me."
Dr Sarah Clarke, the consultant cardiologist who treated Geoff, said: "This was a lovely gesture from Geoff and Mark and much appreciated by all the staff. Drawing the heart in the sky looked far more difficult than putting a stent in!"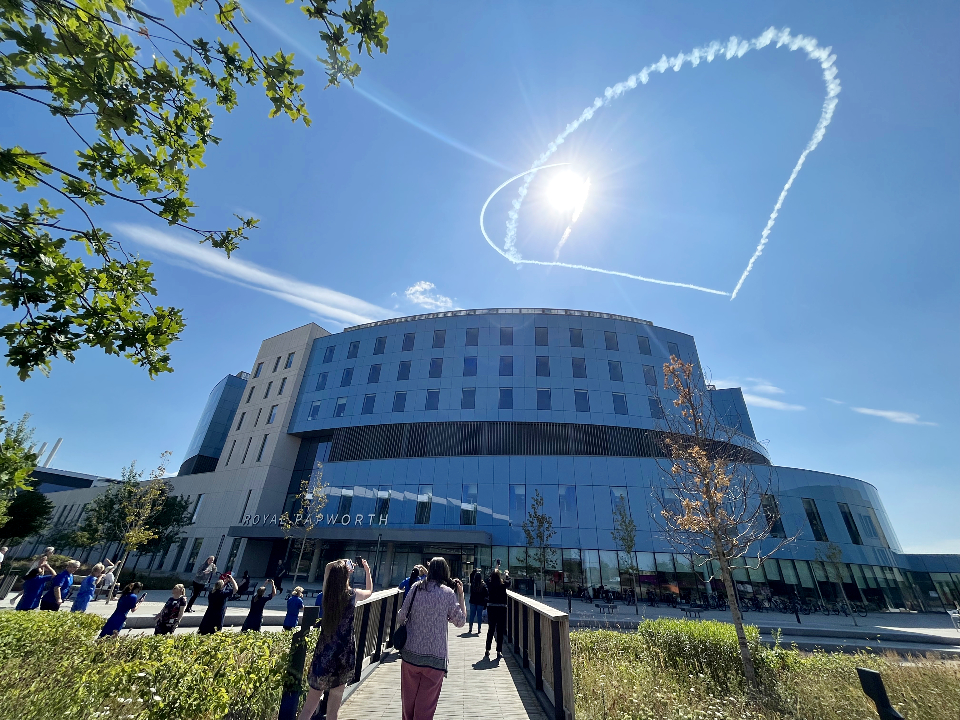 Staff at Royal Papworth gather outside to watch the heart being 'drawn'

A heart attack (myocardial infarction or MI) is a serious medical emergency in which the supply of blood to part of the heart is suddenly blocked, usually by a blood clot.
Symptoms can include chest pain which might spread from your chest to other parts of your body, feeling lightheaded or dizzy, sweating, feeling sick or a feeling similar to indigestion.
A heart attack is a medical emergency. Call 999 and ask for an ambulance if you suspect a heart attack.

Related links
Heart attack casuses, treatment and recovery (British Heart Foundation)