5 April 2022

Organ donation activity at Royal Papworth Hospital in 2021/22 reached its highest level since 2018.
From April 2021 to March 2022, nine patients consented to donation taking place with eight of these going on to be eligible donors.
Between them, 16 kidneys were donated (12 transplanted), seven livers (five transplanted), four eye donations, three heart valves and two bone donations.
"As well as being a world-leading heart and lung transplant centre, we also have a responsibility to facilitate and help patients and their families consent to organ donation when a patient is sadly at end-of-life," said Dr Kiran Salaunkey, Clinical Lead for Organ Donation at Royal Papworth Hospital.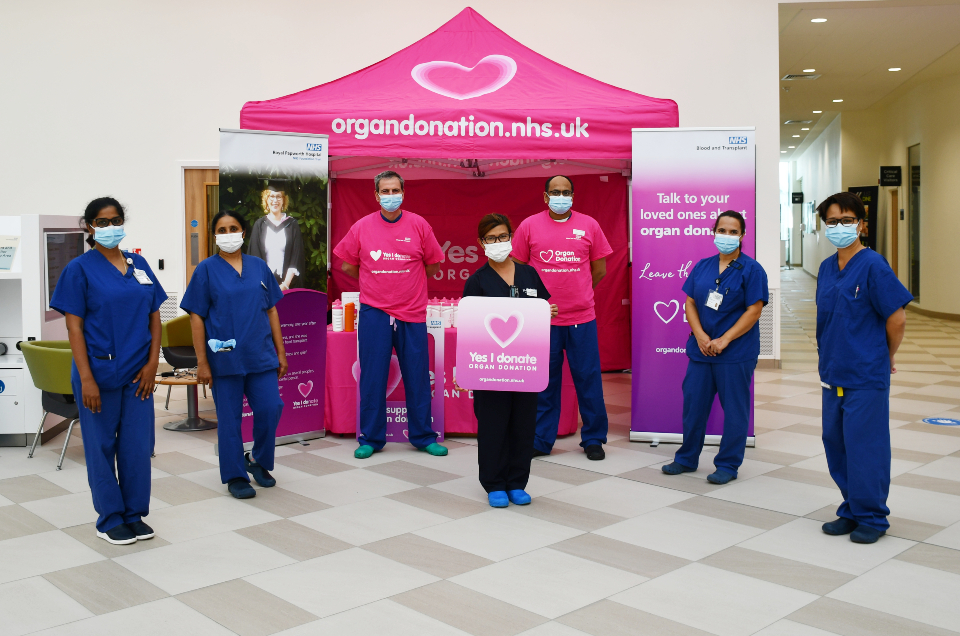 Dr Salaunkey (middle, right) with Royal Papworth colleagues supporting organ donation messaging.

"Being a cardiothoracic hospital, the nature of illness that would see someone treated here means that their heart and lungs are not suitable for donation, but we can make use of other organs for the benefit of patients on transplant waiting lists in other hospitals.
"Thanks to the courage of our patients, the consent of their families, and the work of our critical care, theatre and organ donation team, we have seen increased activity this past year. I am particularly proud of the team given that this has happened in another year dominated by coronavirus.
"Because of these eight donors, even more people have been given a second chance at life, and a fresh, hopefully healthy future with their loved ones."
Related links
Talk to your loved ones about organ donation - NHS Organ Donor