12 May 2022

Today marks International Nurses' Day 2022. This is a globally recognised celebration of the nursing profession and is held every 12 May – the birthday of, possibly, one of the most famous of nurses - Florence Nightingale.
Nursing has changed dramatically over the years and there is a diverse community of nursing staff at Royal Papworth Hospital from all backgrounds.
In celebration of this day, we brought together four nurses – two with decades of experiences and two students - to share their stories and thoughts on the past, present and future of nursing. Each story is different, but all connect and reflect the effect of nursing on themselves and others.
Sharon Loveday is a sister on the Respiratory Support and Sleep Centre (RSSC) where she has worked since 1986, as part of a 39 years as a registered nurse.
She speaks of her earliest memory of her nursing aspirations: "My mum's friend trained to be a nurse when I was very young, and she gave me a nurse's hat.
"I have no memory of ever wanting to do anything else; I was destined to become a nurse."

I cannot imagine what other career I would have chosen.
Sharon Loveday
Ward Sister, Respiratory Support and Sleep Centre
Sharon's destiny is echoed by Fatmat Onatade, who is currently a student nurse at the University of East Anglia (UEA) and on a placement at Royal Papworth.
"I have always dreamed of becoming a nurse, not just a nurse but a cardiac nurse. It is my passion to help sick people and be a bright element to their dark times."
Joseph Ayson began as a band 2 healthcare support worker and has worked his way up to a band 7 advanced nurse practitioner, having originally trained in the Philippines.
But in contrast to Sharon and Fatmat, he was not always heading towards a nursing career.
"My inspiration comes from when I looked after my poorly grandfather when I was in high school. "He said that I could become a good nurse as he thought caring is something natural in me.
"That was my turning point. I changed my mind and enrolled myself into nursing school instead of taking up information technology."
Tolu Nwajei is studying alongside Fatmat and, following a volunteering programme at Lister Hospital in Stevenage, she became inspired to join the profession: "I was able to see first-hand the roles and responsibilities of nurses on a hospital ward.
"It was here I was able to truly appreciate the value of nursing."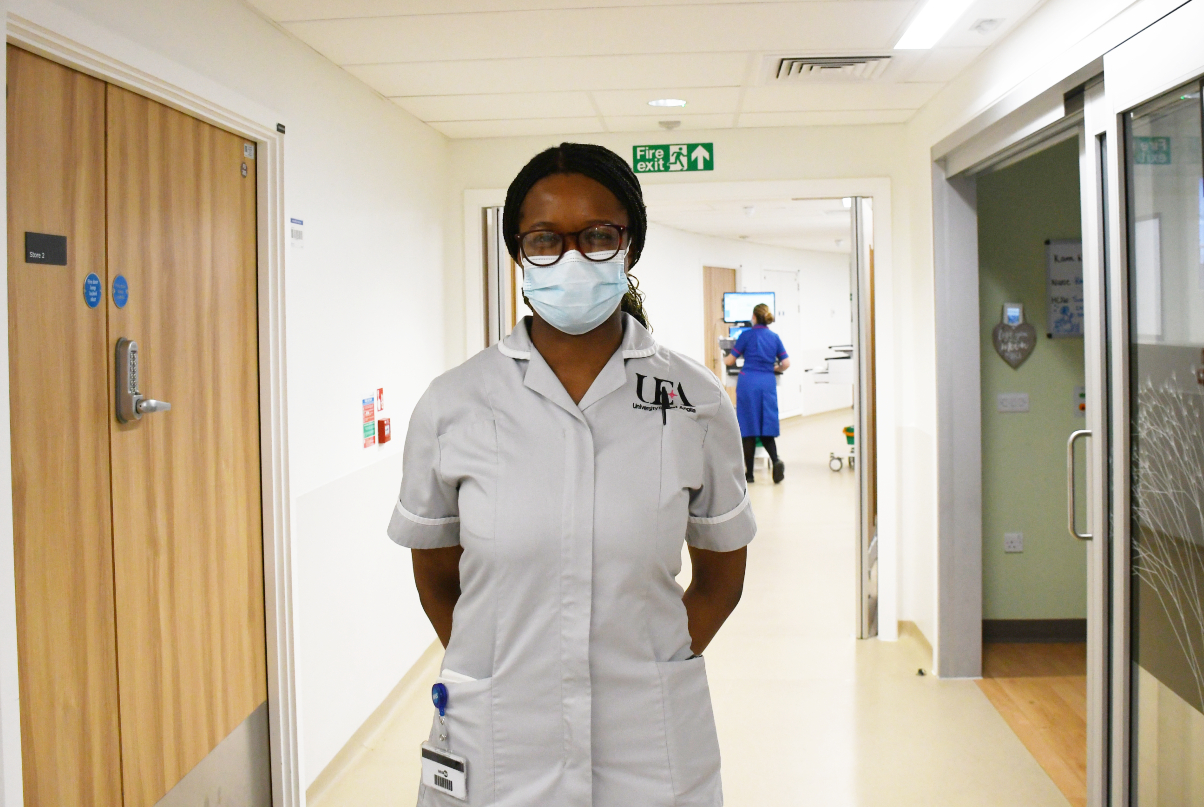 Tolu Nwajei is a student nurse currently on placement on a surgical ward at Royal Papworth Hospital

The way the nursing profession is perceived has changed in the long term as well as the short term through both the effects of time and COVID-19.
When Sharon began her nursing journey in 1980, she says "it was a female orientated role – 'the bedside carer'.
"The general public still view the nurse as the care giver at the bedside and are maybe not as aware of the specialist roles and the management opportunities open to nurses. The profession is changing with more male nurses and more opting to join the apprenticeship programme.
"The public perception of nurses certainly changed during the pandemic."
Joseph agrees: "Nurses all over the world showed their resiliency and dedication to help others, knowing the risks to themselves.
"Many people nowadays think that nurses are heroes and viewing it as a highly respected career."
At the other end of her career, Tolu and student nurses like her have been thrown in at the deep end.
"The pandemic affected me in the sense that I have been able to realise how the profession is truly undervalued in society. Many nurses working in the first and second surges of COVID-19 experienced PTSD and mental health issues having been physically and mentally drained.
"This reinforced the admiration I have for nursing as a career."

The nursing course was not easy but I was determined to finish it simply because I love nursing.
Joseph Ayson
Advanced Nurse Practitioner, Respiratory Support and Sleep Centre
Before Fatmat started her nursing training, she was a healthcare assistant and worked through the pandemic: "The pandemic has not changed my mind from pursuing my career.
"I believe that nursing is like an army profession - if you are a soldier, you should be ready to go for war at any time, so being a nurse it is my responsibility to be ready to look after sick people when I am called to do so."
New to the profession, Tolu talks of her experience so far: "I underestimated how taxing the 12-hour shifts can be but simultaneously there is always a joy that comes at the end of the shift knowing that through nursing interventions and observations and liaising with the whole multidisciplinary team, a patient's medical condition has improved and they are one step closer to becoming well."
The nursing team at Royal Papworth are encouraged to develop their career as part of continuing professional development. There is also great emphasis on collaboration, one of the Trust's values.
Joseph was given the opportunity to monitor a patient on a form of life support called extra corporeal membrane oxygenation (ECMO) during the pandemic. Royal Papworth is one of five specialist ECMO centres in the UK and Joseph classifies this as a standout memory in his nursing career.
"I was given a task of handling a patient on an ECMO machine during the first surge.
"I was able to provide safe care through support from senior and experienced nurses from the critical care area."
Tolu also had a standout experience within critical care during an eight-week placement. "I was able to gain insight into specialised nursing care, treatment and machines whilst monitoring patients who had undergone open heart surgery.
"Whilst looking after a patient with a BiVAD machine (mechanical heart pump) awaiting heart transplant, I was extremely moved by a conversation I had with the patient who expressed how their children were keeping them going and wanted to be strong for them.
"It was heart-warming to see and a memorable moment for me."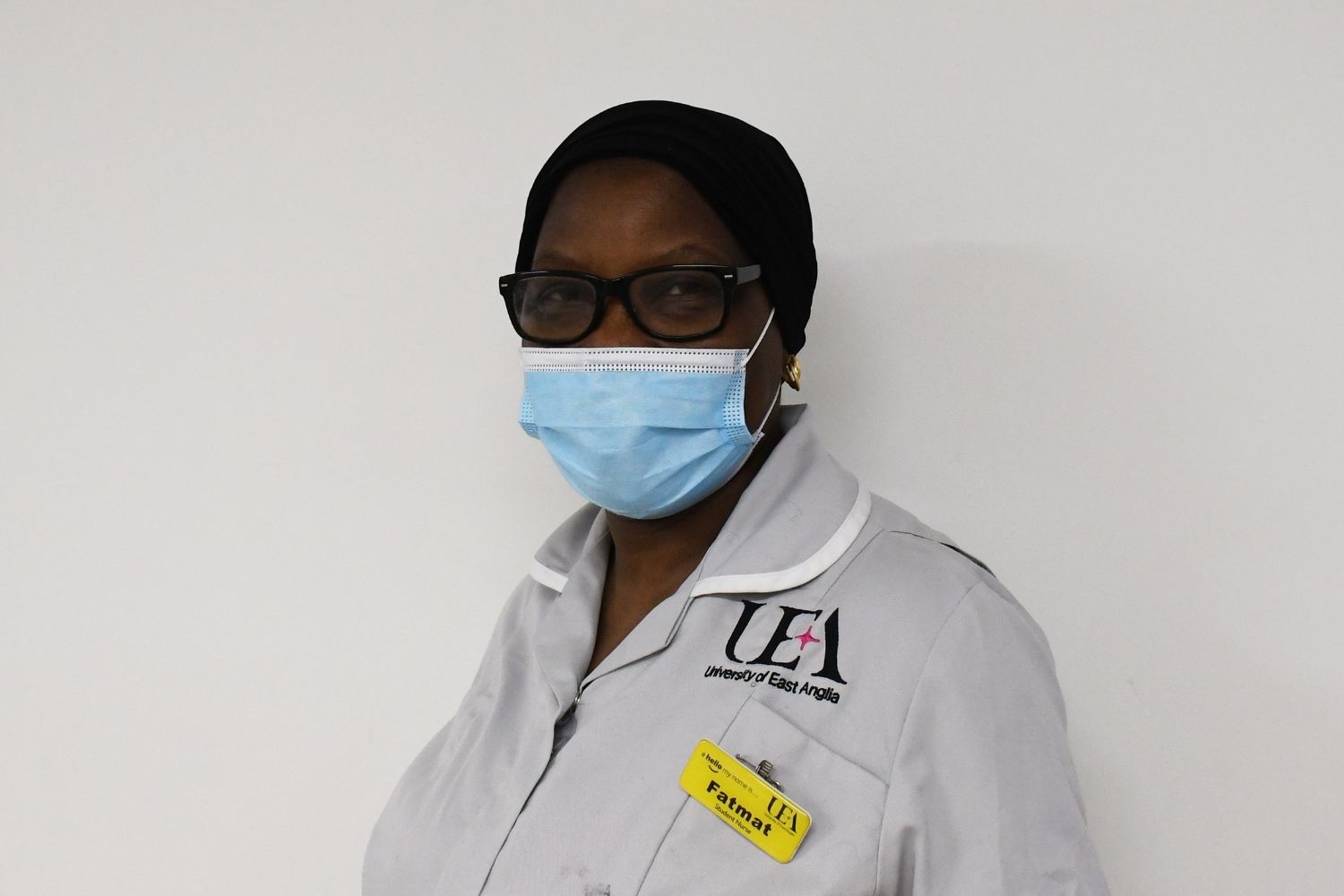 Student nurse Fatima is on placement at Royal Papworth Hospital and aspires to be a cardiac nurse

As an experienced nurse who has continued to grow in their career, Joseph gives some powerful advice to Tolu, Fatmat and those looking to join or have started training: "Be resilient, dream big and don't give up on your dreams."
Sharon's advice is that "you are entering the most amazing profession with so many different opportunities open to you.
"It is a privilege to be a nurse. Never take it for granted and be proud of being part of the NHS."
Working together as a team is a core principle of nursing and Sharon says: "There is nothing more special than being at the bedside giving direct patient care and working alongside the most amazing team."
Joseph echoes Sharon and comments on the direct relationship nurses have with patients and their families: "[Nursing] gives me the privilege of serving other people and seeing them satisfied with the services I provide as a nurse.
"It gives me the opportunity to be a part of my patients' and their families' lives."
Whilst the evolution of nursing and healthcare is evidenced by those who have lived through it, the future can only be imagined.
Looking ahead to what nursing might be like in 40 years' time, Tolu hopes: "I would like to think that at the end of my nursing career in 2060, nursing might be more valued and pay rises reflect that.
"Nursing and patient care is always evolving with research studies being carried out and medical technology advancing rapidly, but I hope that the nursing practice does not lose sight of the importance in incorporating individualised care for patients.Had Sharon not been given that hat, and had Tolu not volunteered at Lister Hospital, they may not have been in the position they are now. On International Nurses' Day, it is time for others to appreciate nurses, but also for nurses to appreciate the positive affect their resilience and hard work has on those that witness it.
Both Joseph and Fatmat started their careers as healthcare support workers. A recruitment event for healthcare support workers is taking place on Saturday (14 May) at Royal Papworth Hospital, where you could end the day with a job offer.. Details of this event and how to book can be found on EventBrite.
More information on International Nurses' Day can be found on the Royal College of Nursing website.