26 August 2020
Last week (21 August), NHS England was given the green light by the European Medicines Agency to begin prescribing the life-changing cystic fibrosis drug, Kaftrio, to patients.
A number of CF patients at Royal Papworth Hospital have already been taking this 'triple combination therapy', the majority of those on compassionate grounds. One of them is Alex, who says the drug has had a truly revolutionary impact on his life in a short space of time.
Name and age?
Alex Stobbs, 30.

For how long have you been on Kaftrio?
I have been on Kaftrio just just over five months, as part of the compassionate access scheme.
What was your quality of life like before being on Kaftrio?
Life before Kaftrio was one where my cystic fibrosis largely dictated my life. I'm a musician, and my ability to compose, practice for and participate in rehearsals and concerts as I used to had been rapidly decreasing.
Seeing friends who I love involved a great deal of apprehension, simply because I knew I'd be out of action for the next few days due to the tiredness it would cause. Large parts of my day were spent doing physio, treatments - or just resting due to my energy levels being depleted. As well as using oxygen a great deal at home, I was also using a portable oxygen concentrator on the rare occasions I did leave my flat, which was, psychologically, a huge change that I never fully got used to.
And I had to spend many weeks of the year in Royal Papworth for IV (intravenous) antibiotic treatment. The CF team at the hospital is incredible - they are all superhuman. But I always wanted to trouble the bed manager there less than I did!
You're on the lung transplant list and have had four false alarms so far. Does it feel liberating to be well enough to potentially come off the list?
I was on the transplant list for four years, a period of constant uncertainty. It's hard to articulate properly the relief I felt by the thought of coming off the list! Simple situations were transformed; not having your heart race at a million miles an hour when you receive a call from an unknown number at 2am (which could be the transplant co-ordinator), being able to turn off your phone and go for a walk - and most of all, being able to confidently plan my life.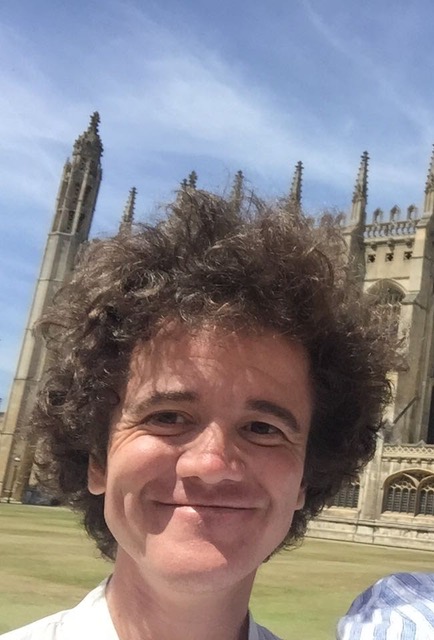 Alex is currently studying for an MPhil in Composition at The University of Cambridge
What is your routine for taking Kaftrio?
I take two tablets in the morning and one tablet in the evening - both with a good dollop of fat. That's it. It boggles the mind how such a simple routine (3 tablets!) can bring about such dramatic changes in my life.

What difference has the drug made? How do you feel now?
Kaftrio started having an effect within an hour or so after taking my first dose. Two weeks after starting it I no longer woke up with 10-minute coughing fits - in fact I barely cough at all. My lung function is the best it's been in at least 12 years (risen by 10-12% so far, from an average of 32-34%. I hope to hit 50% by the end of 2020 if not well before. And best of all, I have more energy than I think I've ever had. One of the other benefits of Kaftrio is that gaining/sustaining weight is far easier, to the point where I've basically given up one of my favourite snacks (Twix) because I was putting on so much... I'm walking up and down hills for miles at a time (without oxygen), and recently started incorporating jogging for the first time since I was ..12?! And I'm contemplating playing sport properly for the first time in years…..it's so, so long ago I felt like this that I genuinely can't remember when that was.
Will you need a transplant in future?
I may yet need a transplant in the future but I'm confident now that it won't be for many years, if at all. The quality of my life is just totally different from what it was before March.

What has been your reaction to the news that it will be available on the NHS for all eligible CF patients?
I'm ecstatic that Kaftrio is going to be available on the NHS. Everyone I know who's had it has such superb, life-changing results after taking it - it really is the wonder drug that CFers have needed. My only hope now is that the remaining 10% in the CF population (Kaftrio is only suitable for approximately 90% of CF patients) can benefit from a similarly transformative treatment before too long.