12 February 2021
A new initiative at Royal Papworth Hospital NHS Foundation Trust is aiming to boost the number of registered nurses at the Trust.
The 'Internationally Trained Nurse Programme' from Royal Papworth Hospital will target staff who are registered nurses overseas but do not currently have a registration with the Nursing and Midwifery Council (NMC) in the UK.
Twenty seven candidates - 16 of whom work in critical care - have successfully applied for the scheme which began on Wednesday 10 February 2021.
Due to the different requirements in different countries, all the applicants are currently working in unregistered roles such as healthcare support workers or assistant practitioners.
Amy Park, Clinical Educator at Royal Papworth Hospital and lead for the programme, said: "For these staff, they are qualified in another country and have all the skills to be registered nurses but don't have the formal UK qualifications they require. The reason for this could be that they do not have the time to complete the training or perhaps cost is a barrier.
"The programme is fully funded by which means the staff members do not need to pay a penny, and we will also support the staff to enable them to study for the test.
"Having more registered nurses will benefit the hospital but also benefit these individuals and we hope it will keep them at Royal Papworth Hospital for many years in the future."
How the programme will work
There are three stages to apply for an NMC PIN, which is the requirement to be a registered nurse in the UK: a practical skills test (OSCE); a computer-based test (CBT); and an English language assessment (IELTS or OET).
The OSCE and CBT stages will be completed and funded in-house at Royal Papworth Hospital, with Health Education England funding the OET/IELTS element.
Different candidates are at different stages on that journey: for those completing the whole programme it will take one year, entry at the second step will be around six months from start to finish and those only needing to complete one assessment will qualify in a just a few months.
The three people entering the programme with two of the three requirements already completed, and thus will graduate from the initiative first, are Mark Aquino who is a scrub technician in theatres, Soji Pappachan who is a healthcare support worker in critical care and Jac Jasmin Franco who normally works on our day ward as a healthcare support worker but is currently redeployed to critical care to support our COVID-19 response.

Jac Jasmin Franco, Healthcare Support Worker (Day Ward)
Jac first registered as a nurse in the Philippines in 2015, arriving in the UK via a two-year spell in Saudi Arabia. She joined Royal Papworth Hospital in December 2019 and hopes to be able to take her nursing exam later in 2021.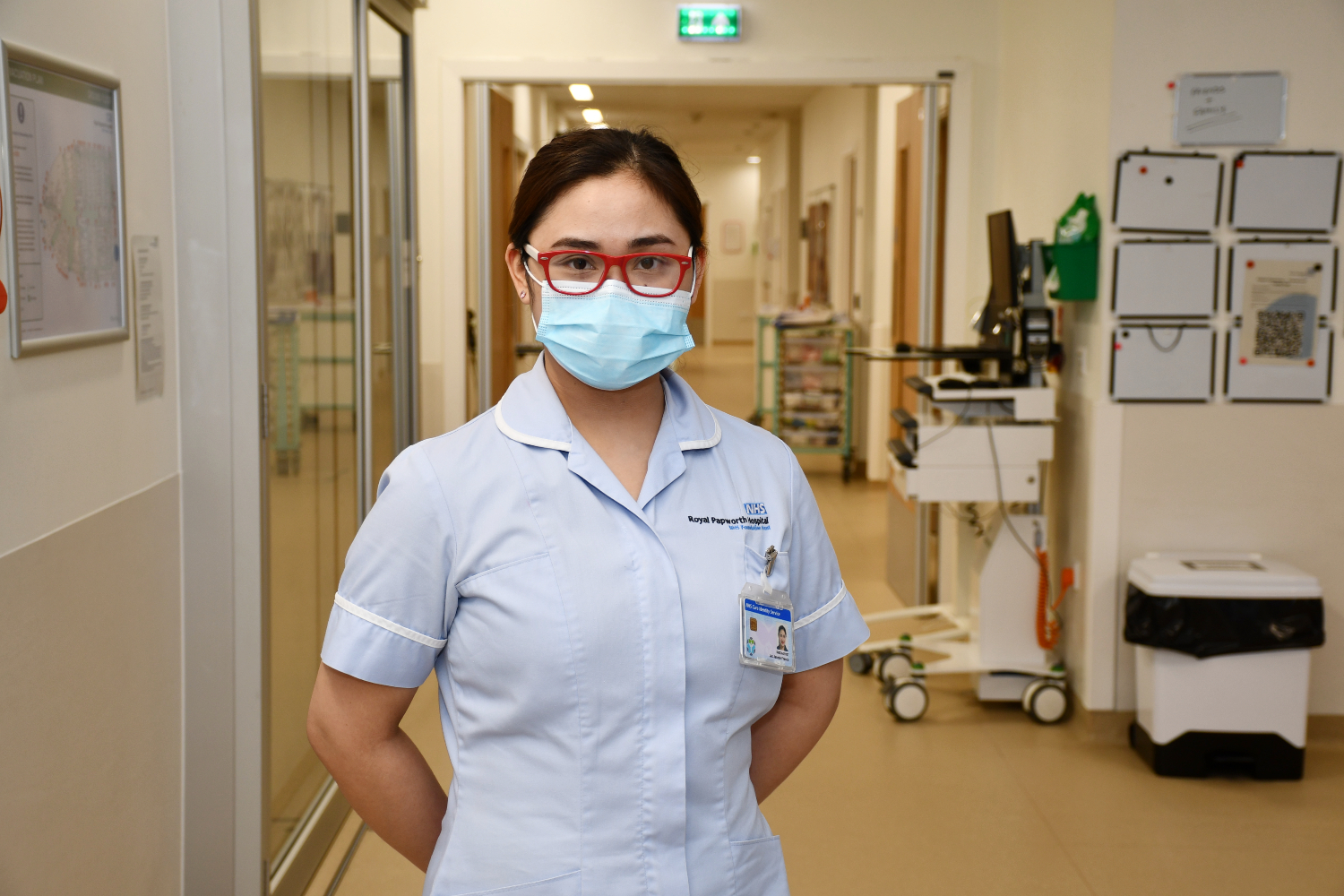 "I joined Royal Papworth Hospital because it is a world-renowned hospital specialising in heart and lung treatment," Jac said. "My experience here has been great and it has been a pleasure to work here. It has helped my personal growth and allowed me to build a foundation for nursing.
"I feel supported and valued in this Trust which has boosted my morale and determination to become a registered nurse here in the United Kingdom. This programme has already created an atmosphere of trust and appreciation of our skills, knowledge and professionalism."
Soji Pappachan, Healthcare Support Worker (Critical Care)
Soji is a registered nurse in India and came to England with his family. His wife is already a registered nurse in the UK, but Soji opted to focus on family life upon their move and didn't go through the qualifications.
He started at Royal Papworth Hospital in July 2019 initially as part of the 'really supportive outpatients team', but was redeployed to critical care at the start of the coronavirus pandemic before deciding to stay in the department in September 2020.
"Critical care is a good environment for me to be involved with patients and their care and it's an area I worked in when I was a registered nurse in India," he said.
"I have already completed my English and theory tests but the programme will fund my practical assessment. If I pass that I will be registered here in the UK. This is a great idea and is good for us on the programme as well as being good for Royal Papworth Hospital."
Mark Aquino, Scrub Technician (Theatres)
Mark first registered as a nurse in the Philippines in 2007 where he worked in A&E for six years before becoming a cruise ship nurse for a US company for four years. He left the cruise ship post in August 2019 to join his wife, who is also a nurse, in the UK. They've recently become parents to a baby girl.​​​​​​​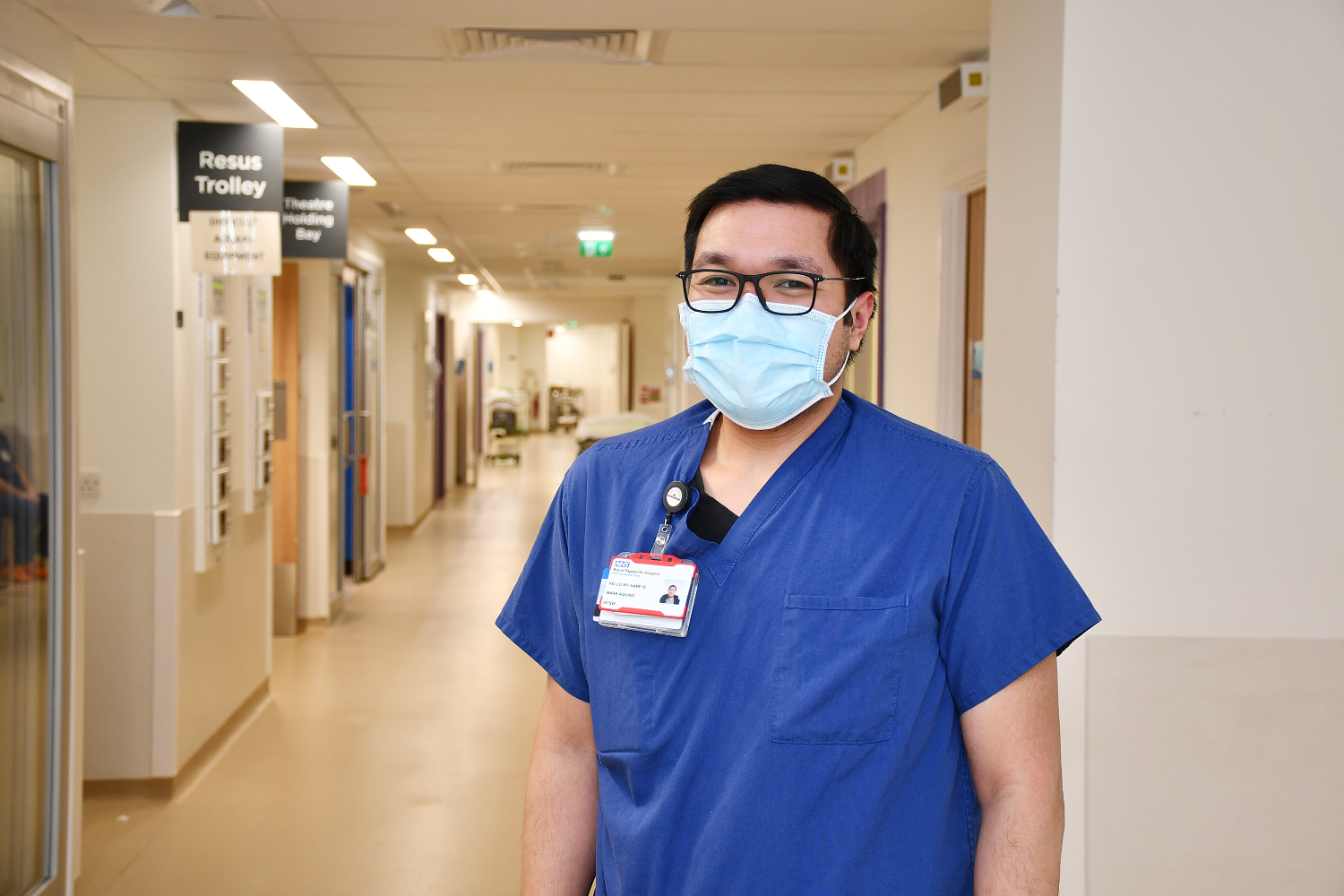 "I joined Royal Papworth Hospital in December 2019 and initially worked as a healthcare support worker before being promoted to a scrub technician in November 2020, just as I applied for this scheme," Mark said.
"I have already passed my English language test so the programme is now helping me with my OSCE, which is the final stage I need to pass before becoming a registered nurse here in the UK.
"I joined Royal Papworth Hospital because I wanted to learn from one of the best cardiothoracic hospitals in the world. When the opportunity opened up to work in theatres during an open day event, I applied because I wanted to challenge myself to expand my skills and knowledge in an environment out of my comfort zone.
"During my time here my mentors, managers, and the education team have been continuously supportive of my career growth especially with the programme for internationally trained nurses. I have always felt that I was encouraged to excel and succeed and have not only been provided an environment where I can learn so much, but I have also been made to feel a valued part of the Royal Papworth family."