30 August 2021

In January 1990, 59 year-old Ted Warner sits in front of cardiologist Dr Doug Skehan in Leicester to discuss his pacemaker and recent tests.
He wasn't prepared for what followed.
"I can still remember that conversation as clear as day," Mr Warner reflected 31 years later. "After five minutes he told me that I had a much bigger problem than we first thought: I was in advanced heart failure and needed a transplant."
Ted was diagnosed with cardiomyopathy – a disease of the heart muscle where the walls of the chambers become stretched, thickened or stiff, making it difficult for the heart to pump blood around the body.
Dr Skehan referred Ted to Royal Papworth Hospital – which performed the UK's first successful heart transplant in 1979 - where he underwent an assessment and was placed on the waiting list for a donor heart.
"Heart transplants were still relatively new back then and something you read about in a paper or saw on the news. I never thought it would happen to me, you never do," Ted said.
"I wasn't really able to do anything because my health was so bad. I couldn't work anymore – life was pretty grim.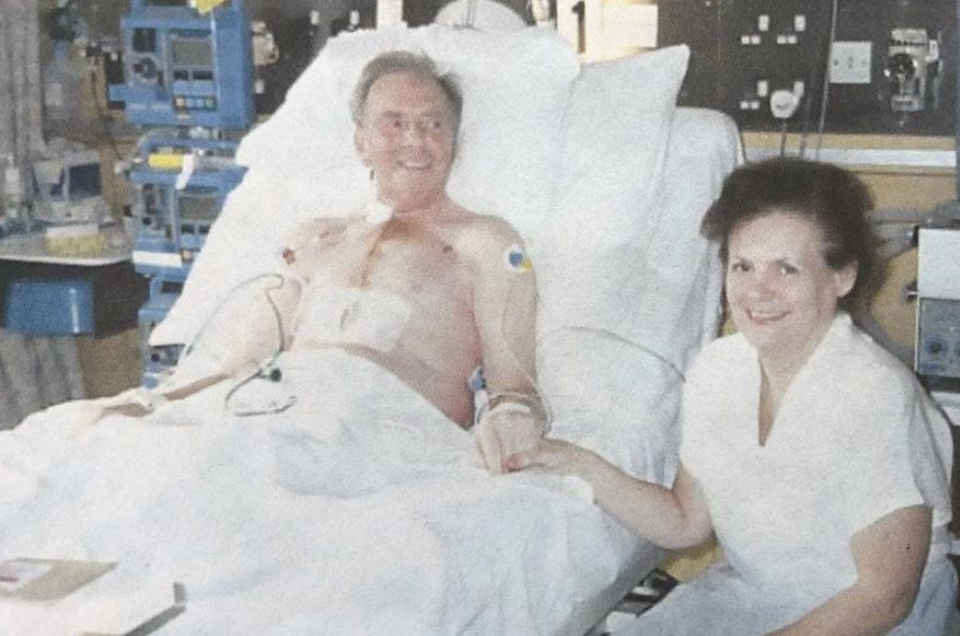 Ted and Annette in Royal Papworth Hospital after his heart transplant in 1990
"I went downhill quite rapidly and had to spend a period of time in hospital. When I was discharged I was told I had about three weeks left to live."
The very next morning his phone rang. It was a member of the transplant team at Royal Papworth Hospital telling Ted that a donor heart had become available.
After a trip from his home near Leicester to Cambridgeshire – abandoning the casserole lunch he and his wife, Annette, were eating – he had his lifesaving transplant.
"It was a nice, sunny day, the casserole that Annette was cooking smelt great, and I think it was about midday when we got the call to say a donor heart was available and an ambulance was on its way to collect me.
"I got to Papworth at about two o'clock in the afternoon and I was taken to a ward and prepared for theatre, then at about six o'clock my operation began.
"The first thing that struck me post-op was that I couldn't believe how well I felt; it was quite remarkable, my breathing was so much clearer. My heart was so bad that anything would have been an improvement, but it was honestly like being reborn again, like I was 16 for a second time."
Fast forward to 2021 and those three weeks that were predicted without a transplant in 1990 have been converted into 31 years. He is one of 20 patients at Royal Papworth Hospital and one of 77 in the country to have lived for more than 30 years post-heart transplant, with that number growing all the time.
In the years since he's seen both of his sons, Neil and Adam, get married and begin their own families, with three grandchildren added to the Warner ranks.

Ted, who turned 90 in June, still plays golf and goes clay pigeon shooting twice a week (Credit: PA Images)
Ted, who turned 90 in June, is now the oldest person in the UK currently alive with a heart transplant and, because he was transplanted at a relatively older age, one of only a handful of people in the country to ever become a nonagenarian following a heart transplant.
"I've been able to do so much in that time, travelling a lot around Europe and the world. I've made the best of those extra years and still enjoy an active lifestyle to this day.
"I could not have got through this without the incredible support of my late wife Annette, my two sons Neil and Adam, and friends who have been with me throughout my journey.
"I am so grateful for the care I've received. The NHS really is the best in the world. I've been looked after by a lot of people and everyone is full of compassion – there are a lot of people to thank for getting me to this point.
"I still feel good and am doing alright. It's all possible because of my donor. I wrote a letter to their family many years ago and had a little bit of contact, but then they moved with no forwarding address and I could no longer reach them, but that's ok because it must have been so tough for them and what they were going through.
"I think about them almost every single day, even now. Especially now. You can't ever put into words how kind, generous and unselfish he and his family are for donating his heart to somebody he doesn't know."
Annette sadly passed away in November 2019. But through Neil and Adam – who continue to work at Warner Textile Machinery in Wigston, Leicestershire, the family company founded by Ted in 1969 – he still enjoys precious family time.
He also shows no signs of slowing down, either, playing golf and going clay pigeon shooting twice a week, alongside his ongoing routine of immunosuppression medication which sees him take eight tablets each day.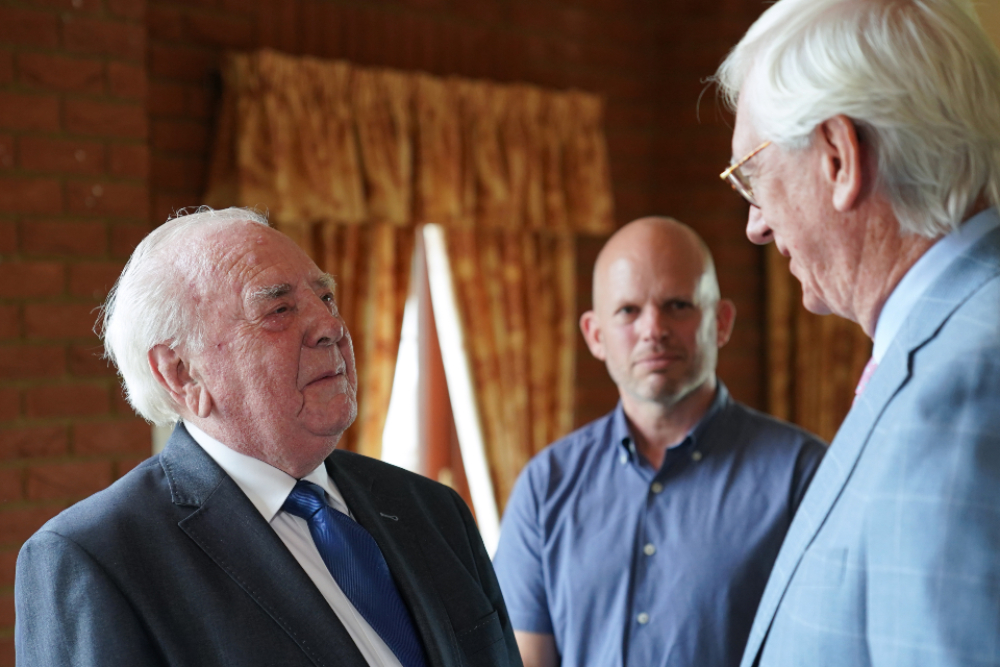 Ted was reunited with his surgeon, Mr Wells, for the first time since his transplant (Credit: PA Images)
Yesterday (Sunday 29 August), Ted held a belated 90th birthday celebration surrounded by his closest friends and family.
"Dad is a remarkable man and has certainly taken with both hands his second shot at life, still golfing and shooting and driving himself around – it's incredible really," sons Neil and Adam said.
"We are extremely thankful for all the medical help dad has received over the years prior to his transplant, the actual operation and then all the aftercare.
"We are so fortunate to have had him around for such a long time after his transplant, giving us many precious years as a family when he and mum could make more memories together and spend time with their grandchildren as they grew-up."
Ted returns to Royal Papworth Hospital in Cambridge twice a year for his post-transplant check-ups; Dr Jayan Parameshwar has worked in the hospital's transplant unit throughout the majority of that time.
Dr Parameshwar was also in attendance at Ted's party at his local golf club on Sunday, alongside Mr Francis Wells, Ted's transplant surgeon from 1990, who is still performing heart operations at Royal Papworth Hospital to this day, and Dr Skehan from Leicester.
"Ted is a perfect advert for what heart transplantation can achieve," Dr Parameshwar said. "He's made full use of his extra 31 years so far, keeping busy and active even at the age of 90. He is an inspiration to the transplant community and beyond."
Anthony Clarkson, Director of Organ and Tissue Donation and Transplantation at NHS Blood and Transplant concluded: "It's wonderful to hear that someone who benefitted from a heart transplant all those years ago has reached the grand age of 90. It's thanks to the generosity of the family who agreed to donate their loved ones' organs that Ted is enjoying a happy, healthy life. I wish him many more years of health and happiness."