9 October 2020
An 84-year-old woman from the Isle of Man has become the 100th person to undergo balloon pulmonary angioplasty (BPA) at Royal Papworth Hospital in Cambridge, five years after the hospital first performed the pioneering procedure for patients with a rare form of pulmonary hypertension.
Anne has Chronic Thromboembolic Pulmonary Hypertension (CTEPH) – a condition caused by blood clots which block the arteries of the lungs. Over time, this results in increased pressure and resistance to blood flow in the lungs leading to pulmonary hypertension and right heart failure.
Patients with the condition often cannot work and need pulmonary vasodilator drug therapy and sometimes supplemental oxygen therapy just to do the simplest tasks without limiting breathlessness.
For many patients like Anne, surgery is not an option due to the clots in the lungs being too difficult to get to. However, balloon pulmonary angioplasty – a minimally invasive procedure delivered solely at Royal Papworth Hospital– has given patients across the United Kingdom and Ireland a better quality of life without the need to undergo major surgery.
During the procedure, an interventional cardiologist inserts a very fine wire into blood vessels in the lungs and guides a tiny balloon into position. The balloon is inflated, to around the size of a pea, for a few seconds to push the blockage aside and restore blood flow to the lung tissue. The balloon is then deflated and removed. This can be repeated several times in different parts of the lung during a single treatment session.
BPA is a service delivered by cardiology and the pulmonary vascular disease unit at Royal Papworth Hospital
The procedure – which is performed under a light sedation and local anaesthetic - usually involves four treatment sessions, each lasting up to two hours, spaced four to six weeks apart. In Anne's case, because of her journey from the Isle of Man, her treatment was condensed into one week, meaning she could stay in the hospital and didn't need to travel back and forth to Cambridge via taxi and aeroplane.
Since carrying out its first balloon pulmonary angioplasty in 2015, Royal Papworth Hospital was commissioned by the NHS to become the national centre for balloon pulmonary angioplasty in 2018.
In spring 2020 the hospital's pulmonary vascular disease unit was shortlisted for the prestigious Royal College of Physicians Excellence in Innovation Award for 'pioneering BPA for patients with inoperable chronic thromboembolic disease'.
Dr Steve Hoole, Consultant Cardiologist at Royal Papworth Hospital NHS Foundation Trust said: "In the last five years, we have clearly shown that balloon pulmonary angioplasty is a very safe treatment in our hands. It can lead to significant benefits for patients with this type of pulmonary hypertension including reduced breathlessness, improved exercise capacity, and reduced right heart strain which we believe will result in an increased life expectancy.
"Thanks to the procedure, some patients may eventually be able to wean off long-term, high-cost drug therapy and instead have the chance to get on with their lives. We hope to be able to offer the treatment to many more patients in the future."
Dr David Begley, Divisional Director for Cardiology at Royal Papworth Hospital NHS Foundation Trust, said: "The balloon pulmonary angioplasty service is a great example of the innovative therapies and the high quality of care that we are able to deliver here at Royal Papworth Hospital, for patients both within our region and from across the country."
Anne was referred to Royal Papworth Hospital from her doctors in the Isle of Man via the Royal Hallamshire Hospital in Sheffield.
"I started feeling breathless three years ago and then two years ago saw my local doctor," she reflected from her bedroom in the hospital's respiratory ward. "I didn't have asthma, or angina, and I was referred to a cardiologist.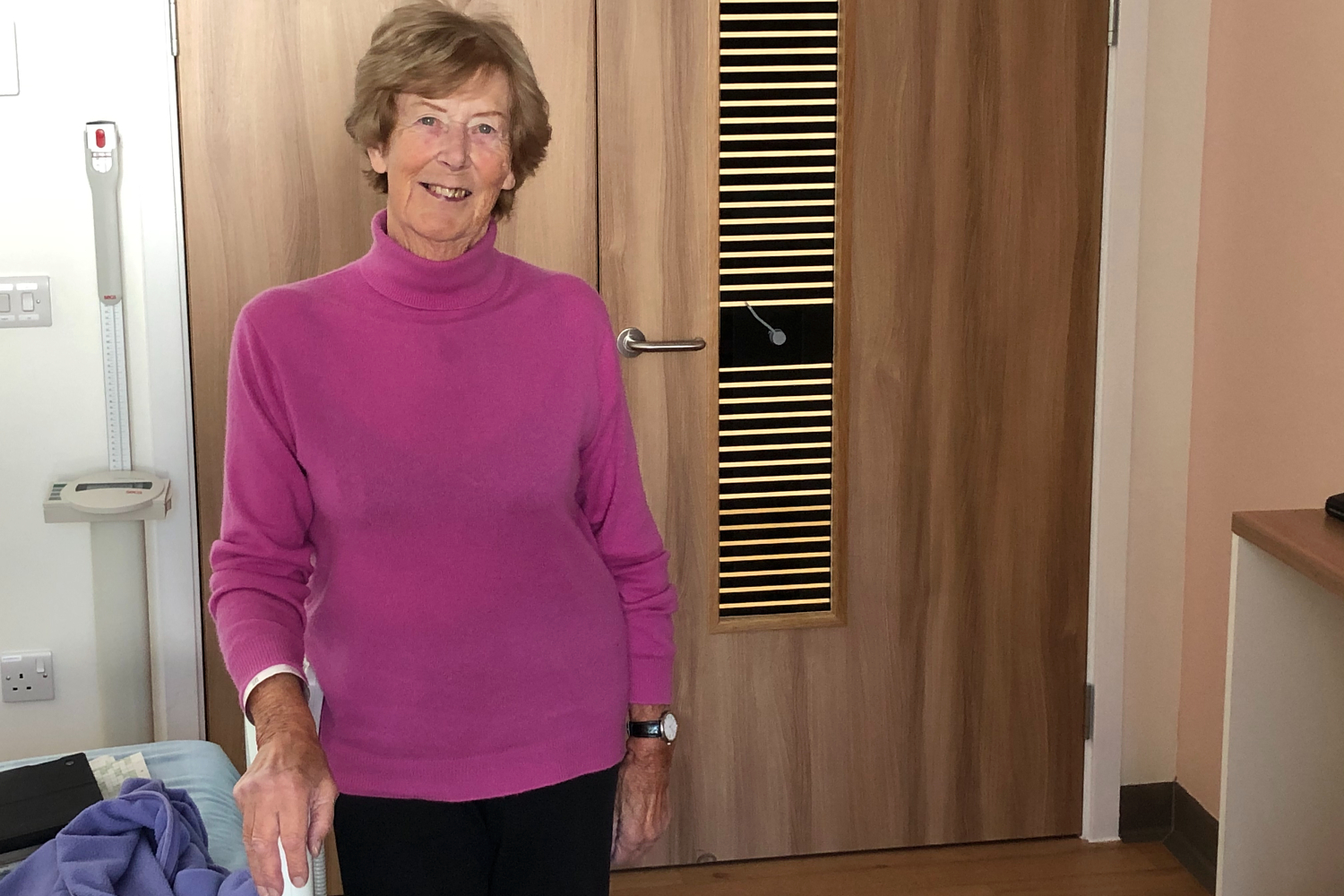 Surgery wasn't an option for Anne as the clots in her lungs were too difficult to get to
"Then I started having these 'black out' episodes where I would fall at home and not remember it. One day this happened in public and because I hit my head I was rushed to A&E where I had some tests and was diagnosed with chronic blood clots on the lung. I was then referred for treatment in Cambridge.
"I have felt very safe. The staff are fantastic and very caring, looking after me when I'm so far from home."
When she returns back to the Isle of Man to her husband, Bob – who is also 84 – Anne is looking forward to an improved quality of life and 'feeling better'; being more active, doing gardening and, when safe to do so, heading to Spain for her annual trip at the start of each year.
Royal Papworth Hospital NHS Foundation Trust is the UK's leading heart and lung hospital, treating around 50,000 patients each year. The Trust is currently rated 'outstanding' by the Care Quality Commission (CQC), from an inspection carried out in 2019. It became the first hospital Trust in the country to receive the top rating of 'outstanding' in each of the five main domains that the CQC assesses.