26 March 2019
Royal Papworth's new hospital was opened up to the public for the first time on Sunday 24 March as part of the Cambridge Science Festival.
Around 120 people toured the new building on the Cambridge Biomedical Campus with visits to patient bedrooms on the top floor, an operating theatre and a cath lab, before a final stop at the 46-bed Critical Care Unit.
The tickets were snapped up within 20 minutes of bookings opening back in February with families travelling from as far away as Norwich and Swindon.
Ron, who made the 250-mile round trip from Wiltshire, said: "It was absolutely worth the journey. I loved it!
"I received a heart transplant at Royal Papworth back in 2008 so I've spent quite a lot of time at the current site. I was worried about the change in balance towards having more individual rooms compared to the communal areas at the moment, but it's all been carefully thought about and it feels so safe and welcoming."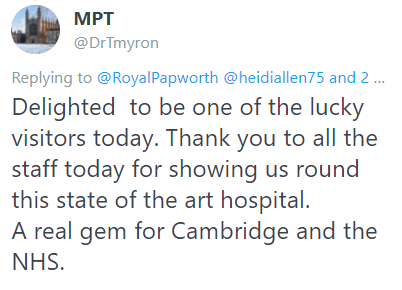 "The building is so impressive," agreed Richard and Patricia, who made the much shorter journey from Cambridge. "The staff who work at Royal Papworth are unsung heroes and heroines, so the combination of this new, modern building with the people will be fantastic."
Colleen, from Ely, was fitted with a stent after being admitted to Royal Papworth following a heart attack two years ago.
"The modern technology that has been installed is amazing, it's lovely," she said. "I was just thinking about what you are able to do at the current site, so I can't even imagine what you might be able to achieve here, it's just such a step forward.
"I'd be happy coming here as a patient, although hopefully I won't be back!"
The youngest visitor was two-year-old Tang-tang, and with many other children and teenagers also on the tours hopefully some of them have been inspired to pursue careers in cardiothoracic medicine and healthcare science at Royal Papworth in the future.
Royal Papworth Hospital is due to move to the Cambridge Biomedical Campus from its current site in Papworth Everard during a three-week period in April and May 2019.