25 June 2020
Nurses from Royal Papworth Hospital have appeared on the famous big screen in Picadilly Circus in London as part of a campaign to honour NHS staff.
'Rainbows for the NHS' is creating a giant rainbow mosaic comprising thousands of health workers and the nation's lockdown pictures.
Seven nurses working in critical care at Royal Papworth – treating the most severely ill coronavirus (COVID-19) patients from across the East of England – are one of the main featured images in the powerful display.
Antonella, Ellie, Anastasia, Czar, Bernie, Joao and Maire were pictured on International Nurses' Day back in May, wearing full PPE on a COVID-19 ward.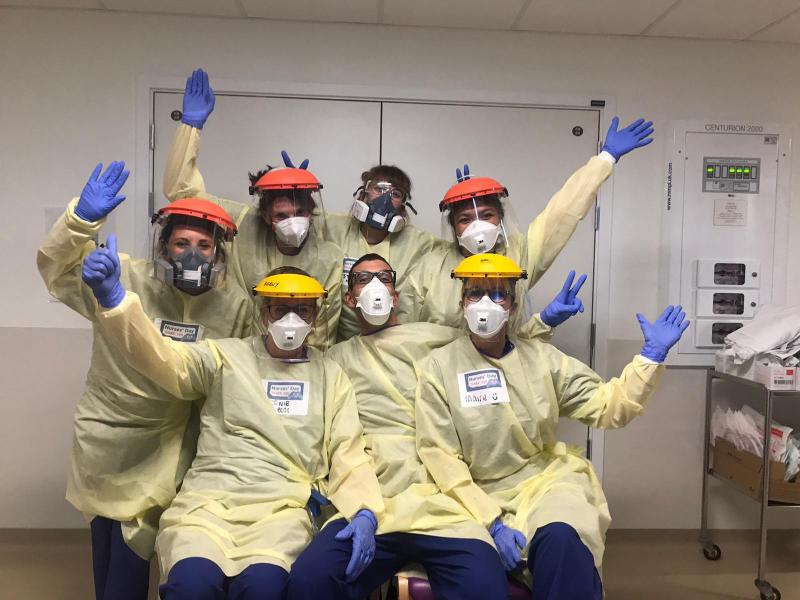 The original picture that was submitted to the campaign

The campaign is organised by artist Helen Marshall from The People's Picture: "As an artist I was really moved by the collective creative response of the nation to the pandemic, and like everybody else I wanted to do something.
"I particularly wanted the NHS staff, key workers and carers' stories to be highlighted. By collecting thousands of photos, videos and stories, I have created one giant interactive rainbow mosaic during my time in lockdown."
So far, 12,456 pictures and stories have been collected to form the rainbow mosaic, but only a handful of those – including Royal Papworth's photo – are being prominently featured at Picadilly Lights.
Find out more about the 'Rainbows for the NHS' campaign and submit a photo.