8 April 2022

A new art installation running throughout spring at the Serpentine Galleries in London will feature the work of Royal Papworth Hospital's surgery, radiology and research teams in diagnosing and treating mesothelioma.
Radio Ballads presents four bodies of work, one of which is a visual art film called 'The Body Blow' by artist Ilona Sagar.
It tells the story and legacy of asbestos with workers and their families in Barking and Dagenham, the borough with the highest level of asbestos induced cancer, mesothelioma, in London.
As part of the project, Ilona and her team visited Royal Papworth Hospital in Cambridge to explore the diagnosis and treatment for mesothelioma.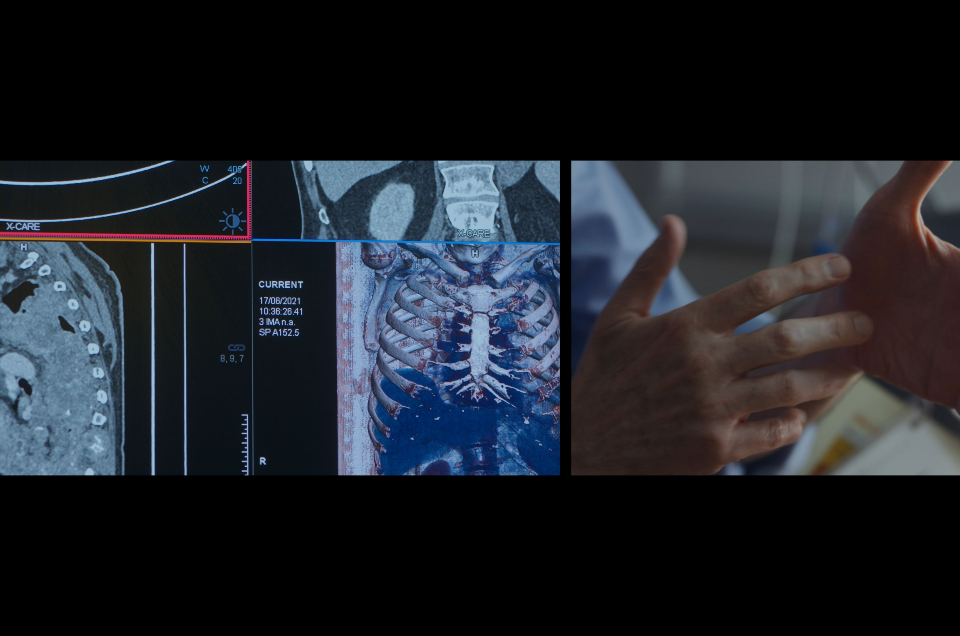 A clip from the film, which is on show at Serpentine Galleries until 29 May

"We are delighted to be involved in this project with Ilona and the Serpentine Galleries team, raising awareness of the dangers of asbestos and mesothelioma in this way," said Professor Robert Rintoul, Honorary Consultant Respiratory Physician at Royal Papworth Hospital.
"In the film you will see the work of our teams across radiology, theatres and surgery, and in our research tissue bank (MesoBanK), in diagnosing and treating mesothelioma, and how the disease progresses."
Mesothelioma is a type of cancer that mainly affects the lining of the lungs and is almost always linked to asbestos exposure, a group of minerals made of microscopic fibres that used to be widely used in construction.
The time from exposure to asbestos to showing symptoms of mesothelioma can be anywhere between 15 to 45 years.
More than 2,600 people are diagnosed with the condition each year in the UK. The majority of cases are diagnosed in people aged 60 to 80, and men are affected more commonly than women due to the nature of the jobs linked to industrial exposure.
Mesothelioma cannot be cured, although treatment can help control the symptoms and prolong survival.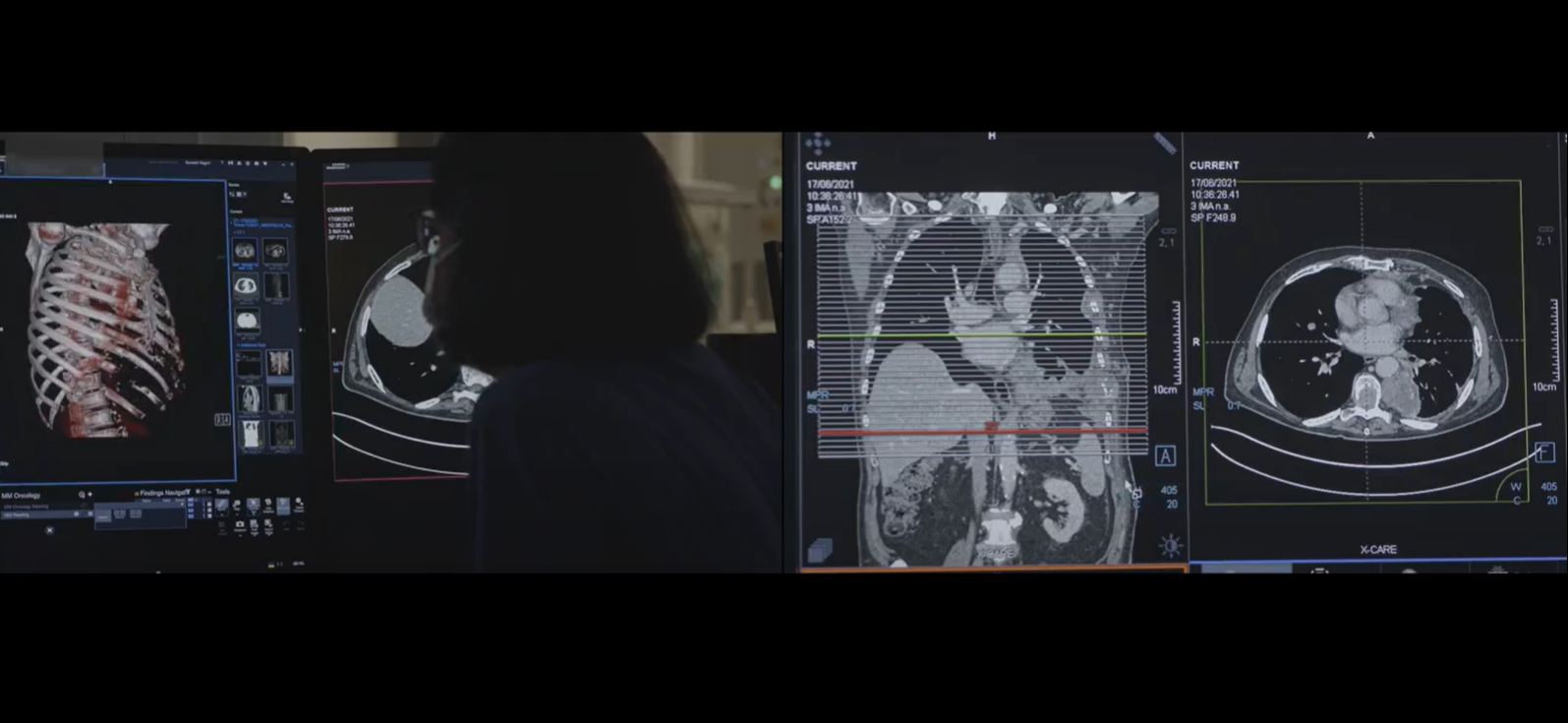 The film features teams from theatres, MesobanK research tissue bank and radiology at Royal Papworth

Barking and Dagenham is so affected because of the dockyard workers and the Cape Asbestos factory in Harts Lane, Barking; Royal Papworth Hospital is one of the national centres for treatment of asbestos-related conditions including mesothelioma. This led Ilona and her team to film in Cambridge, to find out more about the cancers and the impact they can have on people's lives.
"Asbestos is a naturally occurring mineral, and it is fibrous which means it is composed of millions of tiny fibres," explained Professor Rintoul.
"If someone is working with asbestos or exposed to asbestos dust, they breathe in the fibre. Unlike many other types of dusts or fibres which get caught in the back of your throat and might make you cough, these fibres have very good aerodynamic properties and whizz down the airway and into the lungs.
"They then get lodged in the soft spongy part of the lungs and sit there, deep inside the lungs, causing damage over time and affecting your body's ability to oxygenate blood and strip out carbon dioxide.
"This leads to symptoms including chest pain, breathlessness, fatigue, weight loss. As mesothelioma is often diagnosed at an advanced stage, treatment is usually focused on controlling these symptoms and prolonging a good quality of life for as long as possible."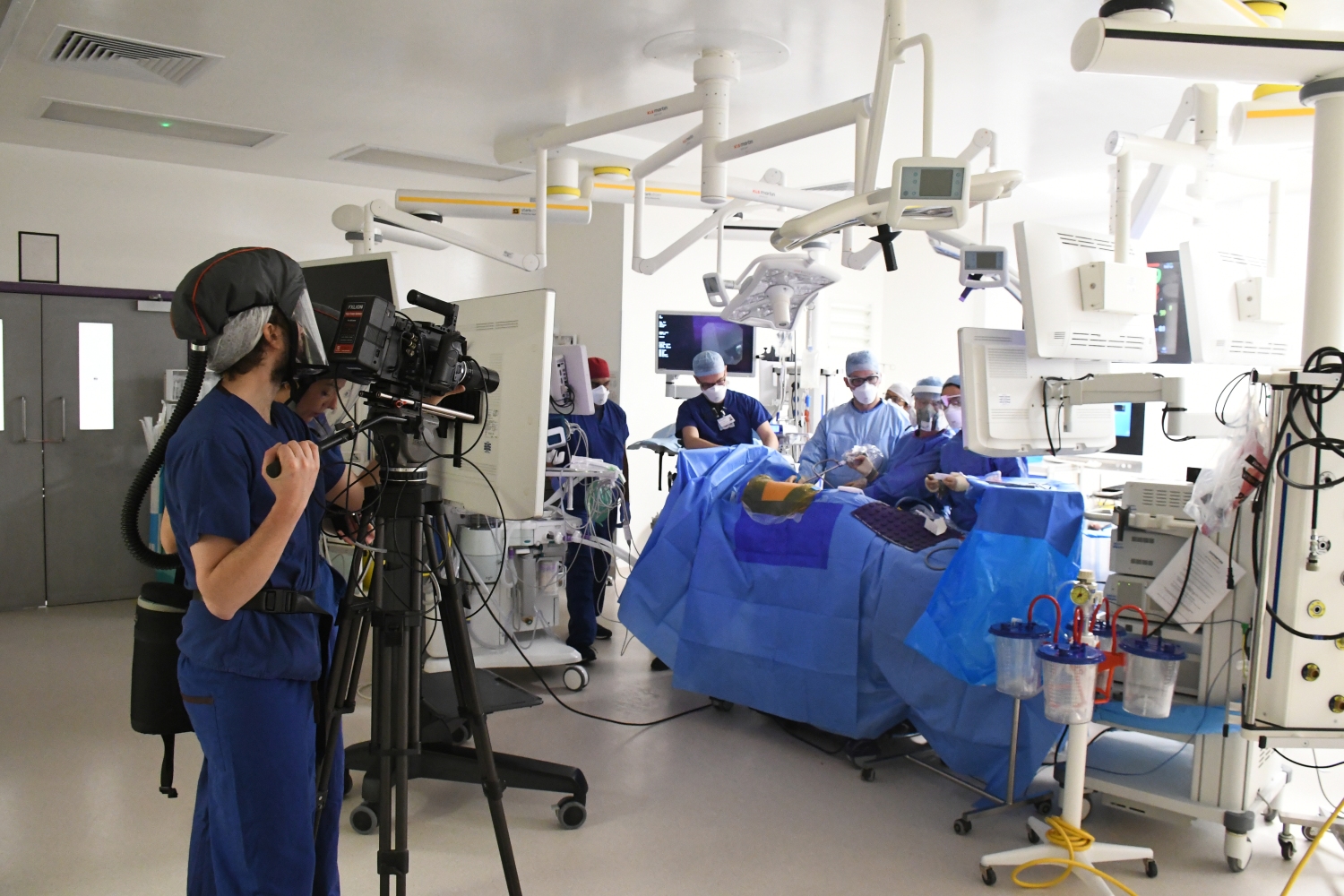 Ilona and her team filming mesothelioma surgery as part of the project

The use of asbestos in the UK was completely banned in 1999, so the risk of exposure is much lower nowadays. But materials containing asbestos are still found in many older buildings which continues to put anyone working on an older building, including DIY enthusiasts and demolition workers at risk.
Radio Ballads will be on view from 31 March – 29 May 2022.
MesobanK is funded by Asthma and Lung UK through a donation from the Victor Dahdaleh Foundation.

Related links
Mesothelioma – NHS (https://www.nhs.uk/conditions/mesothelioma/)
Mesothelioma UK (https://www.mesothelioma.uk.com)