1 April 2021
People who are at high risk (clinically extremely vulnerable) from coronavirus (COVID-19), have been advised to take extra steps to protect themselves, known as shielding, for much of the past 13 months.
With government shielding advice officially set to end on 1 April, we speak to staff at Royal Papworth Hospital about their experiences over the past year.
Lorena Andreu Faz
Healthcare support worker, critical care education team

"I have been shielding due to severe asthma and live alone in a studio annex next to my landlords' house. I have been very lucky because they have also been shielding so we've been going through the same thing.
"But the last year has definitely been challenging; almost overnight I went from working full time, doing my nursing degree and attending English classes to staying at home.
"I believe I managed better at first because the weather was good, I continued my studies and was able to take my laptop into the garden which meant the occasional socially-distanced 'hello' to my landlord and family. I stayed at home for a total of 151 days and then came back in August, and then had to shield a few other times due to contact tracing until December when shielding was re-introduced.
"These past three months have been more challenging as the weather has been much worse and so much less time spent in the garden. I must thank my managers for checking up on me and making sure I was ok. They ensured I received psychological support when I need it most, especially in that early January period when I was struggling with anxiety.
"I have not seen my family or visited my country (Spain) since Christmas 2019 but am now in a much better place as I managed to organise a support bubble with a friend. Having that little bit of social life has helped my mental health so much.
"I cannot even try to image what my colleagues have been through. Being a nurse has been my dream since the age of 15 and my role has brought me close to the nursing profession. I feel that I have missed an incredible opportunity to learn and develop skills and miss my colleagues and the hospital, but I have felt safe and protected.
"The first dose of the vaccine has given me more confidence in my day-to-day life, with my second dose booked for May. I am really looking forward to going back to work."
Angie Jeffs
Operating department practitioner in theatre recovery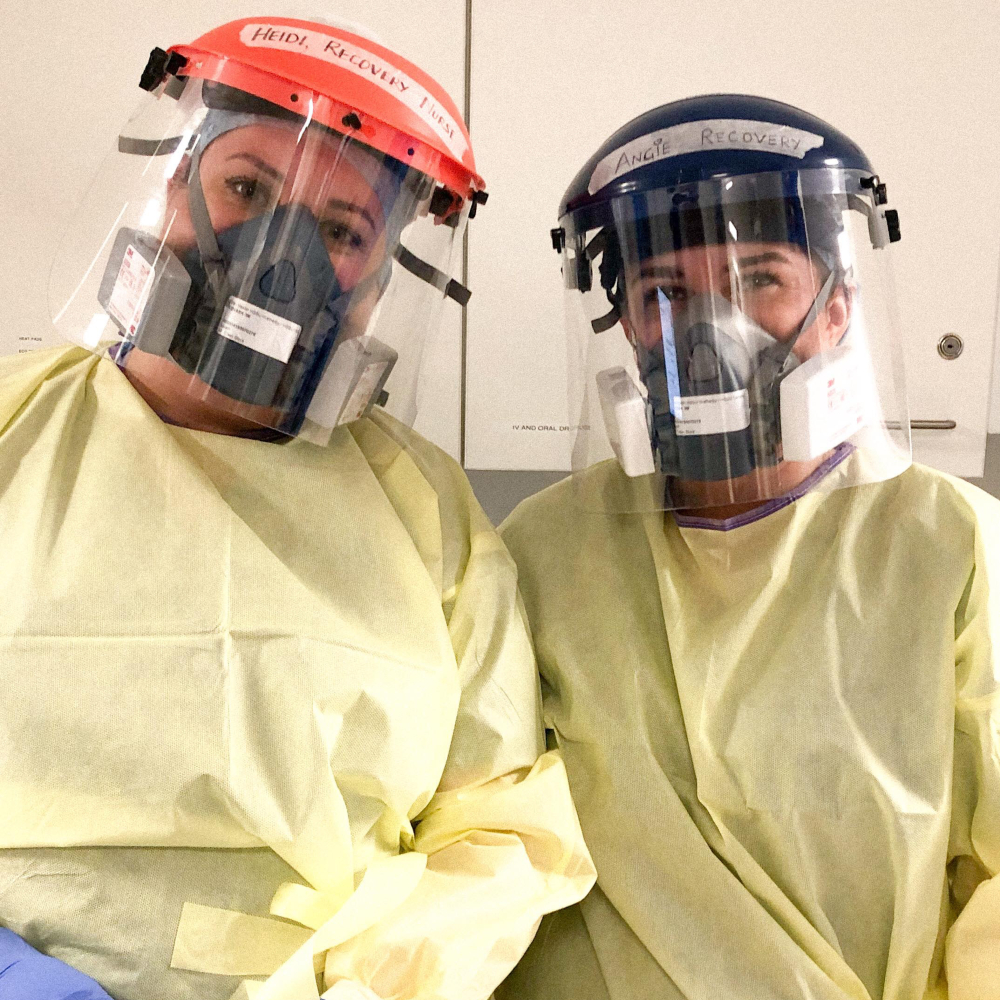 "Asthma is also the reason why I have been shielding at home. My son moved out in June just as I was beginning shielding, so I have spent all of that time alone.
"I have been very fortunate to have help from a supportive network of friends and family who helped me with food shopping and collecting medication. I don't know how I would have coped otherwise.
"Shielding has had a much bigger impact on me than I expected it to, even though I tried to prepare myself based on what was happening in other countries. Physically I went from being a well-controlled asthmatic to becoming more reliant on inhalers and medication.
"I was working for the early months of the pandemic but my risk assessment, which was reviewed often, came out as high because of the medication I had to take as a result of the respirator masks exacerbating my asthma. This made me more anxious before shifts, therefore making my asthma even worse.
"I carried on with this for longer than I should have because I wanted to fulfil my duty for my patients but also didn't want to let my colleagues down. I would see staff members daily looking tired, emotionally exhausted, with faces, ears and heads covered in pressure sores who still found the strength to keep on going, to care for their patients and support their colleagues. I was struggling physically with my health but mentally I was struggling with guilt that they were going through so much more than I was.
"I work with such a fabulous, supportive team of people and there was always someone to talk to. When I started shielding my management team was really supportive; I was sent home straightaway and told not to feel guilty as the main priority was keeping me safe.
"I do still feel that tremendous sense of guilt, though, that I have been safe at home while I've watched my Royal Papworth family on the news. Each time it has reduced me to tears.
"I have had dose one of my vaccine with dose two in May, but I will continue to follow social distancing, mask wearing and hand washing advice. I am so grateful for the risk assessment decision which has allowed me to steer clear of catching the virus."
Anie Ponnaberanam
Lead clinical nurse specialist for pulmonary endarterectomy surgery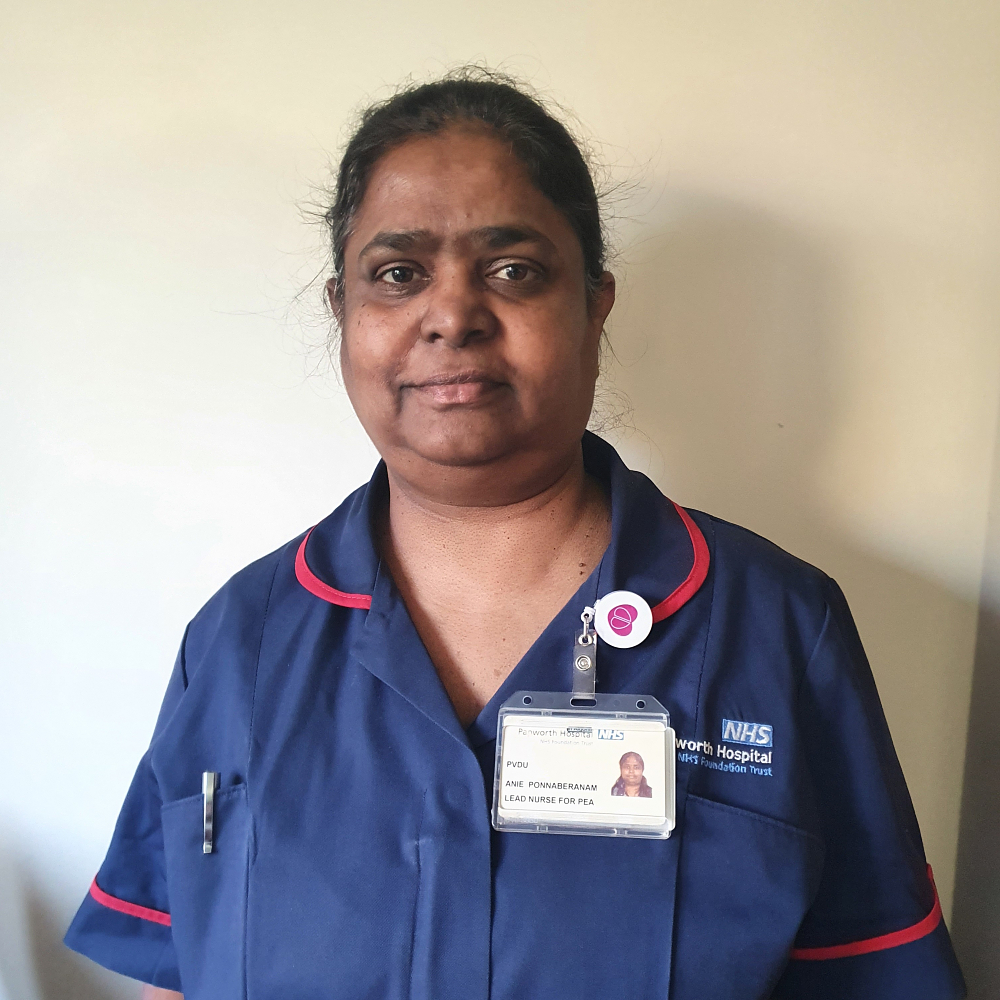 "It is hard to shield when you are a nurse and your natural instinct is to look after people. I have always put my patients first over myself and family because of my passion for nursing and have never put my health above that, so I was frustrated and angry with myself for the health issues that stopped me from being there with my team of nurses.
"I am identified as clinically vulnerable to coronavirus for a few reasons, including my ethnicity being from a BAME background. For most of the past year I have been at home with my husband, who is also vulnerable, and two of my grown-up children who are shieding to protect us.
"This has been certainly hard for all the family members including another daughter who lives with her husband in London whom we have not seen since the lock-down before Christmas.
"I am from Chennai (previously called Madras), in Tamil Nadu in India, and one of the hardest things has been hearing from our Tamil community friends in the UK, almost all of whom told us that they are recovering from COVID or still suffering – some of their stories were daunting involving intensive care. It made me think that I would be similar if I got coronavirus and I would end up fighting for my life.
"My role involves co-ordinating patients' referral, communicating with patients and their families and educating them both face-to-face and by telephone before and after surgery, organizing their care by liaising with the multi-professional team members within my own hospital and other health care professionals around the country who care for this group of patients with rare disease.
"Being in this caring profession as nurse for more than 35 years, it is hard to stay away from patient facing role. However, when all elective procedures had to be stopped to care for COVID patients, my other colleagues have been redeployed. I had no choice, but to shield, yet able to provide the care and support remotely to my patient group. I was fortunate to be able to work from home and could keep in touch with my patients over the phone while supporting other teams with my knowledge and skills.
"Being busy and focusing on work helped me put my guilt and anger at not being able to help on the front line to one side and allowed me to support other teams and work on other projects, giving me a sense of satisfaction that I am contributing to the hospital's effort.
"I have now had both doses of the vaccine and am so thankful that it is safe and effective. I am naturally slightly apprehensive about coming back but the hospital has been very supportive throughout and will only allow me to work in the safest areas of the hospital when I first return on 1 April."
Melissa Earwaker
Clinical trial manager in research and development
"An autoimmune disease means that I have needed to shield, and during that time me and my partner have joined the lockdown puppy club!
"This past year has been a rollercoaster of emotions. The initial feeling of worry at the beginning was soon overtaking by feeling grateful that I had the ability to be redeployed to COVID research and work on-calls and weekends remotely. It was comforting to know that I was helping those in the hospital whilst keeping safe at home.
"The novelty of full-time remote working did wear off though and finding motivation at times has been difficult. The combination of a supportive manager, family/friends and the lockdown puppy has helped make the year a little better.
"Returning to work is going to be a challenge and I think maybe a bigger challenge than staying home for a year. Small steps will definitely be the way forward and I am hopeful that things can return back to normal.
"I have had the vaccine, although my situation is a little different as my medication may affect the amount of immunity the vaccine will give me. It's made me feel a little better though and I know it has reassured members of my family knowing that I'm that bit safer."