18 July 2022
A teenager who spent nearly four months in hospital fighting COVID-19 has been reunited with some of the staff at Royal Papworth Hospital who saved her life.
Areeb Khan was 16 when she collapsed at home last summer, being admitted to hospital with her oxygen levels having fallen below 50%.
Just two days later, her distraught parents were called to say she needed to be transferred to Royal Papworth in Cambridge for ECMO (extracorporeal membrane oxygenation), as they went to collect her GCSE results without her.
ECMO is a form of mechanical support for patients who are in acute or severe respiratory failure, which acts like an artificial lung outside the body to oxygenate blood. It is used as a last resort to support the most seriously ill patients – including those with coronavirus - when all other interventions have been unsuccessful.
Areeb, from Chadwell Heath in east London, was on ECMO at Royal Papworth for four weeks in summer 2021, and is one of the youngest patients the hospital has supported on ECMO.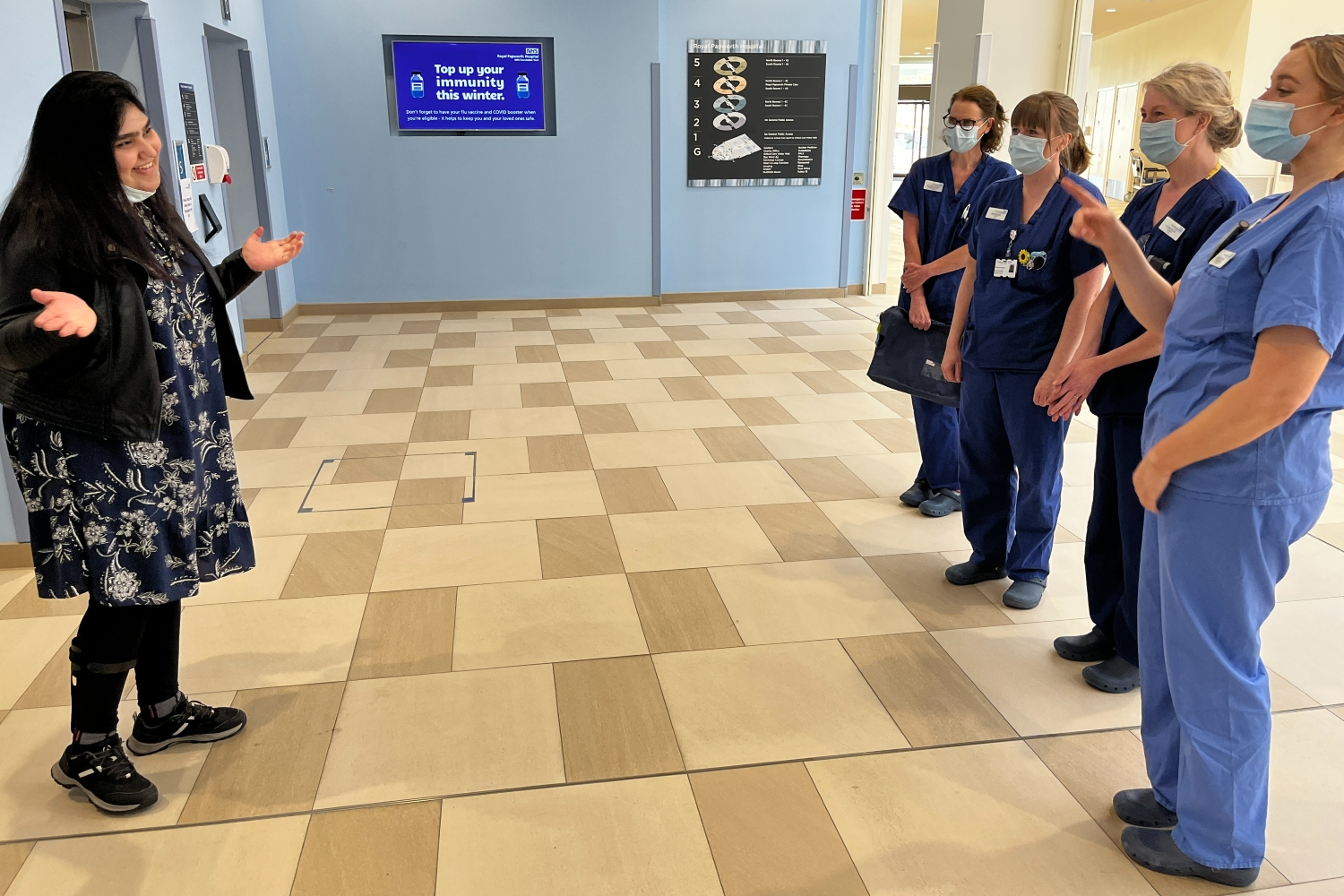 Areeb talking to critical care nurses about how they used to plait and braid her hair

She was also cared for by teams at King George Hospital (where she was first admitted) and Queen's Hospital (where she underwent rehab) as part of her hospital stay from August to November.
Both hospitals are run by Barking, Havering and Redbridge University Hospitals NHS Trust.
In April, she returned to Royal Papworth for her six-month ECMO COVID-19 follow-up clinic where she was able to say thank you in person to some of the critical care team who cared for her.
"Genuinely there are no words that I can use to express my gratitude to the doctors, nurses, and everyone who looked after me," Areeb, now 17, said.
"If it were not for them not giving up on me and making quick decisions then I would not be here today. The treatment, the care, the help I received, I am truly thankful for all of it.
"During my stay in critical care at Royal Papworth, the nurses would plait my hair, give me foot massages, play verses of the Holy Qu'ran on a Bluetooth speaker and play my favourite music for me.
"Some of this was while I was heavily sedated and unconscious, but when I came back around I had memories of it happening and it definitely helped calm me down."
Areeb was accompanied to her appointment by her mum Bushra and dad Saqib, who added their thanks for saving their 'precious daughter'.
Bushra said: "We cannot say thank you enough. Her situation made us feel like we didn't want to live ourselves if we didn't have Areeb with us.
"She was only 16. I remember when she was being transferred from King George to Papworth and I was begging the doctor to save her life. She was very poorly and we had no hope at that point."
"I remember the day when the ambulance brought her here, it was a difficult time for us," added Saqib.
"The staff were always helpful, not just for Areeb but also us, giving us hope. They would always support and talk to us, even at the end of a 12-hour shift.
"The critical care staff of Royal Papworth [are] really amazing, they are like angels on the earth, working to save lives no matter the patient's religion or background, or whether they are black, brown or white.
"They showed so much respect to us, to Areeb, as a human."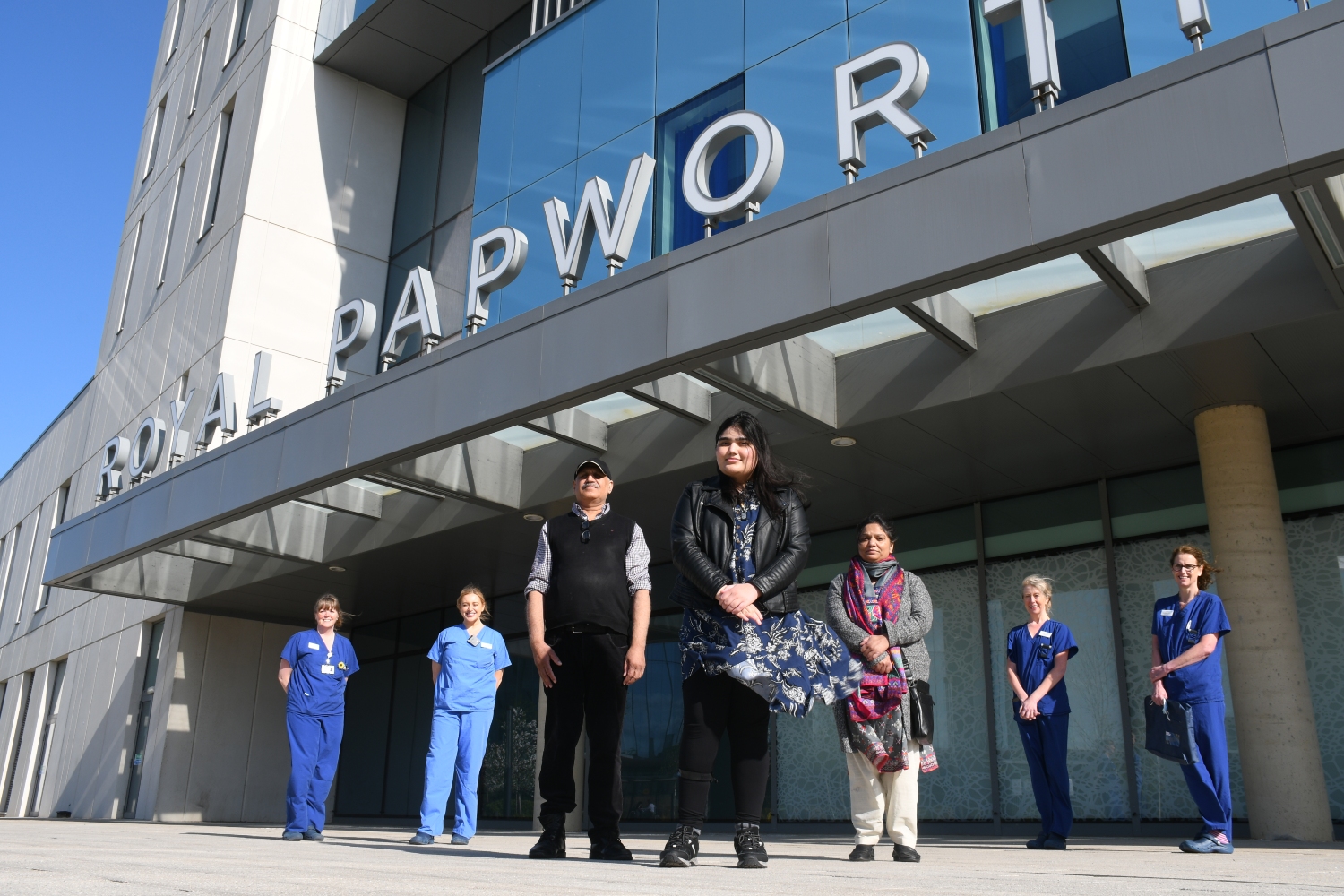 Areeb in April 2022 with dad Saqib, mum Bushra and Royal Papworth critical care nurses

Areeb was given the all-clear at her outpatient appointment and is now encouraging others her age to get the coronavirus vaccine.
The vaccine became available for her age group just days after she began having symptoms, meaning she was ineligible to take the jab.
"I wish I could have had the vaccine. My main message is to take the vaccine because it could help save your life.
"I will never get that part of my life back again, having to take a year out of school. My story should absolutely encourage others."
Areeb was recently awarded the Rotary Young Citizen Child of Courage Award for helping to make a difference to others.
And her GCSEs?
She passed them all.
After having to take a year out, she is now preparing to restart her education in September when she will study A-Levels in biology, chemistry, physics and mathematics.
One day she hopes to become a surgeon.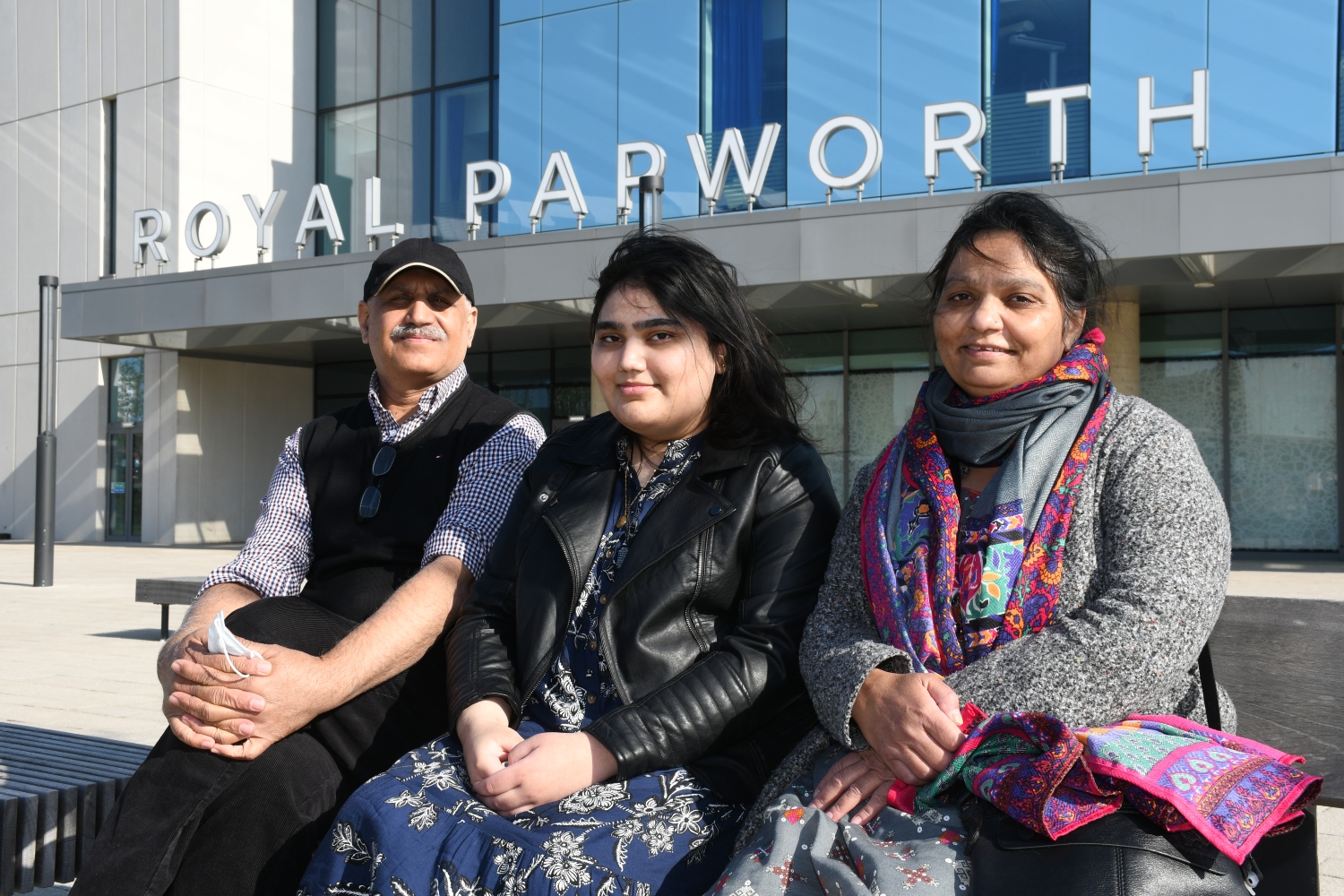 Saqib, Areeb and Bushra underneath the window of the critical care room in which Areeb was treated