24 November 2022

A woman believed to be one of the longest surviving heart transplant patients in the world has celebrated her 40th anniversary by being reunited with the NHS staff who have cared for her.
Sandy Law, 67, underwent a heart transplant at Royal Papworth Hospital in November 1982 due to a genetic cardiac condition.
She subsequently had a second heart transplant in 2005 when the first heart began to weaken.
Sandy is now the longest surviving heart transplant recipient in the UK.
To mark the occasion, she and husband Terry were invited to a special celebration with current and former staff at the hospital who have cared for her during the past four decades.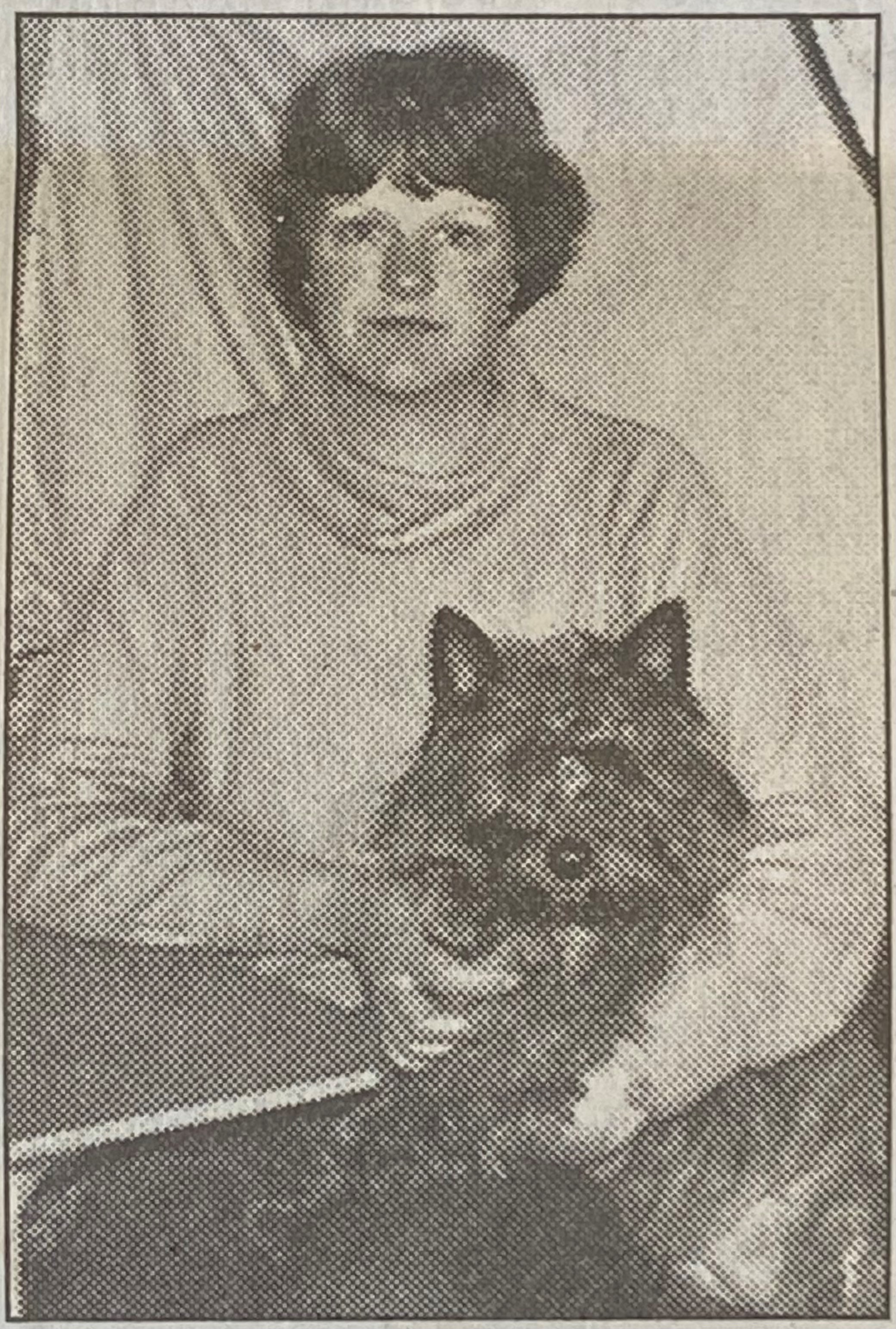 Sandy began struggling with her symptoms in her teenage years

"At the time all I wanted was to live," Sandy said of her feelings in 1982.
"When I was a child it was predicted that I would have died before reaching the age of 30, of that there was no doubt.
"In 1982 I was 27 and so ill that Terry used to carry me downstairs in the morning. I would stay in one place all day and he would do all the cooking, all the washing, all the cleaning. I was alive, but I had no life."
Sandy had a genetic condition called hypertrophic cardiomyopathy (HCM), a disease from which her mother had died at the age of 39.
HCM causes the muscle of the heart to become thickened, making it harder for blood to enter the pumping chamber, eventually causing heart failure.
Like her mother, Sandy's defect showed up as a heart murmur during a check after childbirth.
"It impacted my life right from the start. I couldn't do sports at school and by the time I was in my mid-teens I was getting symptoms of fatigue, weakness and breathlessness as my heart struggled to cope," Sandy recalled.
"At the same time, I was watching my mother's decline too. I had to grow up early, helping my father to look after her."
Unlike her mother, Sandy had a new option.
In 1979, a team at the then-named Papworth Hospital, led by Sir Terence English, had performed the UK's first successful heart transplant – on patient Keith Castle - following a 10-year moratorium on the surgery.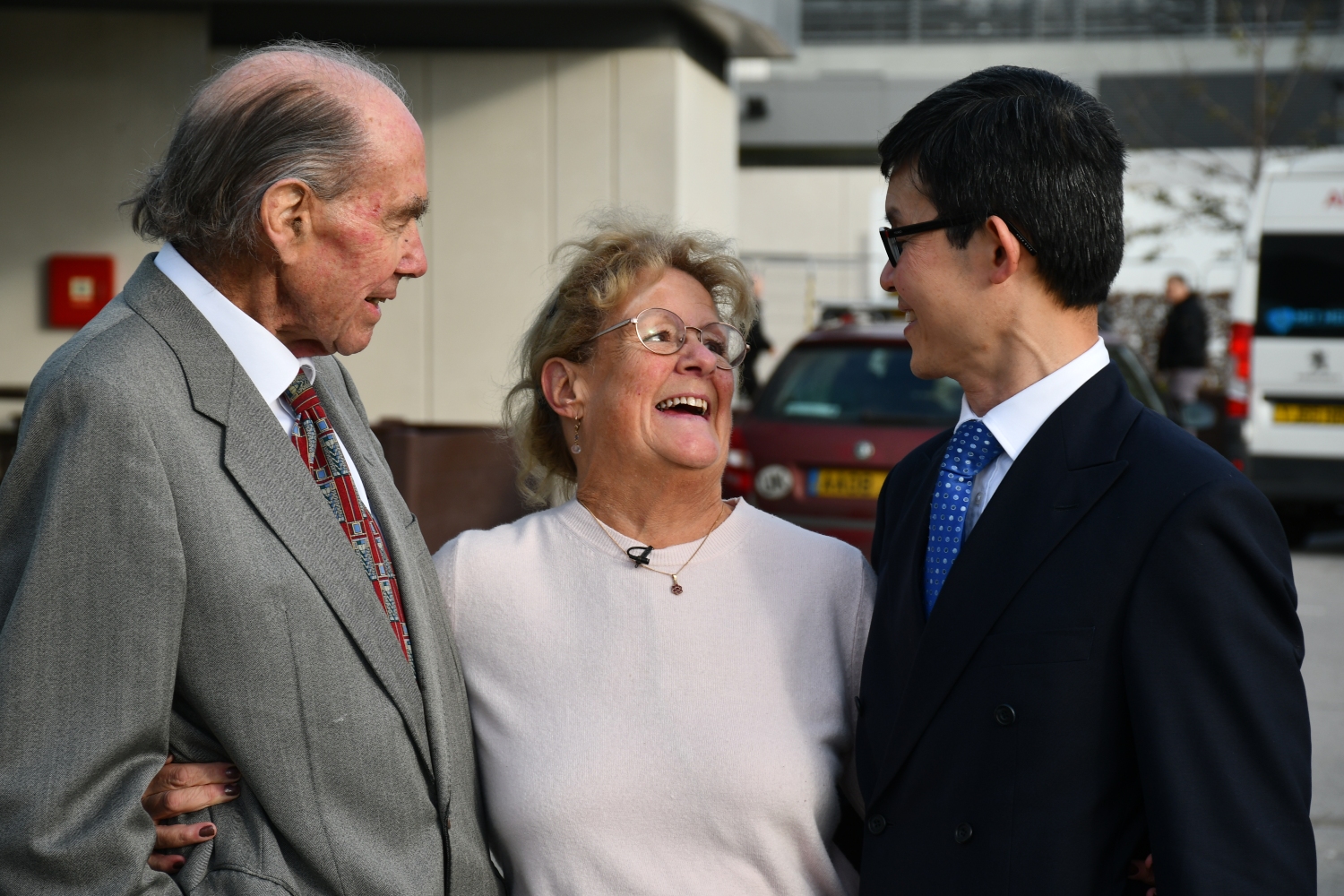 Sandy was reunited with her two surgeons, Sir Terence English (left) and Mr Steven Tsui (right).

In November 1982, aged 27, with Sandy's heart failing, she became the 42nd person – and just the third woman - to have the operation at Papworth, also performed by Sir Terence.
"We were stepping into the unknown. The surgery was pioneering, but so was Sandy," said Terry admiringly, her husband of 47 years.
"When we got the call for the first transplant from Papworth to say they have a suitable donor, we were round our next-door neighbours' house.
"It was before mobile phones, but we had a pager. We had forgotten it and left it at home. I suddenly realised and went back home to retrieve it and it was going off.
"I called Papworth back from the landline, they told me 'we have a donor match, please come to the hospital', so I quickly ran next door to get Sandy. We haven't looked back since."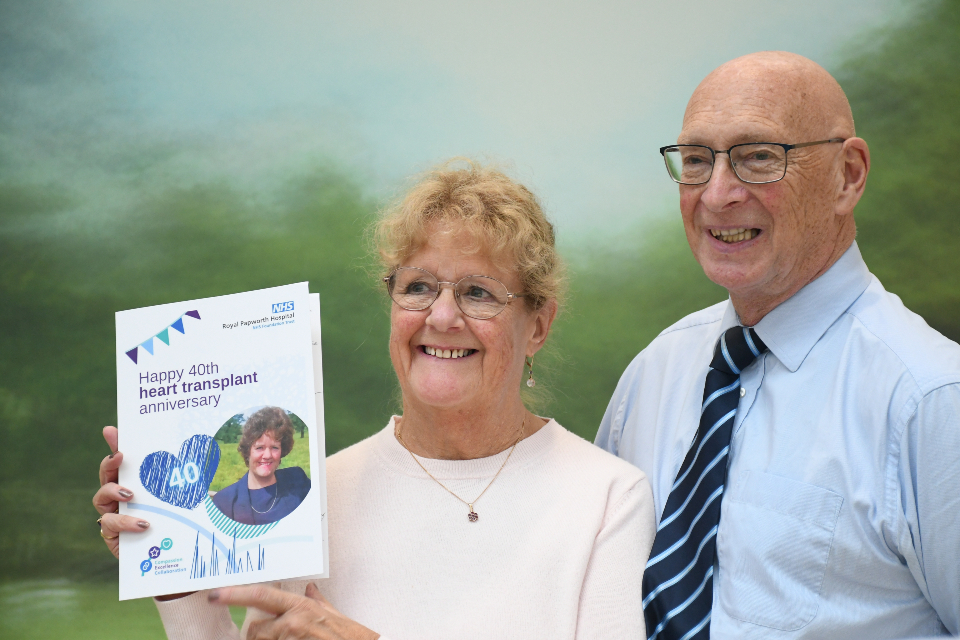 Sandy and husband Terry have been married for 47 years.

Sandy's first donated heart lasted 23 years until she developed transplant coronary artery disease – called cardiac allograft vasculopathy - a known complication after heart transplants.
For the second time she was placed on the waiting list to be matched with a suitable donor; for a second time thanks to the generosity of a donor and their family she had a heart transplant to transform and prolong her life.
That operation, in August 2005, was performed by a team led by Mr Steven Tsui, who remains an active consultant cardiothoracic surgeon at Royal Papworth Hospital today.
"Heart transplantation is the best treatment for patients with advanced heart failure," commented Mr Tsui.
"The median post-transplant survival is expected to be around 15 years, so we are delighted that Sandy had 23 years from her first heart transplant and, so far, 17 years from her second.
"It is very uncommon for patients to be fit enough for a second heart transplant - out of 1,650 patients who had a heart transplant at Royal Papworth Hospital over the last 43 years, Sandy is one out of only 31 to have gone on to have a second. It is miraculous."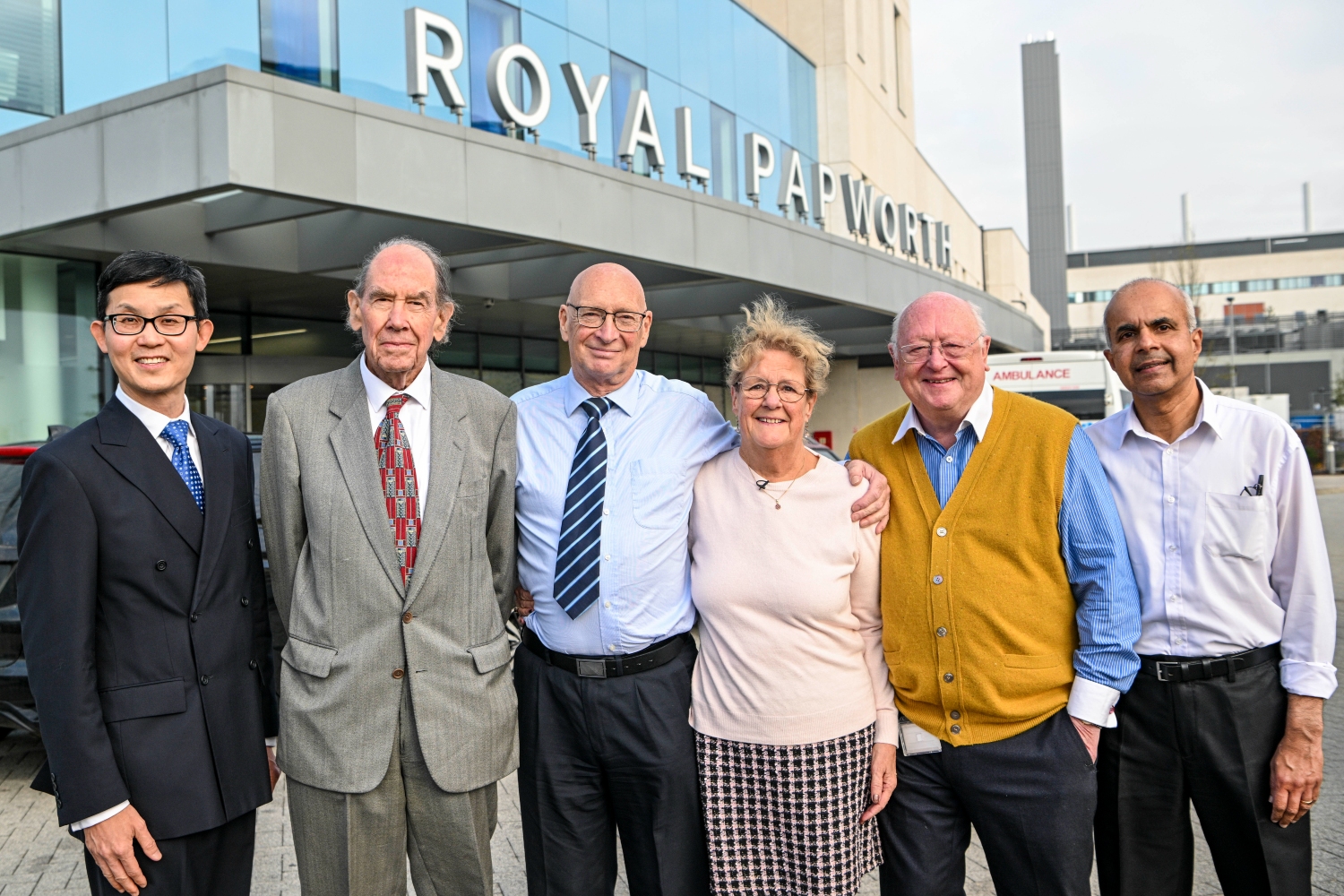 Dr Parameshwar (right) and Professor John Wallwork (second right) have also cared for Sandy

Also in attendance was consultant cardiologist Dr Jayan Parameshwar, who has been part of the transplant unit at Royal Papworth Hospital since 1991 and provided regular care to Sandy during that time.
"I have had the good fortune to be involved in Sandy's care for more than 31 years and have come to know her and Terry very well," said Dr Parameshwar.
"She has both a great fighting spirit and an indomitable will to live which have helped her get through difficult times, supported by Terry who has always been at her side.
"I am proud of the large team at Royal Papworth who have contributed to Sandy reaching this milestone, I can't thank them enough. We should not forget the donor families involved, without them none of this would have been possible."
"Many hundreds of people, both past and present, have cared for Sandy during the past 40 years here and I am so proud of each and every one of them," added Eilish Midlane, Chief Executive of Royal Papworth Hospital.
"We are committed to providing bespoke care, treating each person as an individual, so it is particularly heart warming hearing Sandy and Terry talk about the way she has been looked after since 1982 and that they feel like our staff are their friends.
"She is an inspiration to other patients, an inspiration to us, and an extraordinary example of the impact of organ donation."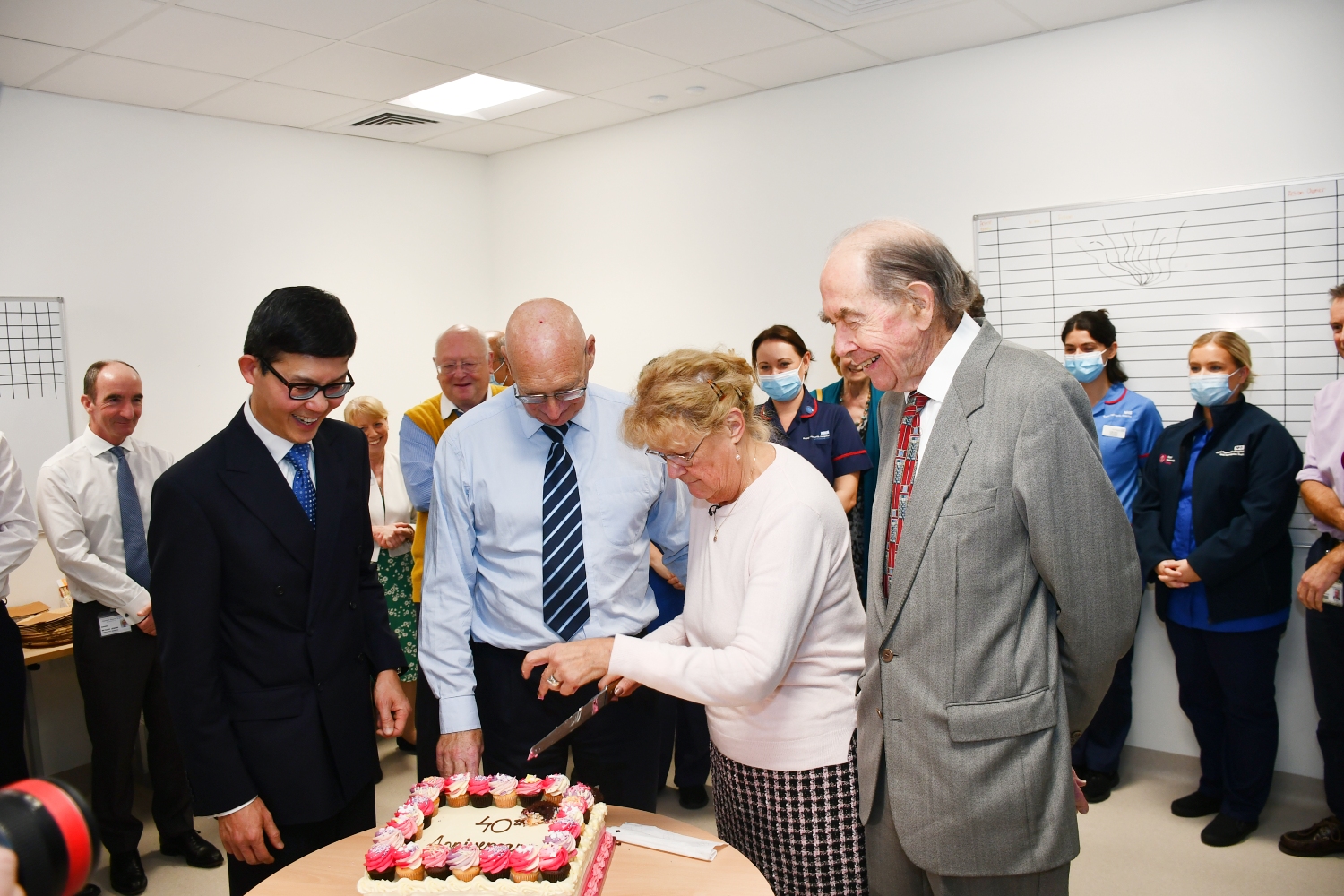 Members of the hospital's transplant team gathered to celebrate Sandy's milestone anniversary.

Sandy worked for the police for 23 years, having previously been a civil servant.
She has regularly campaigned for organ donation - advocating for the power of transplantation with its ability to transform lives – including being one of many voices calling for the law to change to opt-out, something which became reality in May 2020.
Now retired, she and Terry enjoy a nomadic lifestyle, travelling around the UK and Europe from the comfort of their motorhome – popping back to Papworth when required for regular check-ups.
Before her first heart transplant in 1982, Sandy had only weeks to live. As husband Terry says, 'we didn't think she would make it to Christmas'.
Thanks to organ donation and transplantation, she is still living life to the full in 2022.
Anthony Clarkson, Director of Organ and Tissue Donation and Transplantation at NHS Blood and Transplant, said: "It is amazing to hear that Sandy has had such a long and happy life thanks to her heart transplants.
"It is always positive to hear about people who have gone on to live such a long life after transplant.
"This wouldn't be possible without the precious donors, and their families, saving lives at the hardest time for them.
"Sandy's story and those of other transplant recipients give hope to the thousands of patients, including hundreds of children, on the waiting list for an organ transplant right now.
"Please register your organ donation decision on the NHS Organ Donor Register and share it with your family."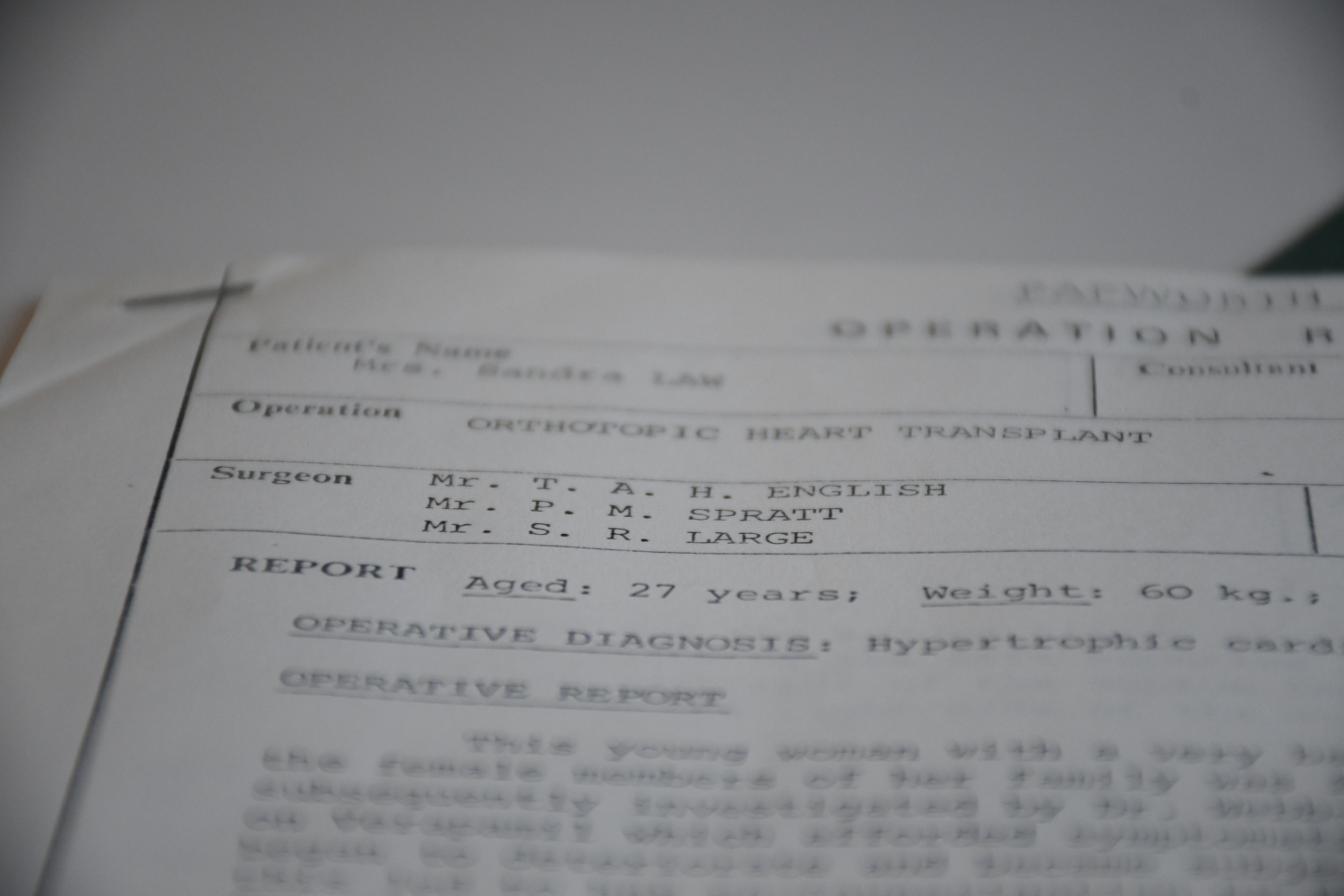 Sandy's operation report form from her first heart transplant in 1982

Thanks to donors across the UK, around 4,400 transplants took place in 2021/22. However, there are around 7,000 people still on transplant waiting lists; including more than 200 children and 420 people died last year while waiting for a transplant.
Even though the law around organ donation has now changed to an 'opt out' system across England, Scotland and Wales, family members will still always be involved before organ donation goes ahead and will be expected to support their loved one's decision. This means it is still just as important as ever to register your decision on the NHS Organ Donor Register and ensure your family know what you want.
For more information, or to register your organ donation decision, please visit: www.organdonation.nhs.uk or call 0300 123 23 23. NHS app users in England can also use the service to record, check or update their organ donation decision.