11 January 2021
Extracorporeal membrane oxygenation (ECMO) is a form of mechanical support for patients who are in acute or severe respiratory failure.
It works by doing the job of the lungs – removing carbon dioxide from the blood and adding oxygen – outside of the body, allowing the lungs time to rest and recover while other treatments are applied.
ECMO is being used to support people with severe COVID-19 when they have failed to respond or show improvements on other methods of ventilation, such as oxygen, continuous positive airway pressure (CPAP), or ventilators.
It is the last hope for these patients and their families, with demand for the service in England 'super surging' since the beginning of the coronavirus pandemic in March 2020.
Royal Papworth Hospital is one of five centres commissioned by NHS England to provide ECMO for adults in severe respiratory failure; the service began in 2011.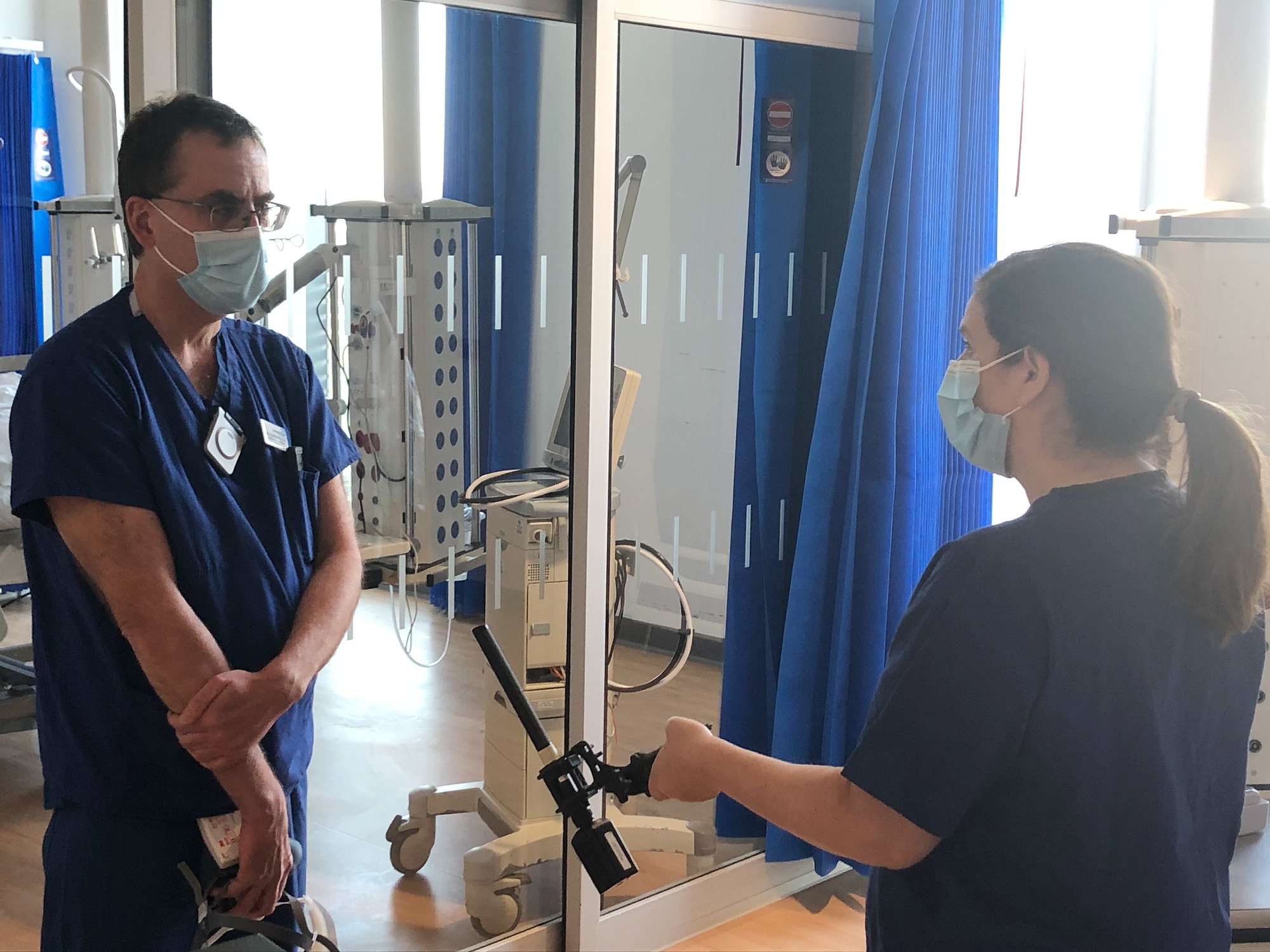 Dr Alain Vuylsteke was interviewed by BBC health correspondent Sophie Hutchinson
A 'normal' month in the nine years before the onset of SARS-Cov-2 infection, which is the virus that causes COVID-19, would see approximately 40 referrals to the hospital's ECMO unit each year, with three patients occupying ECMO beds at any one time.
This has risen to 40 referrals a month and a current ECMO population in the hospital of 18, with thousands of referrals across the entire national network. Not every referral meets the desired criteria to lead to a retrieval, but capacity across the English ECMO service has risen from 15 beds to between 90-100 across the five sites to meet demand.
A BBC report on Friday 8 January captured the work being done by the national ECMO network and specifically the team at Royal Papworth Hospital.
"ECMO replaces your lungs. It works by pumping dark coloured blood out of the patient, it comes into the machine and an oxygenator adds the oxygen and removes carbon dioxide, and then the blood returns to the patient via another vein," Dr Alain Vuylsteke explained to health correspondent Sophie Hutchinson.
Dr Vuylsteke, who is Clinical Director for the ECMO service at Royal Papworth Hospital, continued: "It's a very simple principle but very difficult in its execution. We try to put patients on these machines for the shortest possible time, but with COVID-19 we have many patients who require support for a very long time. It can be 50 days, 60 days, or sometimes longer. In the past it would have been exceptional to keep people on ECMO for so long."
'They're the sickest patients we've ever seen'
Also interviewed was Jo-anne Fowles, Nurse Consultant for ECMO and Critical Care. She said that the incoming referral pipeline for ECMO patients was 'relentless' and at times 'overwhelming' for the team.
"They're the sickest patients we've ever seen, even for people on ECMO, and they take a long time to get better," she said.
"We haven't had downtime from wave one and we're having to respond to unprecedented demand all over again, but we still to do it because that's what we do."