25 August 2022
Four specialised cardiac physiologists at Royal Papworth Hospital have completed a new training course, helping to boost skills and confidence while also helping improve staff retention. 
The Education Partnership Programme (EPP) for Cardiac Rhythm Devices - in collaboration with Medtronic - aims to train cardiac physiologists in cardiac rhythm management, the devices available for patients and their functions. 
The course takes 12 months and is completed alongside clinical work, with each trainee attending two days of training each month, split between half a day of face-to-face and plus three half days online.
"I wanted a dedicated training programme in place to nurture and grow our physiologists so they become highly qualified and have job satisfaction," said Alaina Yardley, Lead Cardiac Physiologist for Cardiac Rhythm Management Devices at Royal Papworth Hospital.
"This training time would be protected and was an integral part of their role, but we found that workforce constraints and capacity pressures made it difficult for us to release the trainees from their shifts to allow them to attend the training.
"We signed up to a loyalty points scheme with Medtronic, called Medpoints, which we were able to use to access funding and cover a new physiologist post, thus freeing up the required time for our current trainees to complete the EPP."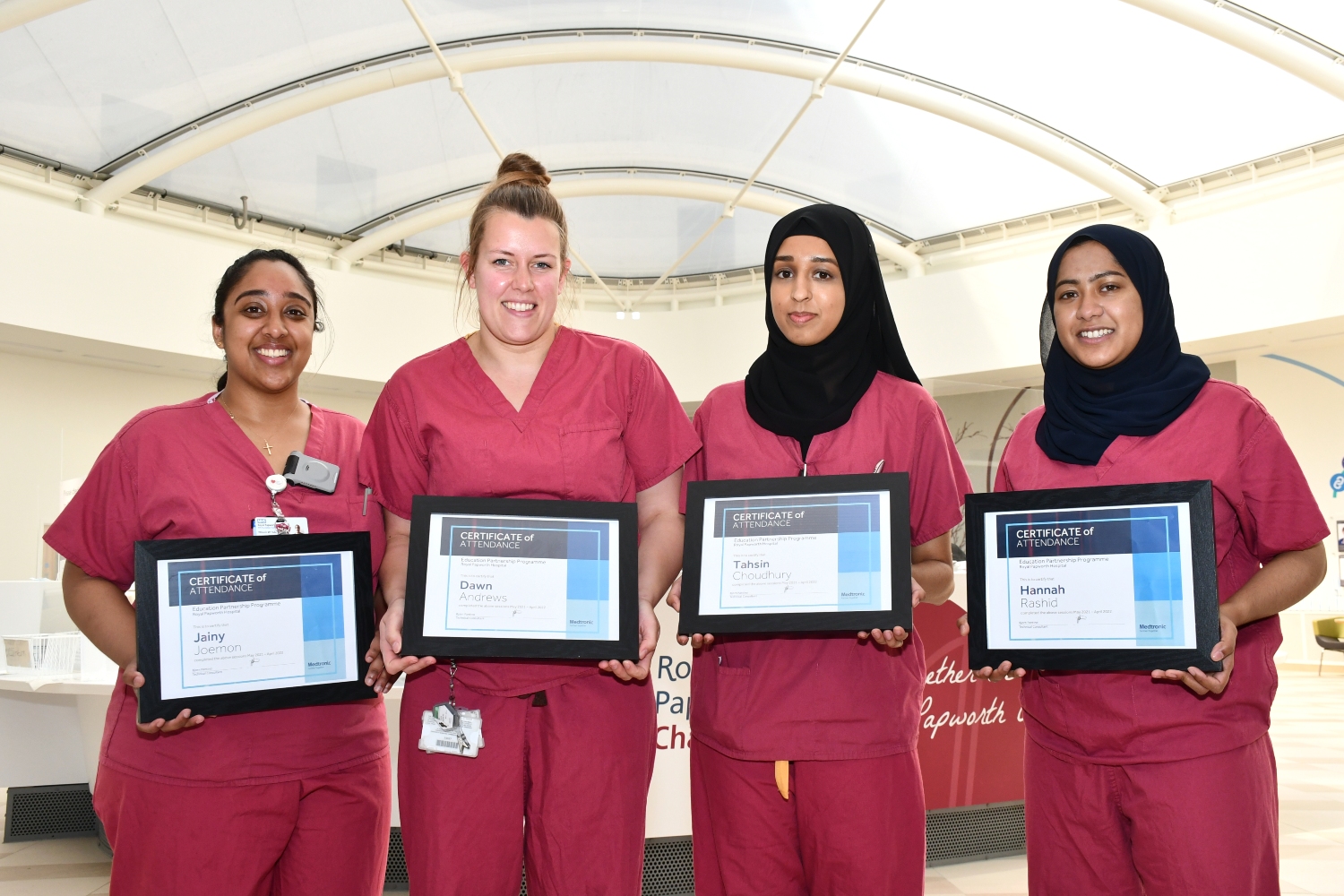 Jainy, Dawn, Tahsin and Hannah have all completed the Education Partnership Programme
 
Jainy Joemon is one of the four cardiac physiologist trainees to graduate from the scheme. 
Originally planning to follow in the footsteps of her mum and become a neonatal nurse, Jainy is now thriving as a healthcare scientist having worked at Royal Papworth Hospital since 2019.
"I really enjoyed the programme because I was a beginner in the world of devices and it has allowed me to achieve a solid foundation into cardiac rhythm management.
"Even though I hadn't noticed it, several of my colleagues have told me that my knowledge has improved a lot from when I began which has boosted my confidence even more. 
"When nursing didn't work out for me I was searching what courses were around and quickly became drawn to healthcare science. Even though I am now on a different career path to my mum she is still my main role model; she was the one who introduced me into the world of medicine and caring for people.
"I think it's very important to have role models and encourage more women to step into this field. In my three years here, cardiologists such as Dr Sarah Clarke, Dr Denise Braganza and Dr Claire Martin have made very big achievements in cardiology and inspired me, so I hope that is what I am now doing for others.
"I've already had a few students who have come to me personally asking me about my career and how I came to be where I am today, so I'm very proud of what I have achieved."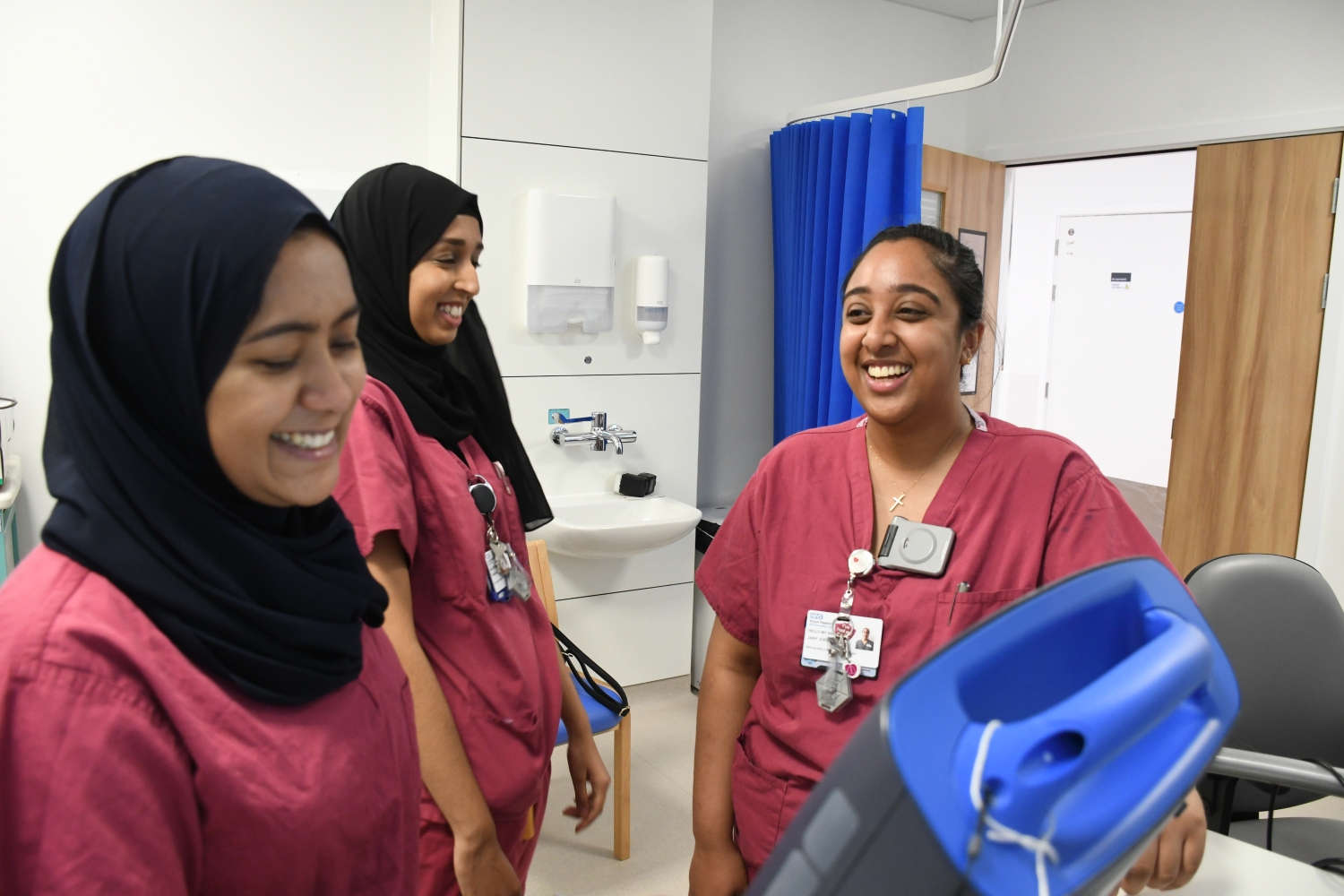 Tahsin (middle) and Jainy (right) say they now feel more confident
 
Tahsin Choudhury has been a cardiac physiologist at Royal Papworth for four years and was a fellow trainee with Jainy.
She says it too has made her more confident in her role as she looks to progress her career.
"The training programme was very informative," Tahsin said. "It has prepared me for the cardiac rhythm management accreditation exam which takes place later this year."
Alaina concluded: "Historically we have been able to retain our staff on average for three years and at this point many have left to go to another service. The training and investment that we have invested to make them independent leaves with them.  
"Feedback suggests that the amount of training and education and the lack of dedicated time set aside for this was playing a significant part in the decision to leave.
"I believe this project has supported our strategic aim of enabling staff to fulfil their potential and is helping us achieve the goal to offer the best staff experience in the NHS, where employees can feel valued for their skills and engaged in their work.
"All of this has knock-on benefits for patients and the care and treatment they receive in our hospital."