31 May 2023
A teenage transplant patient who has been in our hospital for 15 months and missed her GCSEs and prom night has been discharged home in an emotional goodbye with the NHS staff who treated her.
Freya, now 17, from Amesbury in Wiltshire, was admitted to Royal Papworth Hospital in March 2022 aged 16, just a couple of months before her exams were due to start.
She needed a lifesaving heart-lung transplant due to a combination of heart failure and lung disease, first identified when she was 12 years old.
Too poorly to go home, Freya had to remain in critical care until suitable donor organs became available.
She underwent her transplant operation towards the end of 2022 and now, after extensive rehab first in our critical care unit and then on the surgical ward, Freya has been clapped out Royal Papworth Hospital by the dozens of NHS staff who cared for her, including physiotherapists, nurses, doctors, surgeons, healthcare scientists, perfusionists, speech therapists, occupational therapists and dietitians.
As well as missing her GCSEs, Freya also missed her prom night. However, critical care nurses ensured she still went to the ball by helping her get dressed into a ball gown and decorating her room.
"The staff here have been amazing, they're like one big family and I'm really thankful to them all. They've helped me so much and kept me motivated and entertained. Even on days when I was feeling down, they'd always make me laugh," said Freya.
"During my time here I've been able to take up many hobbies that staff have all joined in with such as painting and jewellery making. They also held my prom night, arranged a Christmas meal with my family, helped me build playlists for musical motivation during physio and organised karaoke, basketball and Mario Kart, amongst many other things.
"It's going to be different but I'm excited to be going home and seeing my black Labrador, Digit, and my friends. I'm looking forward to getting that bit of independence back and returning to my normal life. I'm also looking forward to going to college in September when I'll be studying criminology and law."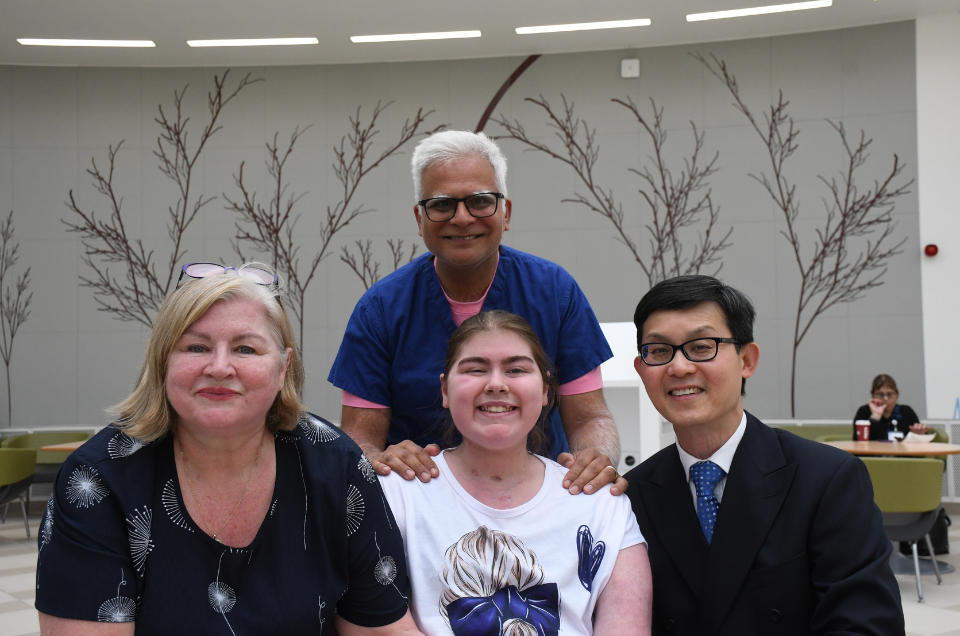 Freya and her mum with Mr Steven Tsui, Consultant Surgeon (r) and Dr Jasvir Parmar, Transplant Consultant (top)
Throughout her time in hospital, Freya has been visited by dad Ken, mum Linda and family.
"We're very grateful that Freya came here but I'm looking forward to getting back to some form of normality. It's been an amazing journey and everyone here has been phenomenal. They've been so wonderful to us and we've made lots of friends," said Linda.
"It'll be nice to go home, enjoy a family life, cooking meals together and enjoy a normal life. This has definitely changed how we both look at life.
"Freya has coped so well with everything. She's been strong and upbeat and it helps because everyone at Royal Papworth Hospital has been so marvellous. She's embraced everything and come out fighting, I'm so proud of her. I'm also really grateful to the organ donor and their family."
Dr Jasvir Parmar is Transplant Consultant at Royal Papworth Hospital:
"We are delighted to see Freya returning home to her friends and family. She has shown a great deal of personal resilience to overcome a huge number of hurdles during her 15 months with us.
"Freya has remained positive throughout and her drive and determination has allowed her to come through this part of her journey."
Emma Matthews is Physiotherapist Team Leader at Royal Papworth Hospital:
"It's fantastic to see Freya is going home today but we're all going to miss her. She's worked incredibly hard with her rehabilitation and we've all had loads of fun working with her. She's been a complete inspiration for all of us."
Anthony Clarkson is Director of Organ and Tissue Donation and Transplantation at NHS Blood and Transplant:
"We are delighted to hear that Freya is doing so well and is now ready to return home to her family. It's only due to the generosity of our donors and donor families and the dedication, commitment and expertise of the clinical teams that we can achieve these amazing outcomes for patients like Freya. We urge everyone who supports organ donation to confirm their decision on the NHS Organ Donor Register, to help us continue to save more lives in the future."
Discover more about transplant services at Royal Papworth Hospital here.