11 October 2020
Kevin was diagnosed with a devastating diagnosis of lung cancer in 2003 at the age of just 43.
With a young family he had everything to lose so underwent major surgery – a pneumonectomy – during which his entire right lung was removed from his chest.
Receiving the all-clear from cancer, Kevin went home but later became very unwell with a post-pneumonectomy empyema: an uncommon complication of his surgery in which pus fills the space where his lung used to be. This turned out to be MRSA positive.
Despite multiple further operations the cavity in his chest never healed and Kevin has had to live with an open hole on his chest so that pus could drain out. The constant flow of fluid means Kevin had to change a dressing several times a day, making it impossible to lead a normal life and left him miserable.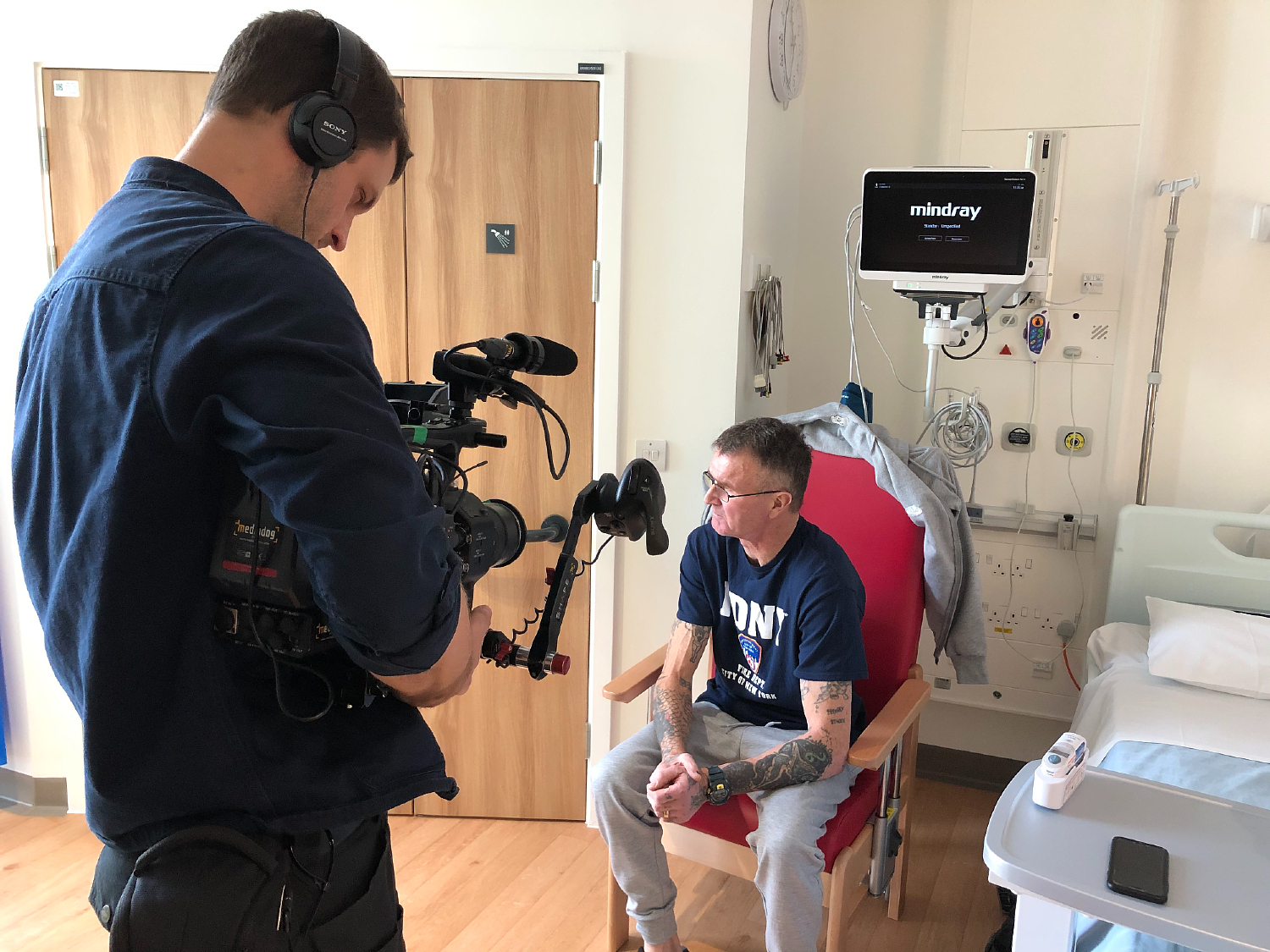 Kevin being filmed the day before his operation, which was in December 2019

"Fluid would build up in my chest and then my back would often leak through the hole, always at the most inconvenient times; the supermarket, on a day out, always when I didn't want it to. It felt like I'd had a cup of water poured down my back.
"After 15 years of this happening one day I was having a special day out with my family, it happened again and I just decided it was too much.
'I had a poor quality of life'
"I'd only a few years ago said I didn't want the operation to fix it because of the high risk involved, but I'd reached a stage where I wanted to go ahead because of the hugely negative impact it was having on my family life, meaning I couldn't go swimming with my grandkids, for example."
In the episode, Royal Papworth Hospital senior consultant thoracic surgeon, Mr Aman Singh Coonar, teams up with Addenbrooke's plastic surgeon, Professor Charles Malata, to undertake a chest wall reconstruction; a complex procedure that is scheduled to last 12 hours.
To fix the cavity and close the hole in Kevin's back, Aman and Charles must work together to first cut out Kevin's ribs and clean his pleural cavity before taking a large flap of muscle and skin from Kevin's left-hand side to fill the cavity and plug the hole in his chest on his right-hand side.
'Very few people worldwide undergo such surgery'
During surgery they have to remove large amounts of scar tissue, damaged chest wall from past surgery and attach the muscle flap to a new blood supply. Consultant anaesthetists Dr Chinmay Patvardhan, Dr Shane George and colleagues have to keep Kevin alive by carefully ventilating his one lung with ECMO as a backup, aided by the support of 25 theatre staff.
"Very few people worldwide undergo such surgery," said Mr Coonar.
"We treat all lung conditions that have surgical solutions at Royal Papworth, including some cases turned down for surgery elsewhere, with some of the best outcomes nationally and internationally.
"Kevin's operation really was a team effort and shows what can be achieved when the NHS comes together – a thoracic team from Royal Papworth and a plastics team from Addenbrooke's – to benefit our patients and improve their quality of life."
The documentary series, filmed at Royal Papworth Hospital and Addenbrooke's Hospital in Cambridge before the coronavirus pandemic, highlights the extraordinary work of surgical teams at the two hospitals as they perform some of the most complex operations in the world.
Kevin's chest wall reconstruction will be shown on BBC Two's 'Surgeons: At the Edge of Life' on Tuesday 13 October at 21:00.