9 August 2023
A caretaker from Spalding, Lincolnshire has become the first patient at Royal Papworth Hospital NHS Foundation Trust to benefit from a minimally invasive heart procedure, avoiding the need for heart bypass surgery.
Michael Bronze (63), had an Excimer Laser Coronary Atherectomy (ELCA), which is used to treat stents in coronary arteries that are under-expanded or have re-narrowed. The stents are cleaned via a laser, in a minimally invasive procedure which leads to a quicker recovery time.
Mr Bronze, who works in a care home, first suffered a heart attack in 1999 after which he had stents fitted into his coronary arteries to widen them to allow blood to flow more freely. Over the years he had additional stents fitted but was recently suffering from breathlessness and arm pain.
Originally being referred to Peterborough City Hospital for an angiogram, he was then referred onto Royal Papworth Hospital, the UK's leading heart and lung hospital.
Initially told heart bypass surgery was his only option, Michael was then offered this new procedure, performed under local anaesthetic.
After inspection via a camera through his wrist, he had his stents lasered clean in approximately three hours by a cath lab team led by consultant cardiologist, Dr Stephen Hoole. He was in hospital for just one day, rather than the much longer stay associated with cardiac surgery.
Michael said: "I knew I'd probably have to have a bypass so to get the call and be told about this new procedure was very refreshing and I was delighted to get it done. I felt a little delicate at first after the procedure but I'm so chuffed.
"One significant thing I've noticed is that I'm not so breathless and I've got more clearness in my head as more blood and oxygen gets to my brain. I've felt so much better, although I can never sit still so I've had to beware of overdoing it straight away.
"I'd like to thank the staff at Royal Papworth Hospital for offering me this new procedure and for their expert care."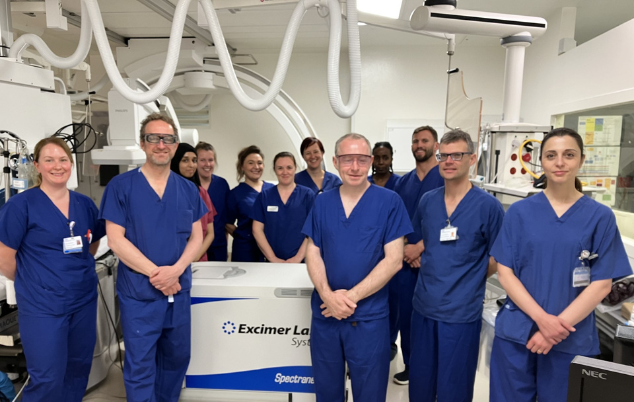 Dr Stephen Hoole (second from left), Dr Peter O'Kane (centre) and representatives from Philips and the Royal Papworth Hospital cath lab team
Dr Stephen Hoole, consultant cardiologist, added: "Under-expanded and renarrowed stents are particularly challenging to treat.
"ELCA offers the ability to vaporise obstructive tissue inside and outside the stent, enabling improved stent expansion and improving blood flow to downstream heart muscle, relieving angina as well as reducing the risk of future stent failure.
"I'd like to thank the whole catheter laboratory team here at Royal Papworth Hospital, our partners Philips, and Dr Peter O'Kane from Royal Bournemouth Hospital for making this Royal Papworth Hospital first possible.
"A particular mention also to senior physiologist Sandra Silva who also helped ensure laser safety with staff laser training updates.
"We look forward to being able to offer this new treatment to more patients with complex coronary disease subsets within our wider region."
Oliver Goss, Philips Image Guided Therapy Specialist Leader said: "We are delighted that the team at Royal Papworth were able to deliver their first laser atherectomy case using Philips innovation, a true milestone for local patients with heart disease.
"The Philips (Spectranetics) CVX Laser system, built on more than 20 years proven technology, offers clinical versatility to safely treat complex conditions. The simple procedure utilises cool ultraviolet laser with a sonic wave, for precise treatment with minimal or no damage to surrounding tissue."