9 March 2022
A mum-of-two has been emotionally reunited with her sons and sister after spending more than six months in hospital, where she received a lifesaving heart transplant.
Nicola Sharpe, 48, a secondary school teacher from Southend, Essex, was admitted to Royal Papworth Hospital in Cambridge in August 2021 for heart failure treatment and has remained as an inpatient ever since.
Now, 190 days later, having been in hospital for her birthday, Christmas and New Year, she has been discharged and reunited with her boys, aged 9 and 12.
"There have been many moments when I thought this day would never come," admitted Nicola as she returned back home. "I cannot thank the team at Royal Papworth enough for their expert, outstanding care every day, and my anonymous donor without whom this moment would not be possible.

Nicola leaving critical care during her recovery from her heart transplant
"My one message to anyone reading this is to please talk to your loved ones about organ donation and let them know if you would like to be a donor should you die. If my donor had not had that conversation with their family, I might still be waiting for a transplant."
During her extended stay in hospital, Nicola's sons have been cared for by her sister, Anna-Marie.
The boys' father, and Nicola's husband, Peter, died tragically from a sudden and unexplained heart condition seven years ago.
She says that her determination to recover has been fuelled by her desire to get back home to her sons because she 'didn't want them to lose both parents'.
"I've always been really honest with the kids about what happened to Peter and what I'm now going through. They have asked me some pretty tough questions, like 'are you going to die like dad' and 'how will we live without you'. That has given me even more willpower to survive.
"I've seen them a couple of times in the past six months just outside the hospital building, but because of COVID and needing to be extra careful as a transplant patient we have only fist bumped.
"My sister has been my named visitor, so she came to the hospital to pick me up and brought me back home. That first hug with my boys is one of the most special moments in my life; it's the moment that has been keeping me going - it felt like it lasted forever."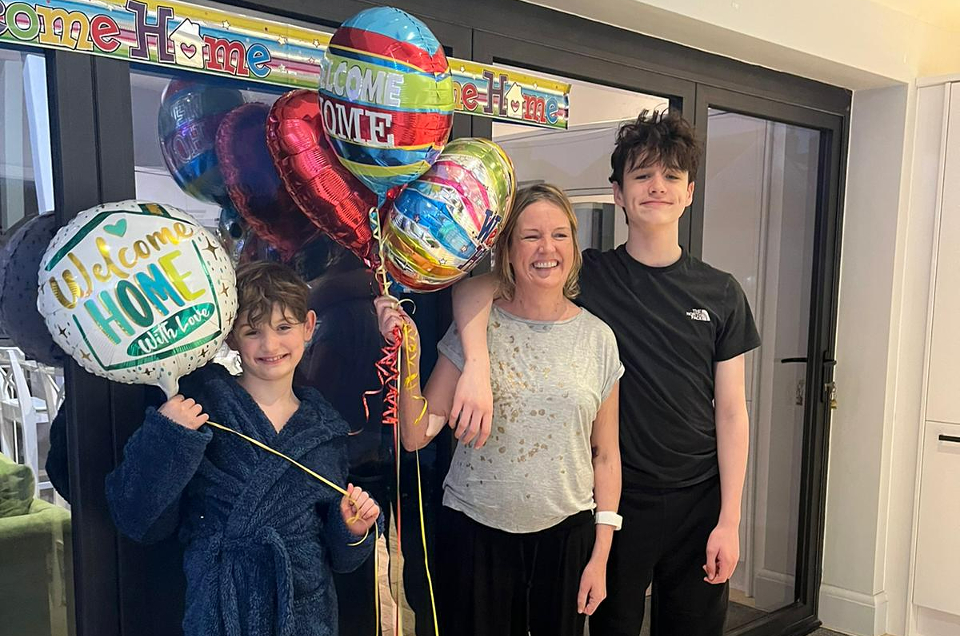 Nicola reunited with her two sons back at home.

Nicola first developed symptoms in July 2020 when she was out for a run and became so breathless she had to stop.
Then, in September, she became breathless again when climbing a hill during a family trip to Jersey. When she was home and speaking to her brother, a doctor, he recommended she go to A&E immediately.
"I did as my brother instructed and did not come out of hospital again for a couple of weeks," recalled Nicola. "The team at Southend Hospital diagnosed me with dilated cardiomyopathy and referred me to Royal Papworth.
"By my own admission I ignored those initial symptoms in July. I'm normally fit and active and run regularly, so I just put it down to a one-off bad run, possibly because of the summer conditions, but when it happened again in September I knew something was up."
Her condition deteriorated quickly and by New Year's Day 2021 Nicola was back in Cambridge being fitted with a pacemaker to support her failing heart.
However, a few months later, her condition worsened yet again.
"I was having monthly check-ups on my pacemaker and had just been pushed back to a two-month review. This was in the Easter of 2021 and I was so pleased to finally be making progress.
"But then I took another downward turn and, having had some routine bloods taken, I received a phone call to say that the team did not like what they saw and asked me to go to hospital as soon as possible.
"So there I was, back in hospital in Southend before being quickly transferred to Royal Papworth. This was the 10 August and I've remained here ever since."
Nicola was initially admitted to a ward, but suffered a cardiac arrest not long after arriving in hospital which saw her rushed down to critical care, where she spent the majority of her 190 days.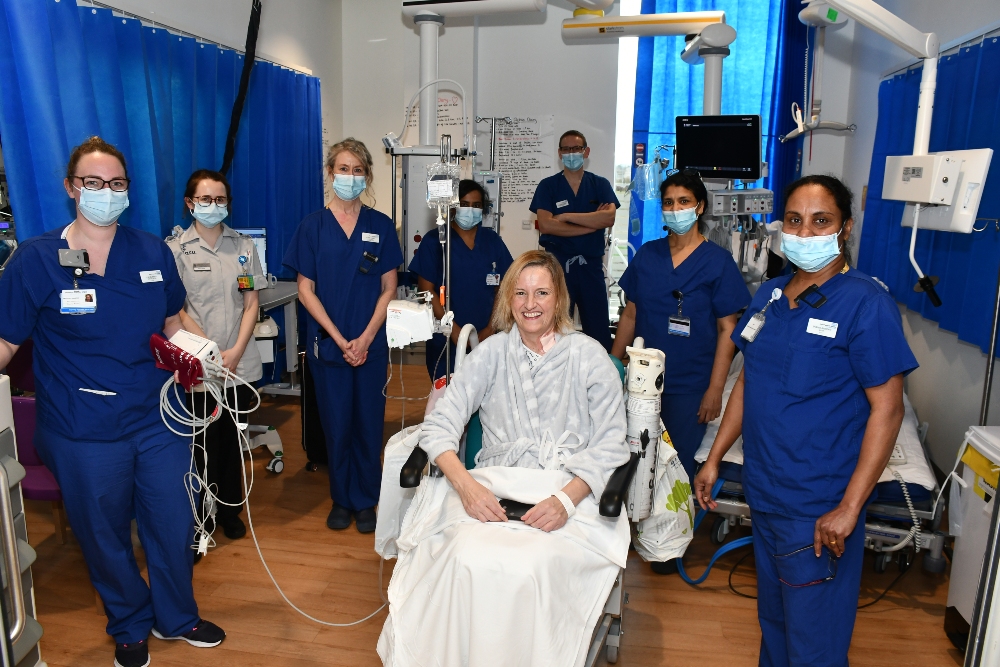 Nicola prepares to leave critical care, surrounded by nurses and doctors who cared for her.
She was added to the heart transplant waiting list and was due to be fitted with a LVAD (left ventricular assist device), a mechanical heart pump which supports the left side of the heart and acts as a bridge to transplant, buying more time to find a suitable donor.
This would have allowed her to go home while she waited, but the cardiac arrest damaged a healthy section of her heart and ruled her ineligible for the LVAD.
She also had high lung pressure which then made her unsuitable for a heart transplant until the pressure dropped.
"There was an afternoon when I was referred to palliative care because nothing could be done for me; I couldn't have the LVAD, my lung pressure was too high for a heart transplant and I was too sick for a BiVAD (a pump that supports both sides of the heart).
"But the team here fought for me and I was determined to get better. The transplant nurses and doctors came up with a plan, gave me a week to recover and I had the BiVAD fitted. When you have a BiVAD you can't go home and have to remain in critical care until you get a transplant.
"However, I also lost 80% of my blood during that operation and was told I made it against all the odds."
By early December, Nicola was well enough to be placed on the super urgent transplant waiting list, but because of all her treatment and existing antibodies had to wait much longer than average before being matched to a suitable donor heart.
She had her lifesaving transplant in January 2022 in a complex, 12-hour operation that also included the removal of her BiVAD under the care of consultant transplant surgeon Mr Steven Tsui and his multidisciplinary team.
And now, several weeks after her surgery, Nicola's recovery has progressed so well that she has been discharged to continue her rehabilitation at home, with regular, ongoing check-ups at Royal Papworth, now as an outpatient.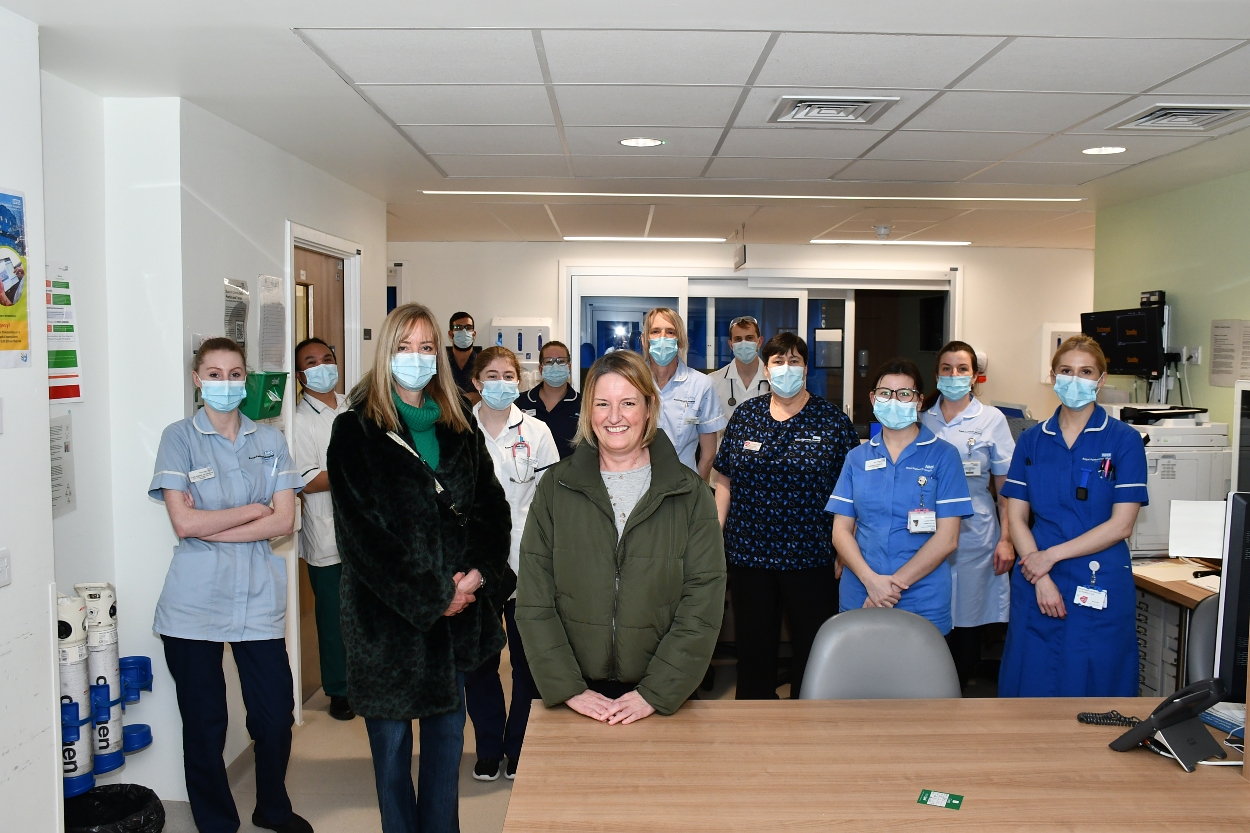 Nicola with staff on the surgical ward before leaving hospital.

"Nicola's course of illness has had more ups and downs than most roller coaster rides. Against all the odds, she has made it and what a wonderful moment to see her reunited with her sons," Mr Tsui said.
"Working in the transplant unit at Royal Papworth Hospital is truly a team effort. Many hours of compassionate care have gone into treating Nicola since her diagnosis and particularly in the past six months.
"It is always hugely rewarding to see patients like Nicola go from the sickest of the sick, where a transplant is the only therapy left for them, to being well enough to go home.
"This is all made possible thanks to people deciding to donate their organs should they die, a decision they share with their family so their wishes can be respected. Without that decision and conversation, we would not be able to save lives like Nicola's."
Related links