4 December 2020
A new generation of cryoballoon – a type of catheter which freezes faulty heart tissue – is being used at Royal Papworth Hospital to speed up treatment for patients with atrial fibrillation (AF).
AF is a type of arrhythmia which causes a person's heart rate to be irregular and sometimes very fast, in some cases considerably higher than 100 beats per minute; symptoms include dizziness, shortness of breath and tiredness.
The most common heart rhythm disturbance, AF affects one million people in the UK and is most often treated via a procedure called ablation, which targets and corrects through radiofrequency energy the area inside the heart that is causing the abnormal rhythms.
Cryoballoon catheters work by using cryo – that is freezing to between -40º to -60º Celsius – rather than heat to disable the faulty heart tissue.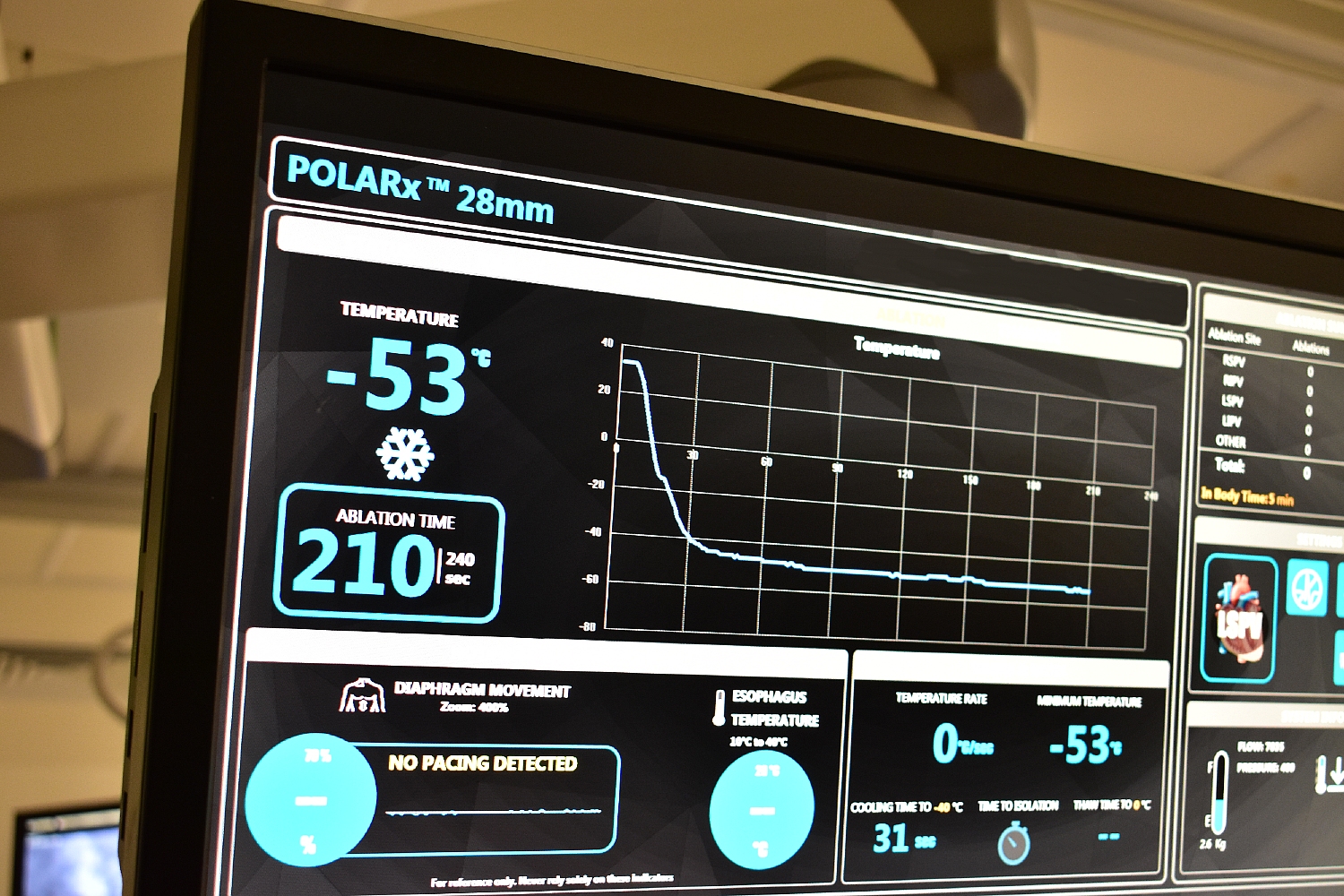 The cryoballoon catheter freezes faulty heart muscle, down to a maximum of -60º Celsius

This technique is used for paroxysmal atrial fibrillation which is when a person gets sudden outbursts of AF as opposed to persistent palpitations.
Recently, a team of consultant cardiologists (Drs Mellor, Martin and Heck), nurses, cardiac physiologists and radiographers at Royal Papworth Hospital used the POLARxTM catheter for the first time.
This new generation of devices differ from previous technology by reducing the time the procedure takes, enabling more patients to be treated safely and successfully as day cases in our day ward, rather than needing overnight stays in hospital.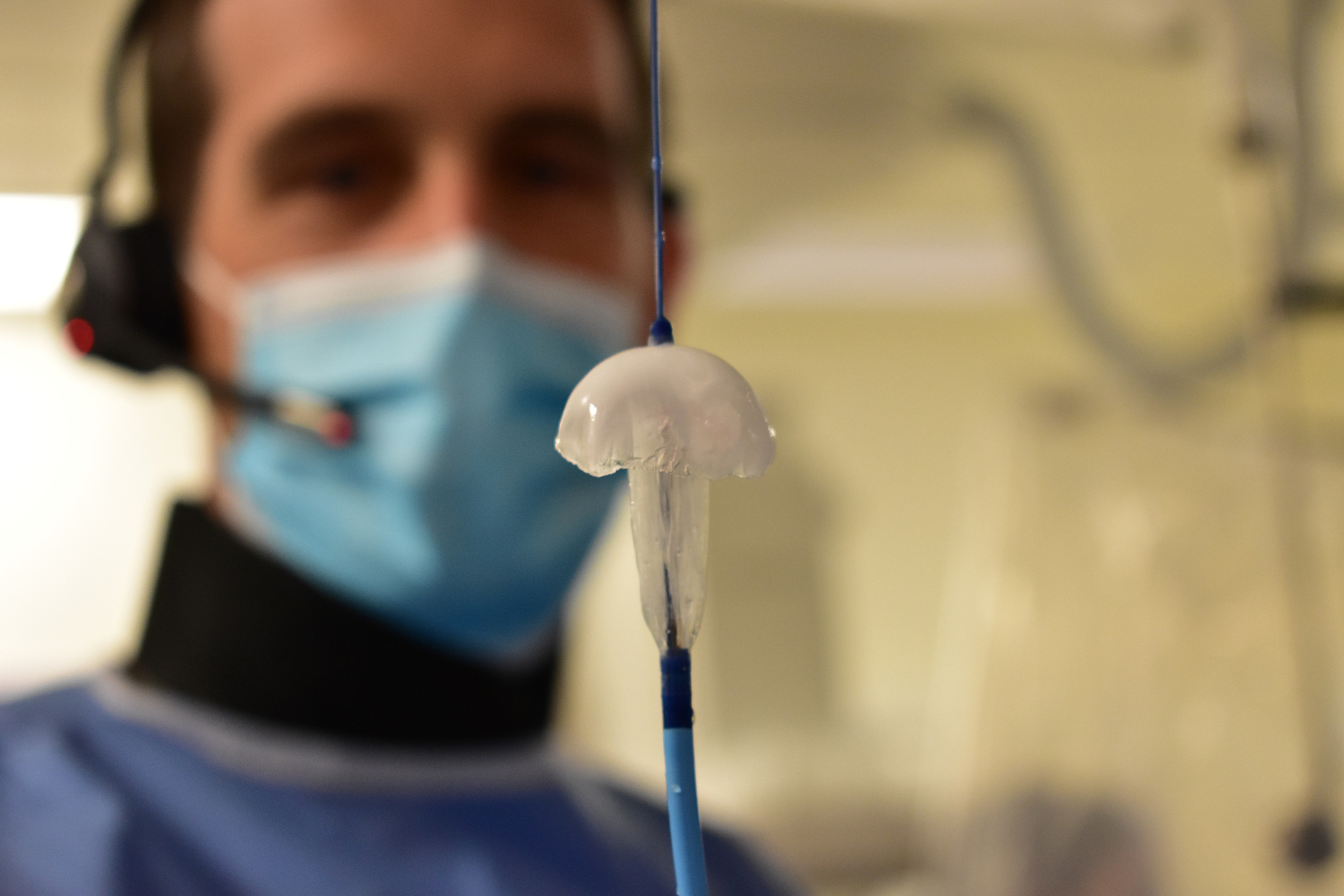 The mutlidiscplinary team was led by Dr Greg Mellor, shown here with the cryoballoon device

Patients also sometimes need multiple ablations, so it is hoped that the new device from Boston Scientific will offer significant refinements and improvements over previous cryoballoon ablation technologies to more effectively target the problematic tissue within the heart at the first attempt.
By the end of the first week the multidisciplinary team had delivered a total of nine successful AF ablations for patients with the POLARxTM balloon, making Royal Papworth only the second NHS hospital to use this technology.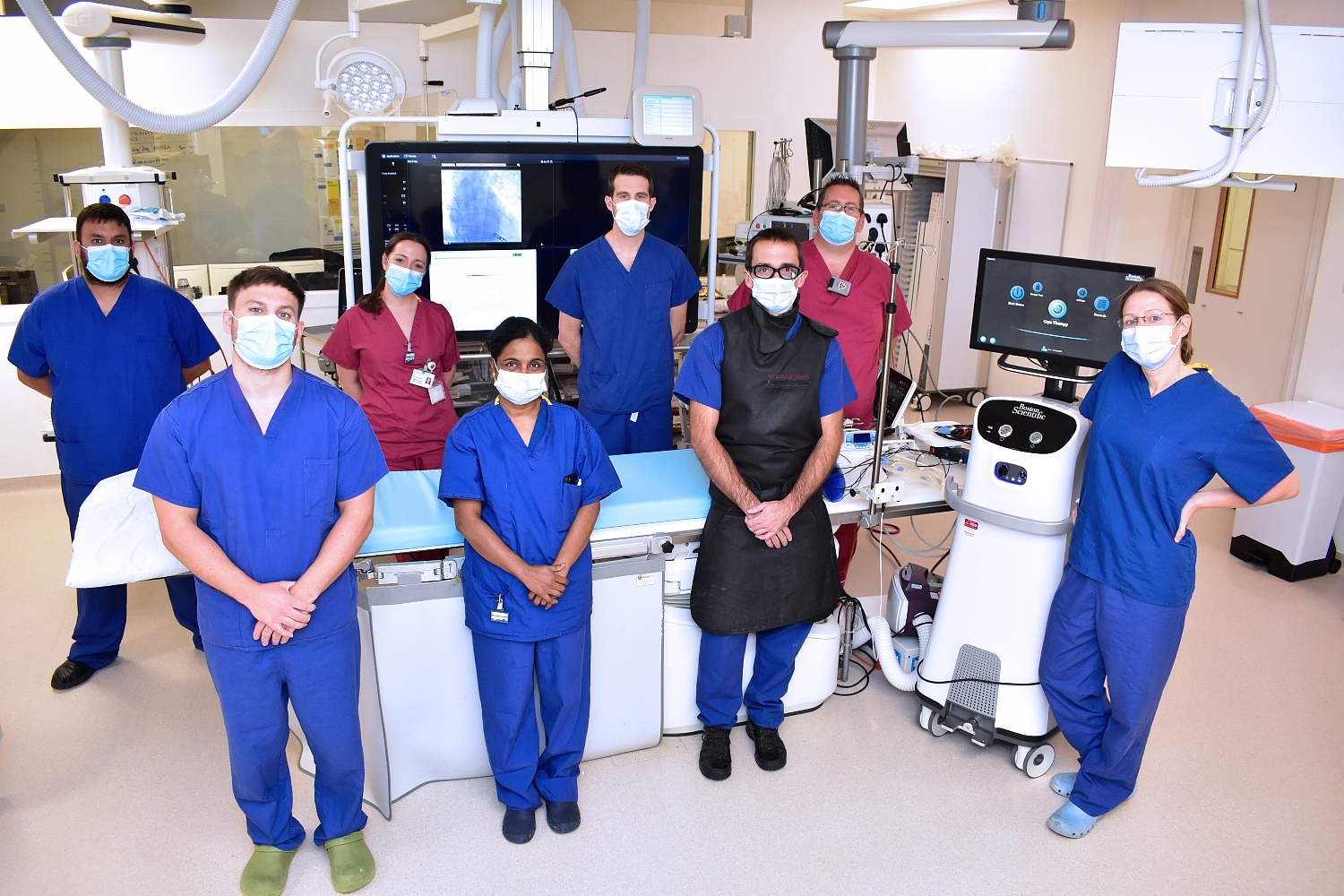 The multidisciplinary team from cath labs who were involved in the procedure

The hospital is also one of the centres leading the multi-national POLAR ICE study that aims to demonstrate the safety and efficacy of this form of ablation.
The cardiac rhythm management team at Royal Papworth Hospital performs AF ablations for more than 600 patients each year, making it one of the largest volume centres in the UK.