16 August 2023
Team Royal Papworth returned home from the British Transplant Games 2023 with the 'best heart and lungs hospital' trophy after a successful sporting weekend in Coventry.
In total 33 competitors represented our hospital, comprising 26 heart transplant recipients and seven lung transplant recipients from one-year post-op to more than 20-years.
Events included a wide range of sporting disciplines such as squash, archery, tennis and swimming, alongside a host of track and field events.
The success of our team included 16 gold medals, 18 silver medals and 16 bronze medals and plenty of fourth-placed finishes too in very competitive fields including other heart, lung, liver, kidney and stem cell transplant recipients.
This is the sixteenth time that Royal Papworth has won this trophy since 1987, an incredible achievement.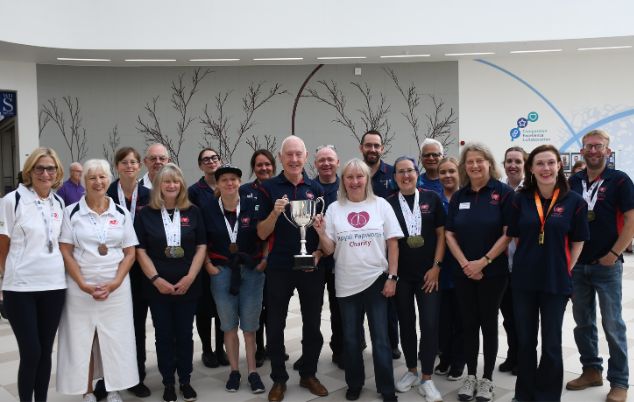 Participants with members of the hospital's transplant and physio teams
Chairman, Professor John Wallwork and Chief Executive, Eilish Midlane joined consultants, members of the transplant and physio teams and volunteers in recently greeting a number of our participants at the hospital.
The group was also joined by Charles Gambrill, husband of former hospital volunteer and transplant sport team manager Maggie Gambrill who sadly died last November.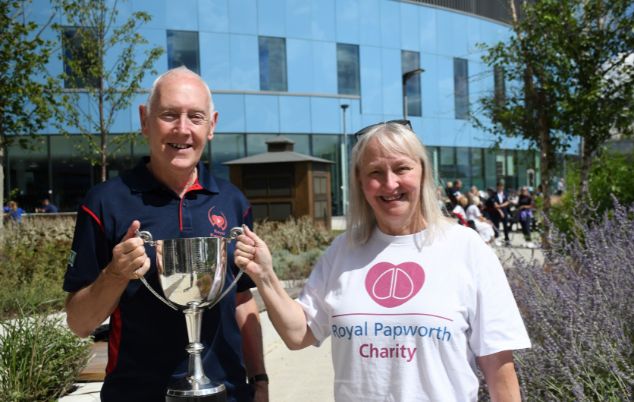 Charles Gambrill and Ann Thompson with the trophy
A special thank you to Ann Thompson from our transplant team who took up the baton to oversee these sporting efforts.
She said: "40 years after attending my first Games, I'm so proud of the Royal Papworth team. They really supported each other, there was lots of laughter and encouragement, as well as exceptional sporting efforts.
"These achievements by the team were especially for their long-standing friend and team manager of the past 10 years, Maggie and her husband Charles."
She added, "We are already building our team for next year's British Transplant Games in Nottingham. We are recognised as a wonderfully supportive, encouraging team with some amazing sporting talent."
Congratulations to every member of Team Royal Papworth and here's to retaining the trophy in 2024.
Members of the hospital's transplant and physio teams with the trophy